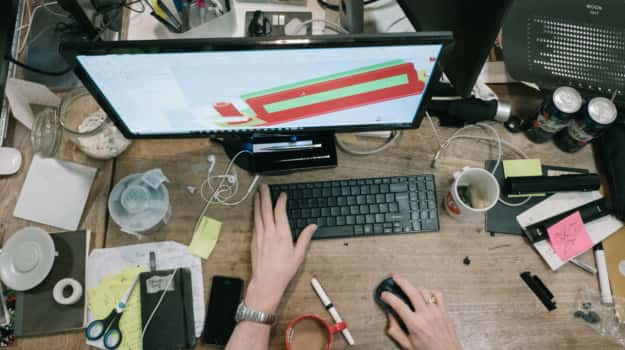 Engineers are a highly skilled bunch. Engineering disciplines require technical expertise, numerical skills, and all manner of other knowledge. Engineers also tend to be highly creative people.
When it comes to work satisfaction, ensuring that your creative needs are met sufficiently is hugely important. Creative people need freedom to create to stay happy.
How working in industry can stifle creativity
However, engineers often suffer from being limited in their existing roles. Whilst, in theory, there is room to flex creative muscles in developing new solutions, this is almost always constrained by some client and/or budget constraint.
We've heard numerous anecdotes where the ideal solution is considered to be too expensive or in conflict with other stakeholders (for example, an architect's creative vision vs a construction engineer's safety priorities).
The implementation of a solution can be a nerve-wracking process. Mistakes are costly, and whilst rectifying them and dealing with unknowns offers more chances to engage with work creatively, tight deadlines and budgets can lead to getting bogged down in frustration.
Teaching provides a new creative outlet
Teachers are constrained by following the curriculum, but outside of that, the way they approach creating the lesson content, assessment, group activities and practical work is largely up to them.
Teaching is also results-orientated.  As long as those results are achieved, FE teachers are free of having to constantly compromise on their approach to cater for competing stakeholders.
Where teachers do need to make compromises is in ensuring that they cater their lesson content to students of all abilities. This means that when your approaches are challenged or need to change, addressing those challenges becomes far more rewarding. There is a lot more satisfaction to be had from helping a young person 'click' with some engineering concept than having to deliver less than optimal solutions in order to save costs.
Rediscover your passion for STEM
If you find that you're becoming frustrated with industry but you're still hugely absorbed and engaged with the intricacies of solving engineering problems, teaching might be a great option for you. The joy of sharing your passion with others might just fill a void.
AoC Jobs have interviewed a number of engineering professionals from many different levels of experience who all made the move into teaching, and all of them agreed that the level of personal satisfaction they got from their industrial careers was less than that they got from teaching.
The best part is, that teaching at FE level is something that most engineers are already qualified for. You'll most likely be expected to do further training, but the majority of the time this is provided on the job or paid for by the employer.
If making a change in your career is something you've been thinking about, download the AoC's guide to becoming an engineering teacher here. You might be surprised by how easy a career move it turns out to be!