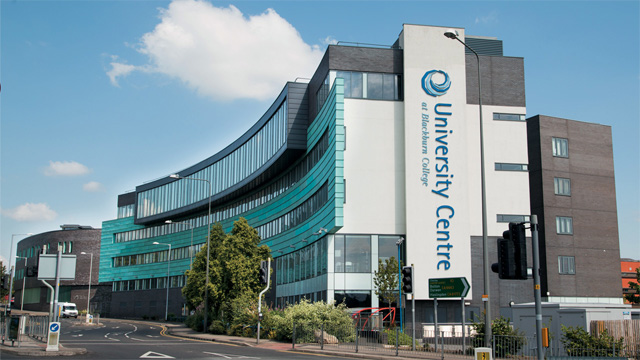 Welcome to Blackburn College
Blackburn College has a heritage going back to 1888, and is the one of the largest and most successful colleges in the country.
Founded in 1888, Blackburn College's purpose was the provision of technical, employment-focussed education for the people of Blackburn and the surrounding area. Our focus remains the same today. Students travel from across Lancashire and beyond to study at one of the largest Colleges in the UK, on a truly world-class campus, designed to provide high quality learning and acquisition of the skills needed by employers.
"I'm delighted you are considering studying with us. No matter how big your ambitions, we have a study programme that can support you in achieving your goals.
Whether you are looking for A-Levels, a Vocational/Technical course, an Apprenticeship, Degree level studies or a part-time course, Blackburn College has the widest selection of programmes to choose from in Blackburn and Darwen and some you will not find anywhere else.
With high numbers of students achieving Triple Distinction Star grades (equivalent to 3A*s at A-Level) and 93% of graduates being in work or further study within 6 months of completing their Higher Education course; you can be sure we will help you achieve high grades and meaningful careers following your study with us.
We are proud of the success we continue to achieve each and every year. Our students progress to world-leading Universities and secure employment with global companies – this is testament to the quality of the student experience at Blackburn College and our competent, experienced teachers who will support you to achieve the best grades possible.
Recent students have progressed to some of the UK's top Universities including: Lancaster University, the University of Manchester, Durham University and now study subjects as diverse as Optometry, Midwifery, Engineering and Creative Arts.
Additionally, our students and graduates have found employment with top employers including BAE Systems, Rolls Royce and Michelin-starred restaurants, or have gone on to set up their own businesses with the range of employability skills they have developed whilst studying with us.
At Blackburn College you'll be treated as an individual and we will ensure you grow into an independent, resilient learner, ready to achieve far more than you ever thought possible.
Our world-class campus has everything you need to make a success of yourself. It's a safe place where you can truly be yourself and has a lively, vibrant atmosphere and a strong sense of student community. It's this, coupled with our dedicated teaching teams and support staff that will help you enjoy learning at Blackburn College.
My colleagues and I look forward to welcoming you to College and engaging, inspiring, and preparing you for the next stage of your lives and careers."
Dr Fazal Dad
Principal and Chief Executive
Mission, Objectives & Priorities
We aim to develop people through learning and achievement for the benefit of themselves, society and the economy. Our focus is on meeting national and regional education, skills and employability needs for individuals and the need of employers in line with Government priorities.
We deliver quality education, training, employability and work-based learning solution to thousands of organisations and learners. These include Government funded and commercial skills training and education, bespoke professional courses, employability services and regional training contracts. We continue to develop unrivalled provision and innovative solutions to meet the needs of our customers, people and communities, through fostering outstanding people relationships.
Mission Statement
Transforming students' lives and our community, through excellent education, training and support. Vision Statement Aspiring, innovating and achieving through excellence
Value Statements
Excellence - we strive for excellence to realise the potential of our students and staff
Knowledge - we promote the value of learning in fostering curious minds and to aid the acquisition of knowledge and skills;
Empowerment - we empower our learners to change their lives through education and training;
Equality - we promote equality and diversity in our teaching, training, support and customer services;
Commitment - we are committed to the education, training and support of our students and staff;
Respect - we treat everyone equally and with respect.