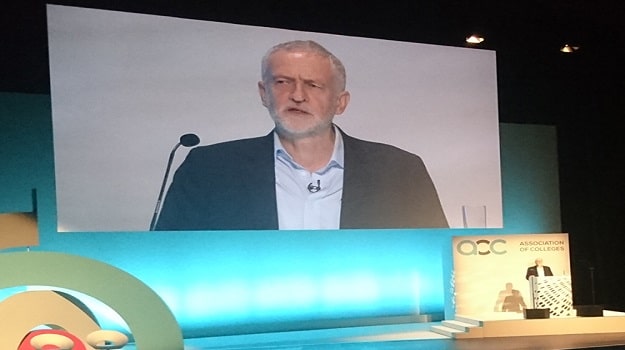 Corbyn stresses Labour's commitment to FE
Labour leader Jeremy Corbyn spelt out his party's commitment to FE at the AoC's annual conference last week when he outlined measures to support his party's idea of a cradle-to-the-grave National Education Service.
 
"In May 2017 productivity levels were lower than a decade ago despite huge technological advances in the last 10 years," he said. "Already an hour worked in the UK produces 25% less than in Germany.
 
"That's why a national education system would allow anybody to up-skill at any time in their lives; we must keep people's skills and knowledge up-to-date in the world where the sum total of human knowledge is increasing at such an incredibly fast rate."
 
Recruitment crisis
Corbyn said there was an urgent need to start valuing staff – "If we don't, we will lose them." The teaching profession was already suffering a recruitment crisis, which is a major reason to end the public sector pay cap. It would only get worse if the Government did not secure the right to remain for EU nationals currently working in the UK – a right Labour would immediately guarantee.
 
"Last year 5,000 teachers from EU countries qualified to teach in England. Our education system relies on those teachers."
 
If elected, Labour would also restore the Education Maintenance Allowance (EMA) to support 16- to 18-year-olds from lower- and middle-income backgrounds.
 
Transport reforms
This would go hand in hand with an industrial strategy embracing "a more coordinated approach to transport – currently a major barrier for many 16-18s who often have to travel further to college than they did to school or sixth form." Students would access a transport system comprising publicly-owned rail and locally-owned buses, plus improved cycling infrastructure.
 
Corbyn emphasised Labour's commitment to making technical subjects an acceptable choice for those students who might get brilliant GCSE grades and then be dissuaded from following their preferred technical rather than an academic route. "That's why we'd double the number of apprenticeships at NVQ level 3 over five years."
 
Gender pay gap
Labour would aim to increase the number of women, LGBT, ethnic minority and disabled people doing apprenticeships to ensure they are not just the preserve of one sector of society. "We also want to eliminate the 8% gender pay gap between women and men in apprenticeships."
 
There would also be a boost for the teaching of ESOL (English for speakers of other languages); since 2010 Esol funding has been cut by 55% despite rising demand year on year.
 
Corbyn stressed the importance of maths and English and that there had to be a level met by students, although those clearly unable to get there would need appropriate support. Maths teaching, for instance, was one of the reasons he would put money into music education in primary schools – it helps cognitive development which does improve maths as well.
 
Demands of automation
In the sector as a whole, he said FE and specifically technical education currently risked becoming purely employer-led and dominated by companies offering low-skilled, low-wage, low-opportunity jobs.
 
"Yet with more automation in the workplace, we need to offer more opportunities than ever for people to take on what will be highly technical jobs in the future. That said, we should never abandon our aim as a society in which education is a right throughout our lives.
 
"Let's be proud of people developing a practical skill just as much as we are proud of young people developing an academic skill as well."