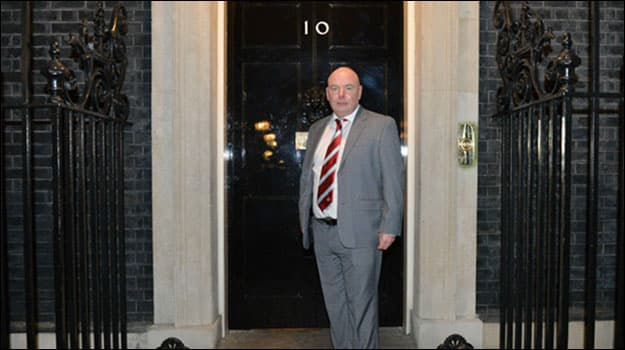 The Government's pledge to create 3 million additional apprenticeship places during its current term of office is a tough target but January's National Apprenticeship Awards highlight how UK employers and the FE sector are taking up the challenge. They also reveal new opportunities for colleges to increase their training provision.
City & Guilds Award for Apprenticeship Champion of the Year was won by Neil Cain, an Operations Manager for John O'Conner (Grounds Maintenance), a 500-strong, UK-wide operation. In 2010 Cain set up a company scheme, which accepted its first batch of five apprentices; the current annual intake is 50.
The company bases its training on the Royal Parks apprenticeship scheme, which Cain helped relaunch back in 1999 in his voluntary role as a Royal Parks Guild board member. It was to close a yawning skills gap after investment in training had dried up following privatisation of Royal Park maintenance work in the early 1990s.
Taking on apprentices is key to futureproofing a skilled workforce, says Cain. The company can predict staff needs well into the future because of long-running contracts. "We'll need new blood as we have a low staff turnover staff with several managers working here 20-35+ yrs and they'll start to retire from 2025."
Colleges in demand for specialist level 3 support
John O'Conner is one of many businesses increasingly approaching FE colleges to provide the more specialist bespoke courses required at level 3. Although Cain uses a private provider to run level 2 courses on-site across all its national sites to maintain uniform standards across the company, he sends all his level 3 apprentices to Capel Manor College, a specialist horticultural FE college with a base in London's Regent's Park, on fully subsidised, weekly day-release courses.
Of the first cohort of five students who started in 2010, two have completed level 3 and are being lined up for junior management training. One is Groundsman Operative Jack Peters (22), who left school without GCSEs and put himself through college to pass maths and English before applying for an apprenticeship.
"Neil was very helpful and easy to approach," says Jack. "If I was struggling in coursework, he'd take time to sit down and explain all the aspects. I was not really surprised he won. He's very good at what he does."
College assessors play a crucial role
But on his level 3 college course Jack says that, without the additional mentoring and support from his college assessor, Kirsten Jones, he would not have completed his apprenticeship.
Tutor assessors - a growing recruitment area for FE colleges increasingly being approached by companies to provide specialist level 3 courses - supply crucial support for apprentices.
Assessors build one-to-one relationships with students at college and the workplace. For 18 months Kirsten would meet Jack for an hour each week at college and visited him and his employer once a month at work.
"She particularly helped me with coursework, which for me at 17 or 18 years old was not really my scene," he says. "Without someone like her, I would not have been able to do the course. I'd be working in Tesco's or something. "
Apprentices key to Be Wiser's expansion
Insurance company Be Wiser, winner of the Rolls Royce Award for Newcomer Large Employer of the Year, offers in-house level 2 and 3 training. April 2016 sees the launch of the first official (diploma) level 4 NVQ framework for insurance, which Be Wiser plans to adopt alongside its existing in-house programme that leads to a Chartered Insurance Institute qualification.
Be Wiser picked up the award partly for its pioneering work in the financial services sector: apprenticeships offered have gone from zero to 254 since 2014. It plans to expand from around 850 to 1200 workers within three years.
Another strength is its wide range of in-house training programmes aimed at school leavers with and without GCSEs, college leavers, and apprentices on courses within the technical insurance framework focused on management at the equivalent of level 4. It is the only company in the UK financial services sector with a direct government grant to run its own in-house apprenticeships.
"We're taking on apprentices for all our frontline jobs and management in the next three years," says Crescens George, Director of Training and Development. "It's a very good channel for developing fresh blood."
Our USP is a 'career in the making'
"When people come to Be Wiser, we tell them it's not the job they apply for but a career in the making. That's our USP. We say we're going to transform them from call centre staff into insurance professionals."
Apprentices spend their first 30 days at the company's call centre and then specialise in different areas such as sales. They are all given a full-time job on £18,000 pa when they start. "They don't have to finish an apprenticeship beforehand," says George. "We treat them like normal employees."
Colleges are a big part of Be Wiser's expansion plans. Level 2 and 3 training continues to be run in-house but teaching staff are sent to college to master the NVQ course requirements. "It's hard to foster young people's interest in insurance, so next to our insurance stand at careers fairs we always set up an IT table which draws in young people."
The company, based in Andover, Hampshire, plans to offer IT, human resources and possibly marketing apprenticeships, and to ask local colleges to be its level 3 training providers.
BAE Systems closes gender gap
BAE Systems, winner of the BT Award for Macro Employer of the Year, sees apprenticeships as a key part of recruitment. It has built close, long-term partnerships with FE colleges near its five main UK manufacturing bases.
"Our apprentice completion rate is now over 92% for 2014-15 [against a national average of 66%] and on track for over 95% this year," says Education Director Richard Hamer. Last year female engineers made up 18% of completed apprenticeships against an average 5% nationally.
The company is one of the biggest recruiters in the large manufacturing and engineering sector with 1,500 apprentices, increasing to 2,000 by the end of this year." Of the 724 apprentices taken on last September, 123 are doing higher or degree apprenticeships.
"We share a common set of objectives with our FE partners," says Hamer. "For instance, we've worked with Fylde College to develop a joint curriculum."
£90,000 cost per apprentice shows deep commitment
Level 3 courses take up the most candidates and half go on to some form of higher apprenticeship. The fact it costs on average around £90,000 to train an apprentice – and more if they go on to degree level - underlines BAE's commitment to apprenticeships.
A major advantage of attending a local college rather than university is that apprentices do not have to travel so far, says Hamer. "They can pop in to see their tutor whenever." Meanwhile, university links remain strong as 80% of degree courses are run by colleges with university validation.
Colleges also offer opportunities to BAE Systems staff. Furness College, for instance, has advertised positions taken up by company employees, while during times of restructuring colleges working with the company have attracted BAE engineers into teaching.
Whether it be futureproofing an ageing workforce, attracting and training young practical minds to meet tomorrow's challenges or helping fill the skills shortage in engineering and manufacturing by closing the gender gap, opportunities to work in FE are only likely to grow if the government is to make good on its promise of 3 million apprentices by 2020.
As Richard Hamer puts it: "We can't succeed unless our supply chain succeeds."
Find your next job in further education
Colleges are looking for candidates with experience they want to share - your next role could be supporting the apprenticeships of the future, helping to support students to gain their qualifications and build a new generation of skilled workers. Register with AoC Jobs to find the latest opportunities.