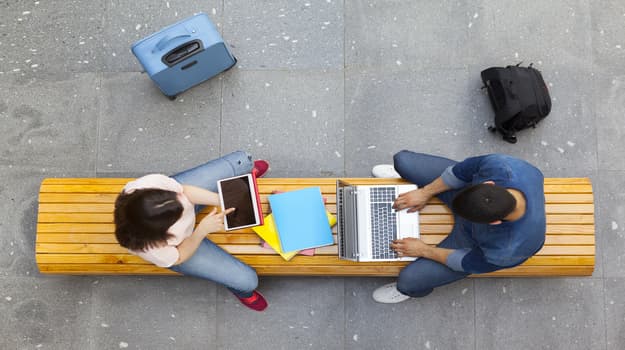 Staying in education is a choice many young students have to make in the face of increased expense and government cuts to further education. There can be a financial strain for those in further education, not helped by the tuition fee rise in 2010 and the loss of maintenance grants from 2016 which could leave thousands of students in debt. As a result, are less students planning on staying in further education?
How have student numbers changed?
Currently HESA statistics show a decrease in students at UK universities in the last academic year, along with a small decrease in those staying to graduate with first class degrees. These statistics are mirrored by Oxford University, who have reported a small but significant drop in UK student places from 10,839 to 9,278. Falling student numbers at a university level often mirrors the other areas of higher and further education, where a drop in student numbers is being attributed to the reduction in funding for colleges, resulting in the loss of college places available. The Association of Colleges warns that if these cuts continue, over 190,000 places in further education could be lost. This means students will have less choice and will receive less support, and would have to travel further for their courses.
High university fees are locking out low income students
Along with students reported to be dropping out of further education, the rise in fees also risks further education being priced out of the reach of many potential students, something which could see wealthier students enrolling and threatens to lead to class divides across education. In medical schools, the majority of students are from wealthier homes, with 80% of medical students coming from households with parents in higher managerial roles and more than a quarter are from private schools. For instance, the cost of university places is making it less affordable for those on a lower income, and the lack of financial support risks leaving students with a large debt, thus creating a divide between those who can pay and those who cannot.
There was a record amount of students being accepted into universities in 2015, with over 530,000 places being filled and UCAS figures argue against the fall in lower income students going to university, instead showing that low-income students are now more likely to apply, with applications up by 1%. Although those from a wealthy background are still twice as likely to apply, this difference has fallen since 2006, where the wealthier students were 3.7 times more likely to apply. This shows the importance the young people of today place on education and the need for colleges to offer their support to those student from less affluent backgrounds.
Can further education support lower income students?
For both universities and further education colleges, the demand for places is increasing, as more young people continue to turn to further education to improve their future career prospects. This is very prevalent in Scotland where the number of students attending university has risen by 22%. Although there is a decrease in part-time courses available, the latest figures from Scotland have reported a rise in graduate employment levels as a result of higher quality course choices. 
Staff numbers rising in further education
Whilst there are issues around the viability of further education for many students, graduation levels have continued to increase, and so has the number of lecturers and teachers employed in further education, with staff numbers rising to 400,000 employed at further education institutions, according to the Higher Education Statistics Agency. It seems that although there are worries around declining student places in further education this year, the reality may be that this is as a result of educational changes. More students are choosing STEM courses, whilst the cut down on vocational courses has lead to the increase in apprenticeships, as students look beyond traditional higher education and choose an environment where they can gain skills directly relatable for the workplace.
This has opened up many opportunities for professionals looking at a career change or those who wish to get into teaching as jobseekers with industry skills are highly sought-after by colleges. You can find your next role in further education with AoC Jobs who work directly with colleges throughout England - register today and find your dream teaching role.