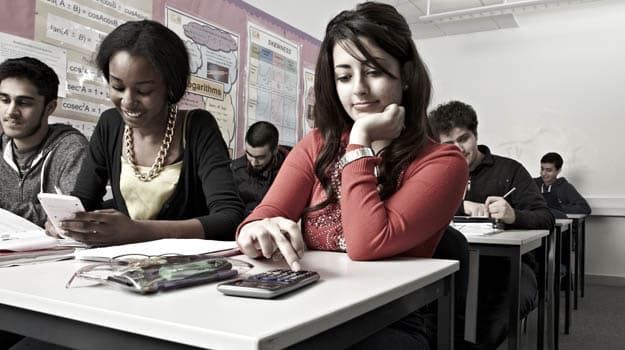 The introduction of 'Core Maths' qualifications, the initiative to drive more students to learn maths after GCSE, will provide a new way to improve the skills of students taking non-maths subjects.
Ideally suited to students who achieved a C or above in their maths GCSE and who are going on to study A-levels but do not want to take an A-level in maths, Core Maths will be a two year course with students being externally assessed at the end.  The Level 3 Qualification will be half the size of an A-level and students will be graded as pass, merit or distinction.
The new qualification will give students the skills needed to solve mathematical problems in real life situations and build on their math GCSE, making sure they have the required knowledge for their post-16 studies as well as anything they may encounter in everyday life.
From 2016 Core Maths will count towards the Technical Baccalaureate performance measure, and going into 2017 the qualifications will also count within the proposed level 3 maths measure in 16-19 performance tables.
Helping teachers deliver 'Core Maths'
With Core Maths being taught across further education colleges from September, it is imperative that teachers and aspiring teachers are given the tools to teach the new qualifications. The Education and Training Foundation has scheduled a range of six-day training courses across England to enable FE teachers to rise to the challenge of delivering the new Level 3 Core Maths Qualifications.
Anyone within the further education sector is eligible for the training courses as long as they are currently employed by a Skills Funding Agency backed institution that is represented by the Education and Training Foundation.
Teachers are able to deliver qualifications in six areas:
City & Guilds – level 3 certificate in using and applying mathematics
OCR – level 3 certificates in quantitative problem solving
OCR – level 3 certificate in quantitative reasoning
Pearson Edexcel – level 3 certificate in mathematics in context
AQA – level 3 certificate in mathematical studies
WJEC Eduqas – level 3 certificate in mathematics for work and life
The Education and Training Foundation has subsidised this training, so it can be provided free of charge and travel expenses will also be reimbursed.
With workshops running across the country from June to November, now is the time to get into teaching maths to our future generations. To find out more about the workshops in your area please visit the ETF Training website.
You can also browse the most recent mathematics vacancies on our website, and find the perfect role to develop your career further!