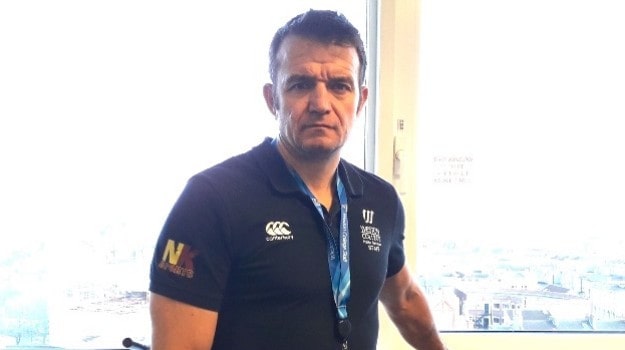 Dave Beresford is one of many former service personnel who has successfully taken up teaching in FE. Doing a PGCE course while in the marines was, he says, a no brainer
Get a degree in earth sciences (3 years), join the Royal Marines and specialise in personal training (14 years), including active service and qualifying as a teacher, take up a secondary school post teaching geography and science (2 years), and finally, become a public services lecturer at Weston College (seven years and counting) . . . Dave Beresford, who won the Military Cross during his army career and, this year, the lifetime achievement award in the annual English Veterans' Awards, can never be accused of standing still.
'I studied for my PGCE between training and operations'
"I saw the army's offer of my doing a PGCE as a great opportunity. It was a no-brainer and a chance to do a bit of CPD. It was a free qualification that I did in my own time at weekends and so on between training and operations." 
He left the army in 2010, joined a graduate teacher training programme at a local secondary school, and then stayed on for a second year to fill a maternity leave position teaching science and geography before moving over to Weston College as a lecturer in public services. 
Why change to FE? His maternity cover contract had ended, and while considering his options, a teaching vacancy covering the armed forces, police, fire, ambulance, prison and related public and emergency services came up at the college, which chimed well with his army background.
What about the transition from services to teaching? "I was effectively not working during the graduate teaching year which I didn't like as I was not earning any money. It was a difficult year as I was relying on my partner and savings; at times it was demoralising after being in the army full-time, although the maternity cover job I got afterwards was a real blessing. Getting the full-time position at Weston set me on a good footing." 
'About half my students are interested in the police'
Dave's readiness to study for a PGCE in the army highlights the range of teaching posts that can then become available to forces personnel. He teaches across an NCFE level 2 (GCSE equivalent) qualification in public services, a level 3 BTEC (the equivalent of 3 A levels) and a foundation degree (accessible through the normal UCAS process).
With an annual cohort of some 135 students across all public services courses (of which just over 40 are degree students, "about 50% of my students are interested in police and fire service roles, and we have a number of former students now serving with the marines, the RAF and the Navy," says Dave. 
"Part of my job is organising experiences with all the different public services so students can make an informed decision about which one they want to work in."
With such a wide remit, he keeps his teaching up to date by regularly visiting all the public services centres to check current activities, getting feedback from his students and pouring through a multitude of services magazines.
'They're well paid and they bring adventure and travel...'
"I'm just passionate about the careers stemming from public services. I strongly believe that in the current bleak employment situation facing youngsters there are some great career opportunities. They're well paid, and many bring adventure and travel … when I look at some of the choices available to youngsters I think [my job] is a fantastic vocation to promote movement to those types of professions."
How do students get inspired? "Our main model is to try replicating public service careers while students are at college. Experiences we give them are very much in sync with what they'll actually face in the job. 
"We expose them to fitness conducive to their entry to public services, introduce them to an adventure section that will help build their skillset, and expose them to direct vocational experiences stemming from visits to marine, RAF, and naval bases, police stations and so on. Then we install in them qualities such as punctuality, attendance and discipline."
Coasteering - the art of jumping off 30-foot cliffs into the sea
In fact, Weston offers one of the highest numbers of public services courses in the country. Students are going on a different trip every week up to Christmas. The idea, explains Dave, is to achieve the right blend of 'academic' classroom and adventure elements during the course. "We mix up different classes and courses so we sometimes have level 2 and 3 students together or even mix level 3 with degree-level students."
Yesterday Dave took 16 students off caving on Exmoor . . . today 30 students are 'navigating' the Mendip hills. The most exciting challenge for many is jumping into the sea from 30-foot high cliffs at Coombe Martin in mid-winter on the north Devon coast, wearing wetsuits and full safety gear. It's called coasteering.
For any would-be public services lecturer, Dave says the main thing is to lead by example: "I'll never ask my students to do anything I could not do myself. I do all the fitness exercises with them and try to be a role model. You have to show drive and a passion for what you deliver."
'A massive trick is getting to know your learners'
A key aspect is getting to know your learners, he says. "It's a massive trick in this job. Then you can talk to them about things like the sports they do at the weekend or their circumstances outside the college, so they know you have got a vested interest in them as their teacher. Teaching is about relationships rather than the science of it."
Fitness plays an important role. Fitness tests take place regularly with the toughest challenger students - a commando test week - at the end of their course. Each involves different exercises including assault courses and short sharp runs, culminating in a 16-mile 'marathon' up and down hills in the local area: "We'll start with about 30 students and sometimes end up with just 6 or 7 completing it!"
In fact, individuals' approach to fitness often dictates what sort of public service they will eventually enter. Students have to be fit to join the police and very fit to join the more arduous military divisions.
'We pride ourselves on a high attendance rate'
On the academic side, level 3 BTEC students, for instance, have to keep on top of assignments handed out most weeks so as to achieve the highest grades possible. Level 2 learners are looking to progress to level 3 and many students have to resit GCSE English and maths. "We ensure they apply themselves. It's hard work at times but we pride ourselves on a high attendance rate.
"It's a two-way thing," says Dave. "We'll give students a fantastic experience and set them up for all the public services, but the caveat is effort, attendance and discipline. During academic qualification, they will have developed as individuals in confidence, skills and general self-belief. We prepare them all for life."
Are you interested in public services?
Could you see yourself teaching in this subject area? 
Are you an ex-public service worker? 
If so, you sound like the ideal candidate for these roles we have available on AoC Jobs at FE colleges across the UK.