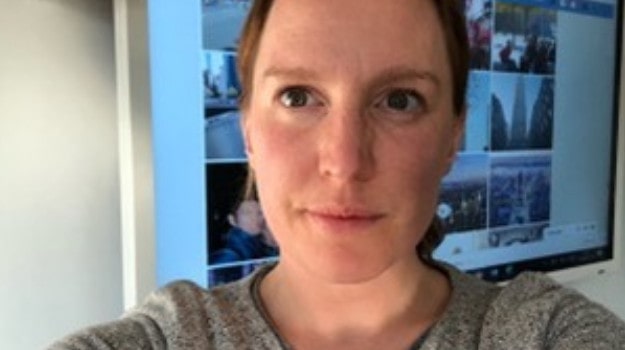 As a part-time mental health lecturer at London's City Lit adult education college, Natalie helped Nicola O'Neill (see last week's entry) turn her life around by overcoming chronic alcoholism
Natalie Treacher started lecturing part-time at City Lit in mental health awareness in 2012 after teaching City and Guilds qualifications in mental health care at the Holy Cross Centre Trust in Camden. She gained a lifelong learning teaching qualification (PTLLS), a level 4 and 5 qualification that all City Lit tutors are encouraged to take. She works out of the college's community outreach department whose remit includes working alongside community organisations. 
The 14-week (one day a week) course she taught Nicola in a group of 12 is a level 2 qualification: Understanding working with people with mental health needs. It's a comprehensive 'knowledge only' course (ie there's no practical training aspect like work experience). 
The course looks at the basic policies, laws and guidelines governing mental health, explores what might influence a history of our responses to mental health, and examines treatment support, stigma, and how to support healthy lifestyles. It also includes awareness of the industry, as it's designed for those who may wish to be support workers or social care/project workers or who are just exploring the idea . . .
What made Nicola stand out?
"At the start, Nicola was one of those who found integration the most difficult. She was used to being in settings where her own progress was the focus. It was about getting to a stage where she could separate herself from her journey and start using her experience as a tool to support others. This was quite powerful to see – something she struggled with but overcame.
"What impressed me was Nicola's absolute determination to change – she was so ready to learn. She'd tell me about some of the behaviours she had associated herself with when she was in the grip of addiction – "But now I am not that person and do not behave in that way," she said. "Once I might have got into a heated discussion with someone but now I walk away as I'm a stronger person. I have moved on."
"In my courses, everyone seems to be managing high levels of anxiety just to get into the class, let alone trying to learn anything. Yet I'm constantly surprised and impressed how people rise to the challenge as the course goes on and they realise what they have to do to pass and soak up all the knowledge including formal, technical things about law and policy. There's a lot to learn and the level of what's expected of students is quite high.
As a teacher, when you are walking alongside people in their personal journeys, the main tool you have to help is yourself'
"The course is not therapy but a learning process – so I couldn't help noticing the annual awards given out at City Lit did not recognise the qualities of so many students in overcoming huge additional needs when they begin to integrate with other students. I've always felt there should be an extra layer of rewards. Fortunately, last year City Lit introduced wellbeing awards for those who had achieved things personally that not only improved their academic attainment but also their life and wellbeing. 
"In fact, I nominated half my class because they all had quite extraordinary backgrounds. They had really achieved against quite impressive odds. Nicola was a worthy winner.
What do you need to teach mental health?
"Social care doesn't get much championing – there are often unsung heroes. You have to have the passion to work effectively in this job and get results.
"As a teacher, when you are walking alongside people in their personal journeys, the main tool you have to help is yourself. I sometimes feel more motivational speaker than a teacher. For despite often being at the mercy of zero-hours contracts and poor working conditions, social and mental healthcare workers invariably carry high public expectations. Yet they are often vulnerable as many have to cope with their own mental health problems that brought them into the field originally.
'Wellbeing is so important in mental health – the work is about equipping people with the tactics to take care of themselves'
"One of my course activities is making a poster about things that support our own wellbeing. It's quite handy for students as people and also as workers as a way of promoting their own wellbeing in the workplace. Wellbeing is so important in mental health – the work is not necessarily about curing a specific problem but rather equipping people with the tactics to take care of themselves.
"I'm now quite used to celebrating what might seem just 'small wins' – someone quite anxious might stand up for the first time in front of the class, or come to me saying they will stand up but want to be first as they will otherwise worry about it in class. This shows they have become effective at communicating their needs and that they will participate.
What's one of your biggest challenges?
"Getting students through the door and then keeping them. It's a serious responsibility. Nicola's course started and finished with the same dozen students, although retention can be a problem. Life happens. Retaining students is often down to how students in a group support each other and the diversity within each group. What's quite wonderful about these courses is the motivation students bring with them to learn. 
"The more diverse the group (one was a mix of charity workers, social care personnel, company staff employing homeless people and those aiming to improve their own mental health), the more students you'd least expect to knuckle down often rise to the challenge of expected behaviours such as arriving on time, submitting work and participating in groups.
"Of course, there are still many other challenges. I spend a lot of time building up students' resilience and personal efficacy and building each group. I explain it's much easier when we work as a team, are transparent, give each other honest feedback in an encouraging way, and respect each other and each other's time. I try to look at some of these principles early on and drip feed them through the course.
What's so special about working in FE?
"I'm very grateful that I work in FE in a practical sense because it is transformative. In Nicola, for instance, I saw a personal and inspiring change. Every course is fantastically motivating, given the students' experience and journeys like Nicola's."
Are you passionate about mental health and well-being? 
Do you think you could contribute positively to student progression on a health and social care or counselling course? 
Is mental health awareness an important subject to you? 
If you can answer yes to the above questions, then a role in health and social care in an FE college could be perfect for you! 
Click here to look through the available vacancies.