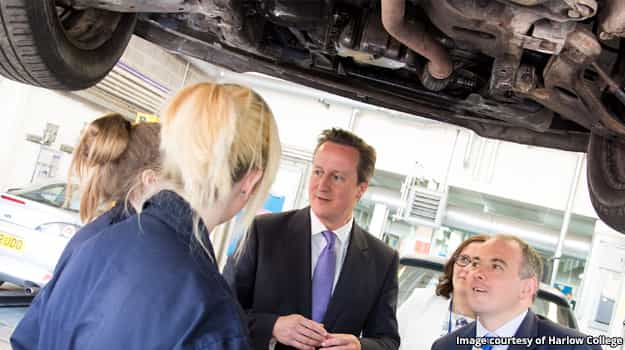 Key issues faced by colleges under the new Government
Three months on from the general election, how are further education colleges faring in the new Government's reforms? What sort of issues do they face, now that the Conservatives are no longer in coalition with the Lib Dems? And what does the Government's recently announced drive for greater efficiency and productivity say about future job prospects in the sector?
Last month (July) the Government launched its report, Fixing the foundations: creating a more prosperous economy - a plan to raise productivity across the UK. It called for a 'highly skilled workforce', including the introduction of a new compulsory apprenticeship levy requiring large businesses to 'invest in their own future and a radical streamlining of FE qualifications'.
Three million extra apprenticeships pledge
One way it aims to meet this target is through its election pledge to create 3 million apprenticeships by 2020. While the policy is a welcome boost to the sector, one of the key issues for colleges is ensuring the focus on quantity does not prevent apprentices from gaining the higher-level skills that employers now need in the workplace.
Push for higher-level technical skills
The apprenticeship pledge is part of a wider Government campaign to build a workforce with higher-level technical skills - skills that are often in short supply in many specialised industries and thus limiting Britain's productivity.
The Government is also continuing to expand on its National College 'centres of excellence' network based at leading FE colleges. The first National Colleges are due to open in Thurrock and Hull in September 2016, covering the creative/cultural industries and wind energy respectively. Five more are in the pipeline, designed to focus on advanced manufacturing skills, digital skills, nuclear, high-speed (HS) rail and onshore oil and gas.
'Better targeted basic skills'
Alongside these National Colleges, more FE colleges could become Institutes of Technology to meet growing demand for 'better targeted basic skills alongside professional and technical education'. These Institutes would be employer-sponsored, register with professional institutions and adopt high apprenticeship standards.
With this in mind, FE teaching opportunities in STEM subjects (science, technology, engineering and mathematics), particularly for graduates and experienced industry employees seeking a career change, have rarely been greater.
Focus on closer local links between colleges and industry
Increasingly loudly, local employers are bemoaning the lack of appropriately skilled workers needed to meet the specific needs of local industries. In response, the Government also announced in its Productivity Plan the introduction of area reviews to encourage closer co-operation and pooling of resources across groups of local educational  institutions.
The reviews will bring together colleges, local enterprise partnerships, employers and local government to closely analyse the skills needs of local employers and create courses better suited to fit the local and regional economies. This is yet another reminder to experienced industry workers, business people and former teachers that their skills are becoming increasingly sought after in the college sector.
East Anglia colleges break new ground
In East Anglia, for instance, Great Yarmouth College, Lowestoft College and Lowestoft Sixth Form College are planning joint activities and sharing resources, while two other local sixth form colleges are considering closer collaboration.
Reading College is a successful example of linking up with Banbury & Bicester and City of Oxford colleges, schools and universities under the jointly formed Activate Learning Group. When one institution has a staff shortage, for instance, it looks to its network members to fill the gaps. Money is saved on recruitment, with courses and students continuing unaffected. 
A way round austerity
Like many other sectors in and outside education, finding adequate funding in the face of continuing austerity measures remains a problem in FE, with 16-18 education now no longer enjoying ring-fenced state support. But if a college can show the positive effect its training has had on former students' ability to boost the local economy, the task of finding even capital funding can become considerably easier.
Using detailed analysis by a private research company, East Durham College was last year able to show the contribution its former students were making to the local economy. 
According to the data, every pound paid by learners for their education at the college produced £6.30 in higher wages, 11.4% was the average annual return seen by taxpayers on their investment in the college, and £5.60 was the benefit to society for every pound spent at the college. East Durham then used the data to help it successfully bid for £10m of funding from the North-east Local Enterprise Partnership to redevelop one of its campuses.
These then are just some of FE's challenges and job opportunities awaiting those eager to pass on their hard-won skills to the next generation of young workers. Collaboration between colleges, demonstrating the economic impact of former college students on their local economy, and courses ever more tightly tailored to local needs ... these initiatives could be part of the blueprint for further education over the next five years.