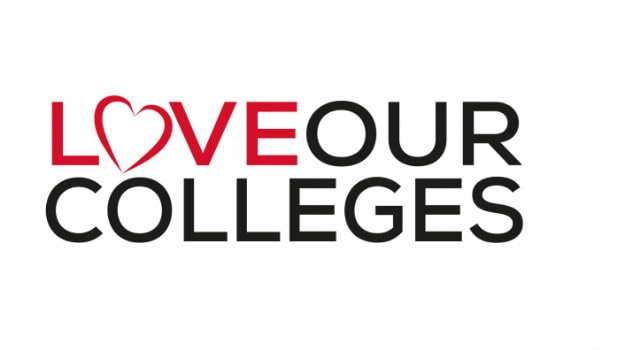 Despite the FE sector's exhaustive efforts over the past few years to lobby the government to raise some rock-bottom funding levels, it took an Institute of Fiscal Studies (IFS) report last summer to start making politicians and others fully wake up outside the sector to the trials of underfunding in further education. 
On the back of that report, the AoC launched its ongoing Love our Colleges campaign, headed by a profile-raising Colleges Week last October and now consolidated this week (May 13-17) by a coordinated national week of local activities to increase the pressure on local MPs to influence the Treasury ahead of the Comprehensive Spending Review (CSR) due to start this summer. 
Campaign progress so far
The campaign has already made real progress; around 164 MPs from both sides of the Commons, many of them deluged with constituents' letters, have since written to the chancellor to press for more FE funding, while the issue has dominated some of the direct questions on education at Prime Minister's Questions and in parliamentary debates.
The AoC knows from feedback that the campaign is working, including congratulations from apprenticeships and skills minister Anne Milton, who said the amount of MPs' correspondence sent to the Department for Education saw FE funding become a top subject for the two months following the inaugural Colleges Week.
What gained traction in October has set a precedent for colleges using this current week to invite their MPs to their campuses, take part in roundtables with local employers, students and other stakeholders, and generally make the sector's presence felt. 
October's budget a missed opportunity
The head of steam built up in October in the days leading up to the chancellor's autumn budget statement, unfortunately, did not wring any major funding concession from the government - a "deeply disappointing" response, according Labour's shadow FE minister Gordon Marsden, and deemed by many to be another missed opportunity to boost the sector's funding levels. 
But the momentum gained by colleges last autumn is now being channelled into a second run at the Treasury. Now the stakes are even higher as Treasury ministers and civil servants start to focus on how education money will be spent over the next three years, not just the more immediate, shorter time span associated with the annual Budget. 
In almost a repeat of the part played by the IFS report, yet another weighty paper, '16-19 Education Funding - Trends and Implications', has been published this month by the independent thinktank, Education Policy Institute. It, too, highlights the stringent cuts to FE funding since 2010, compared with funding per pupil/student at primary, lower secondary and higher education. It asks why has 16-19 real per-student funding declined, both in absolute terms and relative to other 'phases' of education? Is it down to deliberate judgments or the unintended results of other policies? 
Mind-numbing funding figures
The figures it cites are again mind-numbing . . . a 27% real-terms drop in total 16-19 funding to £5.7bn from £7.8bn since 2010-11, and an 18% real-terms drop in funding per student. FE teachers' average annual salaries, seen as one of the biggest hurdles in recruitment and improving standards, fell per FE teacher by 8% between 2010/11 and 2016/17 to £31,000 - 17% less than a secondary school teacher's average annual earnings, although sixth form college teachers averaged £39,000, some way ahead of secondary teachers (£36,700) and dropping by only £900 over the same period. 
And there's less teaching. "Students in England receive an average of 10 hours less teaching time per week than their counterparts in other OECD countries," says AoC chief executive David Hughes. "That's 300 fewer hours each year." 
For all colleges, this week should mark the start of a concerted campaign aiming for long-term funding guarantees. Even now civil servants are beginning to focus on the issue before the spending review gets underway. 
Backbench MPs a key campaign target
A recent AoC podcast supporting this week's CSR campaign emphasised the importance of getting all political parties involved: "Backbench MPS getting in touch with ministers really makes a difference - every time a question is asked, civil servants have to draft a question and that puts FE funding on the agenda."
The AoC has also produced a comprehensive set of campaigning materials on lobbying, relationships with local media, hosting awareness-raising events, and mobilising staff, students and communities. These resources can be used throughout the year, and particularly around October 14-18, which will mark the second Colleges Week, with more lobbying, publicity events and trumpeting of the sector's achievements. The week aims to act as a loud and inspiring reminder close to the publication of the expected CSR report - it also takes place just a few days away from the EU's next Brexit deadline of October 31. 
The buck stops with FE
If we do leave the EU, the burden of filling the skills vacuum left by departing EU nationals will be left squarely on college shoulders. And if we don't leave, colleges will still have to have to make good the considerable damage already done by EU workers leaving the UK because of an uncertain future or, ironically, better prospects in growing home economies or elsewhere in Europe.  
Has the 'Love our colleges' campaign inspired you to look into a career in FE? 
Do you think you have what it takes to help students progress? 
If so, you are in the right place! We currently have 900 live jobs in education for you to browse through.
Click here to have a look, and hopefully, you will find a role that is perfect for you!