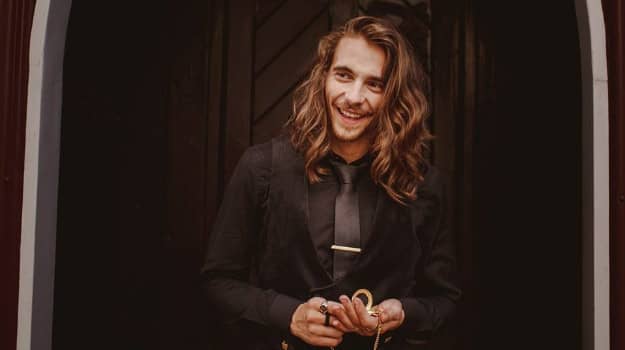 The students: 
Claudia and Alfie in their second year of a music practice and performance level 3 BTEC diploma nominate their year group leader, Jay Houlihan, at West Herts College, Watford.
Claudia (19), rhythm and lead guitar: Jay has helped us all with our confidence – he gets us to be the best we can be. He's showed me so many ways to write good lyrics and music when I compose my own songs. If I'm unsure about something, he'll take time out to show me and make sure I'm practising. He has that knack of catching people's attention when teaching – he makes me want to learn.
Jay will show me safe places to go in guitar playing when I'm playing solo – where to go in a certain key and what scales to use – and when I get used to that, he'll go into more depth, take time out and show me. He's great at presenting a problem from a different angle if we don't understand something. He's good with people and says the right things – if I have an issue that might not even involve college I can still talk to him freely. He offers constructive criticism which is what you want. If we're feeling low, he'll start teaching something unrelated to change the mood and only then return to the main subject
Alfie (18), rhythm and lead guitar: Jay's an inspiration. College can get really stressful and he's the perfect person to pick your spirits up. He'll go out of his way to help even it takes up his own time. He knows I'm taking a gap year and seeking work experience, so he's arranging for me to join him teaching his private clients outside his college work. It's really good of him as he didn't have to do that. And he's great on assignments I'm struggling with – I'm trying to get all distinctions and he'll sit down with any of us one-to-one to clarify issues. 
He's a fantastic musician – he does a bit of everything though he's mainly a guitarist and regularly plays sessions. He has a very busy schedule and an inspiring sense of time management; he gives us tips on how to manage our own time. He puts a lot into planning lessons and makes tricky musical theory easy to understand. I've pushed up most of my grades now, thanks to him.
The lecturer:
Jay Houlihan joined West Herts College as a music department technician in 2011 after spending several years in the music industry as a guitarist and session musician. He then worked his way up to part-time and full-time lecturer and he is now the music department's teaching and learning leader
I didn't come into teaching with a qualification so I first worked my socks off and used my continuing industry experience to keep up to date with what the students needed to know. When I mention certain artists I have worked with that they know of, they will listen to you a lot more intently. As a professional guitarist, I'm still doing gigs and touring. 
I studied at West Herts after school and was so inspired by the staff that on my last day I said: "Give me a few years and I'll be back at your door demanding a job!" After some six years full-time in the music industry, I applied and got a music technician's job at the college after writing out eight different applications. I said no one else is getting that job – it's mine!
I was constantly taken out of my comfort zone
I used the same resilience and persistence to move into teaching and get the college to put me through a work experience-based level 5 teaching course … I'd cut my teeth by starting to cover lessons on dance, performing arts, media, anything. I was constantly taken out of my comfort zone and from doing that I could walk into a room and command the students' attention by quickly getting on to their level. 
I use my own background story to inspire my students to aim for top HE music institutions like Leeds College of Music or Liverpool Institute for Performing Arts. I want them not only to leave us with first-class instrument abilities but also personal and body language skills enabling them to lead groups, lead sessions and have more strings to their bow.
My teaching is helped by my all-around music background – outside the college, I have played session guitar for artists such as Mumford and Sons and Alice Claire, write music and songs for other artists, produce TV and film scores. On the technical side, I record, mix and produce music in the studio and still work occasionally as an engineer, producer or band manager, so I can bring up-to-date case studies to my lessons from every angle. 
The work you put in is what really counts
I never say no to any challenge and always tell my students if they have to choose between an easy and a hard option, always go for the hard one as that will get you somewhere. 
I attribute 90% of my achievements in teaching and in life to Caroline Dweck's book, Growth Mindset, and James Borg's Body Language. Dweck, for instance, looks at the acquisition of skills and dismisses the argument that whatever you are born with, you are fixed with – it's the work you put in that really counts. 
It's all about pushing the student to fail and learning that failure should not be attached to emotion but should be a learning experience. Students need to figure out that, okay, I've got this wrong so I need to work out how to get it right by using the feedback from that 'failing' situation. 
Confidence comes from building on failure
Recently, mental wellbeing has become more of an issue among students; the growth mindset way of teaching counters that by developing special confidence that comes from building on initial failure. So my job is to rebuild my students into people who can go again and be confident, take ownership of their qualifications and realise many of the skills they need are achievable – and not unreachable. They need to think: "If I failed again, it means I am really giving it a go." I tell them they have not achieved a target I set purely because they have not worked or practised hard enough!
One key exercise I used recently was in a music improvisation class. Students were finding it impossible to improvise in front of their classmates so I asked them to make their first 8 bar attempt sound as terrible as possible. They found it hard as their fingers automatically worked to make it sound good and everybody started laughing. It was fun and the pressure lifted. Then I asked them to improvise properly, everyone took part and some of them even used some of their false mistakes as part of their final attempt! I say if you are not failing, you are just not trying hard enough. 
I take a lot of time to understand them as fellow human beings and when they are a bit 'off piste' I can generally identify that. Quickly knowing all their names is a basic rule – it creates a personal learning experience for that student. And it's the simplest thing to get right. 
I love the responsibility of solving problems
Having lots of small conversations with my students lets me know what they are working on, in and out of college; it enables me to keep a rein on their passions when necessary, to constantly check on their progress and know when they are really achieving and when they are up against it.
What I like most about my job is that feeling of responsibility in knowing how to develop someone. It's problem-solving, being there to offer solutions or even be listened to, and getting involved with the students.