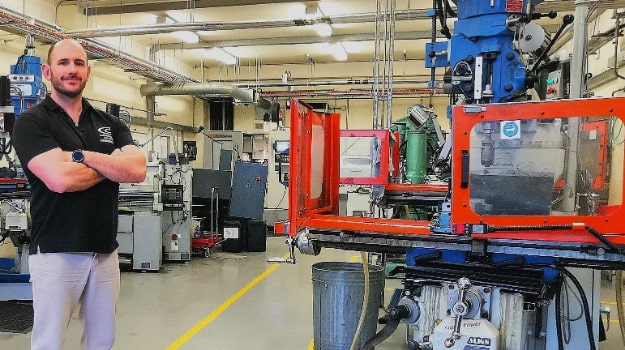 Students:
Josh Burns, 26, is in his second year of a level 3 BTEC extended diploma in mechanical engineering as part of an apprenticeship he took up after working in customer services for seven years 
"I'd never have got my apprenticeship without Luke telling me about a vacancy at my current employer, Flann Microwave," says Josh. 
Luke taught Josh for two years during his full-time level 2 NVQ diploma in engineering. "He's really down to earth; we always enjoyed his machining lessons on Fridays which were the highlight of our week.
"Luke was very easy to approach if I struggled with something; he'd take time out to show me and even helped me sort out my work folder early on so I was presenting my project work correctly. He'd always reply to my emailed and texted queries - you could show him your work and ask if it was ready to submit.
"In my first level 2 NVQ year Luke helped us prepare for a major multiple-choice exam by plying us with sample questions he thought would come up. He set up a revision programme on the college internet to generate questions we could access on our screens and gave us our test scores to show us our progress and how much we'd understood. You were given three attempts to pass; I passed the first time but Luke's efforts helped everyone get through by their second or third attempt." 
Donna Basten, 35, is in the second year of her apprenticeship and is studying for an EAL Level 2 Diploma and NVQ in mechanical engineering
"I was selected for an apprenticeship to gain skills to equip me to succeed my manager when he leaves; he oversees my employer's CNC (computer numerical control) machine tool operation.
"I'm completely new to CNC - before and while being apprenticed I produce identifying rings to go round birds' legs. It's great that Luke is so approachable.  There are just five adult learners on this course - and he'll take time out to explain things clearly if any of us don't understand.
"He sees my step up as a natural progression. I went straight into work after leaving school. But I jumped at the chance of this apprenticeship and wish I'd done it earlier. I've now been with my company for nine years. I was a receptionist when I started."
Lecturer:
Luke Bazeley is course manager for engineering across three sites at Cornwall College. He also began as an apprentice at the college, finished the course early and got taken on by a local company
"I'd done several years in the industry but felt I wanted to pass on my experience. I always felt there was something more I could give," says Luke.
He'd gone through the same level 2 and 3 courses as an apprentice himself; he finished early and got taken on at a local firm, Dasten Diecasting, spending 15 years in industry before entering FE teaching.
Luke models his teaching techniques on real industrial practices: "We've streamlined it across all our college groups and I've been lucky enough to have been given free rein on that.
Porosity, casting and chocolate
"We run our courses along industrial engineering workshop lines so we work to a set production schedule and adhere to our own internal manufacturing standard similar to a British standard - like a mini-industry. We deliver a subject in ways that will stick in students' minds. 
"So when I'm, say, teaching about porosity and casting processes, I will sometimes relate the subject to chocolate! I can give you an hour's lesson on an Aero bar, relating it to different types of metal; we have the chocolate bars in class and the students get to eat them. It's doing something a bit unique and off-piste; my students associate it with a subject and remember the process through the example." 
Another tip for would-be lecturers is to get to know their students, and particularly find out about their hobbies. "Yesterday there were four or five friendship groups in a class and I had to stand in the middle and deflect conversation from one group to the other and make it relevant to their interests - some students were into fishing, for instance, and we've made fishing reels at the end of the course as a reward for good progress, or steam engines, go-karts, and so on  - whatever reflects their interests. 
'We fully restored an ancient steam engine'
"It incentivises them to get through the course and move on to the really fun bit at the end, although they still have to keep to high standards of workmanship. Engineering is relative to everything you do so it is quite easy to do that."
It generally takes Luke a couple of months to work out which sorts of projects will get the best out of his students. The college has worked closely with local companies such as the one running Poldark mine; students recovered an old mining steam engine built in 1874 and covered in brambles. They stripped it down and fully restored it, making new parts to replace faulty components and returning it in pristine condition to the mine's museum. "It was putting something back into our heritage," says Luke. "The students gain so much from that."
He says students are now creating a working model of Richard Trevithick's first steam locomotive built in 1804; it will be used by an engineer giving talks to schools.
High percentage of students get jobs after qualifying
"The college is an exciting place to work - employers trust what we do and as a result, we have between 75%-95% of our students going directly into employment in local areas after they qualify. 
"Cornwall has a huge skills gap to fill but I've never seen so many apprentices at the college. At present, I teach about half our total engineering students of between 150-200. 
The two-year entry Level 2 diploma course in engineering covers areas such as hand-fitting, machining and welding; it's the part of the course that helps students identify the type of engineering they enjoy most and are best at. "When I attended college I started doing welding but turned out to be a better machinist so I was fortunately directed down the latter route."
Growing emphasis on learning practical skills
The two-year Level 3 BTec extended diploma is more academic but it's become more practical due to employer demand. Luke says academic skills are important, but if they lack the necessary practical knowledge in the workplace, students still have to go back to scratch after qualifying to get hands-on experience.
Luke has an unusual sideline to keep up to date with industrial practice. Outside college hours he custom-makes parts for trumpets made of brass, titanium and stainless steel to keep his hand in. "I get out on the road as much as I can and visit companies to ensure we are delivering what is required locally."
In fact, Luke himself plays the tuba to a very high standard - he plays in the St Dennis brass band that has played before the Queen and Prince Charles and won four national titles since 2000. Luke says playing in a band in front of people certainly helped in what he found was initially quite a daunting transition from industry to the quite high-pressure environment of teaching and standing up in front of everyone. 
In teaching you always have to be ready to carry on learning," says Luke. "It's got to be progressive because, as soon as you lose enthusiasm, your students will pick up on it. You have to understand that FE teaching is also about being an administrator and a social worker. That's the biggest lesson you have to learn."
From stacking shelves to working for Nasa
On a practical level, he stresses the need to fulfil requests or complete a task set as soon as they come your way. "Don't, for instance, put off sending an email after the date it's requested by!" he warns. "The 'immediate' approach makes the transition into teaching so much easier. That way at least you know you have done it and can put it to bed."
Luke's department has a sound record. "We have had well over 90% of students finding work - and we have been particularly successful over the past five years. One student came to us after stacking shelves in a supermarket and wanted a career change - he's now machining components for Nasa!" 
Luke says one of the most rewarding things in teaching is seeing students arrive unsure about what they want to do, and then seeing them get picked up in an apprenticeship and know that they are then set for life and will likely "earn some brilliant money. 
"One of my favourite quotes to my students is 'Give a man a fish, and you feed him for a day. Teach a man to fish, and you feed him for a lifetime.' "
For information and listings for teaching and lecturing jobs in mechanical engineering, click here. To browse through assessor and trainer jobs in mechanical engineering, click here.