Dropping out of a history of art degree course at a Paris university left Nathalie Puget feeling she'd failed. A long string of jobs to make ends meet followed until a complete accident gave her a second chance. All her travails had brought her full circle . . .
The students
Mark Lonergan (49) has just finished the first year of a level 3 diploma in garden design, while Michèle Whitehead (56) has completed level 2 of the same diploma
Mark: Nathalie is a natural communicator and great at engaging people. She's one of life's enthusiasts so if we are ever slightly off-speed, her passion for garden design carries us along. She treats us all as individuals as well as a group of learners. She's also very organised, with lessons planned weeks in advance; last September she gave us a detailed timetable of what we would cover over the whole course. You always sense you are on a pass with Nathalie - when we recently learned she would be teaching us next year as well, there were smiles all round. She's a fantastic tutor.
Michèle: Nathalie has been quite remarkable, especially in lockdown - the way that lady works and the patience she has with everyone is incredible, she's so good at reading people. With no warning, she set up all our Zoom calls - you'd think she'd been using Zoom forever, she was so calm and organised. Contact her with a query and she'll get straight back to you. Even during lessons, if we didn't understand at first, she'd be really good at explaining things another way and would not move on till everyone understood. She's also helped us create our own style of working: whatever you do, she'll help you take it a step further and think outside the box. She even taught me how to draw without my realising! On a personal level, when my mother was ill, she was very flexible on deadlines and could not do enough to help me.

The lecturer
"FE gave me a second chance!" says Nathalie Puget, 32 years after leaving her native France for a brief visit to a friends in London. She's been here ever since.
After dropping out of university in Paris, Nathalie took a wide range of jobs in Britain including translator, waitress, cook and dispatch operator for a courier company. But she admits gardening was a complete accident.
Nathalie started gardening around 2001; it was just another job at first, working for a friend, but she found she really loved it, started building up garden maintenance work and then found clients asking her questions about design she couldn't really answer. "My friend suggested I take a design course," she says. "And I found it connected two big areas of interest for me - nature and art; I'd never thought they'd come together. Garden design has been a revelation!"
A three-year part-time course soon followed at Capel Manor College and Nathalie then set up as a freelance designer. Then in 2012, at a time when she'd started exploring other parts of the sector. she took up a voluntary teaching assistant's post for one term via her contacts at Capel Manor. This led to part-time work, a growing interest in teaching, qualifications and eventually the "huge decision" to give up her business and go full-time in January this year. "It's a new career and I'm excited about the future!"
Teaching is also about learning from others
Starting teaching even though part-time was really challenging. "I lacked confidence and found it difficult but also exhilarating. I enjoyed guiding people through their studies, watching them learn, and I've developed alongside them. Teaching is not just in one direction but it's about learning from others, from students. We're always learning something - I love that process and its transformative effect."
Garden design covers a wide syllabus and many students start at level 1 to learn the basics, regardless of any previous unrelated qualifications, before going on to levels 2 and 3 to become a fully qualified designer.
"I teach how to draw and sketch and how to produce technical drawings and design plan. I cover the principles of design and how you design space and plant out gardens, plus aesthetics and biology as you have to understand plant science before you can design. Science includes soil chemistry, plant adaptions, how different plants survive and are affected in different environments, and how you specify the plant products you need. You are designing space for humans but you're matching it up with nature.
Student Mark Lonergan's garden design in front of his house
We can all learn to draw
What does she enjoy teaching most? "Probably drawing, it's my background." A garden design first needs conceptualising on paper.
"Teaching people to draw is fantastic. Many think drawing is a skill you have or you don't - but I believe everyone can learn to draw to a point without being a Leonardo da Vinci. I love helping people discover that. I've had students in tears because they have never drawn or believed they could, but by giving just a little guidance you can show them they can."
Offering creative activities that actively engage students, is what works across all subjects, says Nathalie. "It's learning by doing. When we study theory, such as principles of design, we'll do an activity rather than just go through all the principles in a lecture. I'll give out information packs about individual principles of design to different student groups and get them to produce research and put it together in a mini-lecture that they then present to other students working on other principles. They're learning and taking part in teaching - and actually taking ownership of the course content."
Teachers just talking can be dull for learners
She says this approach also helps tutors. Just talking to students can be quite nerve-wracking - and, importantly, dull for the learners. "Actively involving students gets them engaged in real time and means it's much easier to understand where they are in their learning and what they need."
Nathalie's students are mostly mature (mid-20s to late 50s and beyond) and from a wide range of often unrelated backgrounds and careers. "They may have had enough of their career and want to do something completely different, aim to broaden their skillset at work, or simply be following a personal interest in garden design."
Mature students bring their own challenges. For Nathalie, the largest test is "teaching people with busy work responsibilities when they have difficulty engaging with what we are doing.
Artists always use tricks to get to where they want to be
"Let's say I'm teaching drawing. I've given specific instructions on how to observe a tree, what I want them to see and how to move it onto paper, and yet one of my students is finding it hard to draw foliage. My solution is to give them other ways of 'capturing' that tree, maybe by photographing it and printing up the photo. Artists are always using 'tricks' and shortcuts to get to where they want to be!"
"You have to find a way for them to connect with the course content, to get to know the individual and work out what will help them personally understand." She says that by discovering something they can do well, and then getting them to use this talent in their work, helps her break down barriers to their understanding.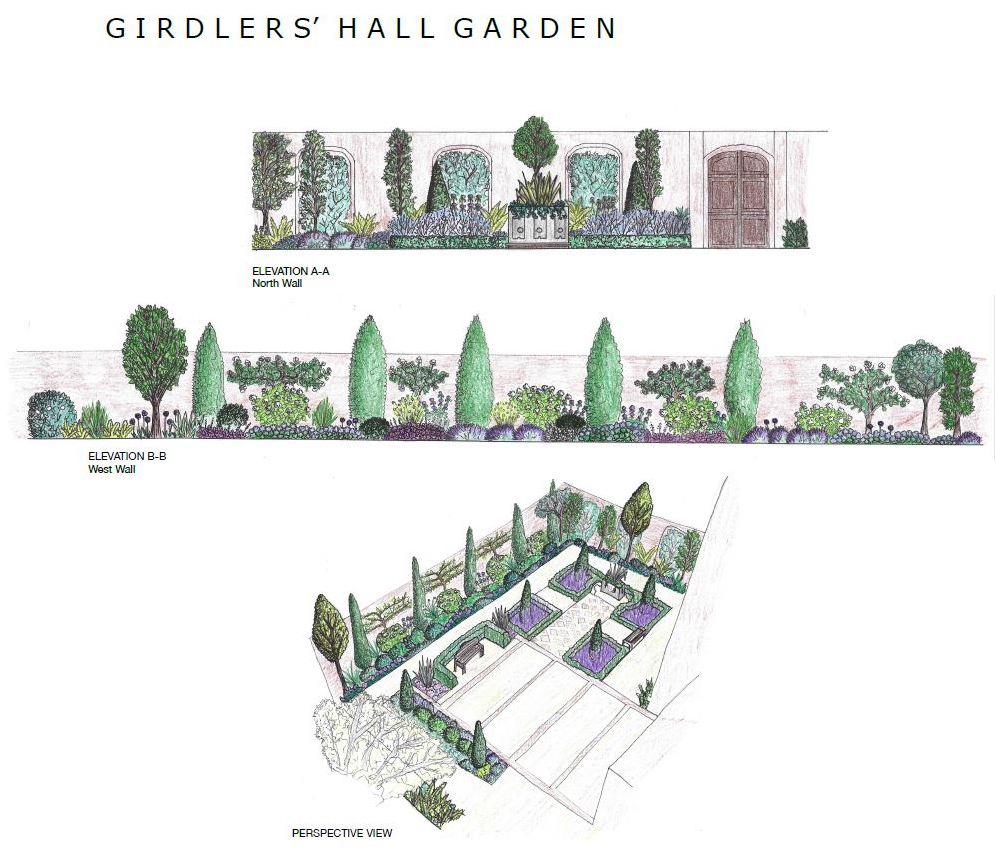 A garden at design stage by fellow student Penny Farrenkothen
Remembering plant names is a particular challenge
Mastering the practical side of planting such as plant adaptation, recognition and remembering plant names can be difficult for students. "Drawing develops learners' observation skills enough so that they start to see attributes of plants they might otherwise not notice.
What's really challenging is recalling whole botanical names of plants. So I might ask them to start remembering just the first part/word of a name and also show how Latin parts of the name come back in other plants' names which give you clues about what the plants look like or their origins. It's breaking down something that seems huge into component parts - one bit at a time."
Do you really enjoy problem-solving?
To succeed as a lecturer, patience and organisation are key, says Nathalie. "Ask yourself if you will enjoy [creative] problem-solving and helping people. You have to put yourself in other people's shoes and really want to help them.
"When you're teaching a diverse group of students, you won't agree with everything they express. It can be quite demanding, so you have to work with them," says Nathalie. "You're not there to change who they are but to support them and make learning accessible to them, whatever their opinions and attitudes. You can't be judgmental but should instead be tolerant and supportive - and that requires patience."