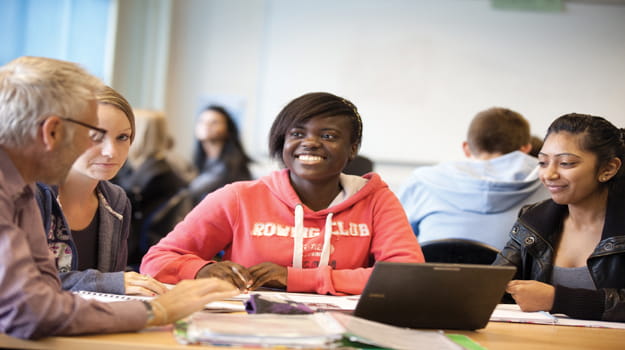 The new FE Initial Teacher Training (ITT) bursary scheme is a financial incentive for new graduates training to become teachers in the further education sector. It's similar to, but separate from, the school teacher bursary scheme.
Further education offers real job satisfaction: you help students to develop their personal skills, improve their job prospects, achieve their goals and move on. Hence it's a very rewarding teaching option – and now, with this new bursary, it's even more attractive.
A quick guide to the scheme
Which subjects does it apply to?
English language, mathematics and supporting learners with special educational needs (SEN).
Do you qualify?
If you want to apply for the mathematics-related bursary, then you must have an honours degree (and if you have a 3rd class degree you must have at least a B in A Level maths). You must have at least a 2:1 degree for the English language or Special Education Needs (SEN) bursaries.
What other criteria are there?
There are a few. For example, you must be eligible for UK student support. You must be training through an eligible specialist programme at Level 5 or above. You must not already hold QTS/QTLS, or be eligible to receive QTS/QTLS. You must not be undertaking paid teaching work while receiving the bursary. The criteria are quite detailed and your ITT provider will help you establish whether you meet them.
How much is the bursary?
The following shows the Bursary levels for 15/16:
| ITT Specialism | Degree class | Degree class | Degree class | Degree class |
| --- | --- | --- | --- | --- |
|   | First | 2.1 | 2.2 | 3rd |
| Mathematics | £25,000 | £20,000 | £15,000 | £9,000 |
| English | £9,000 | £4,000 | No bursary | No bursary |
| SEN | £9,000 | £4,000 | No bursary | No bursary |

What are your next steps?
Act now. The funding available is limited and will be allocated on a first-come, first-served basis. The new FE Bursary guidance and the application form are available on www.gov.uk
If you already have a place with an ITT provider, you should consult them about your possible entitlement to a bursary.
If you haven't made any arrangements with a specific ITT provider and want more information, contact the Education and Training Foundation helpline on 0300 303 1877
If you'd like to learn to teach maths, but you're worried that you don't have the specific knowledge, then don't give up hope. The government also funds an SKE (subject knowledge enhancement) programme to enable trainees to participate in ITT courses.
Acronyms
ITT = Initial Teacher Training
SKE = Subject Knowledge Enhancement
SEN = Special Educational Needs
QTS = Qualified Teacher Status
QTLS = Qualified Teacher Learning and Skills