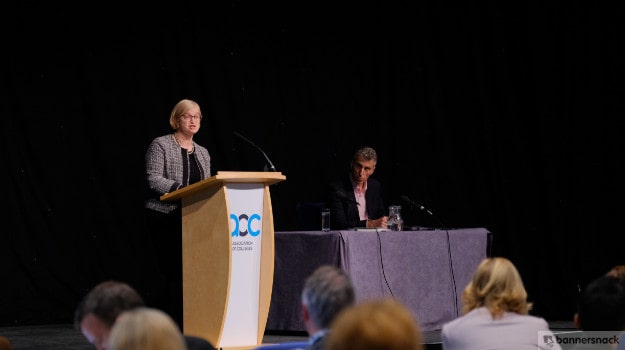 Ofsted's new mantra is 'horses for courses'
Ofsted's chief inspector, Amanda Spielman, appeared to ruffle a few feathers at this year's annual AoC conference when she spoke about the agency's new inspection framework around judging colleges and schools far more on what and how students are taught rather than on qualification achievement rates. 
Spielman was outlining the agency's new inspection priorities on the day it had also published a research report on level 2 study programmes. She was explaining Ofsted's concerns about the focus in many colleges on outcomes over substance, on "assessment without consideration for curriculum" – a phenomenon Ofsted felt was particularly prominent at level 2. 
'Course options are too narrow'
"These programmes were supposed to be suited to the needs of the student. The reality, in too many of the colleges we visited for our research, is that options are narrow and flexibility is limited. This is largely driven by the straitjacket of qualifications. 
"Level 2 study programmes have some extras around the edges, but, in practice, are often dominated by the syllabuses of the main qualification, albeit with English and mathematics teaching added on."
Level 2 16- to 18-year-olds, she said, were all sources of unrealised potential. Few possessed five good GCSE passes, and many still had gaps in their maths and English knowledge. In short, they were at a "crucial juncture" in their career development and it was up to colleges to ensure the students were following courses to give them maximum chance of a good career.
Ads for arts courses can offer students false hopes
Taking the argument a stage further, Spielman challenged "those colleges knowingly offering courses that do not have good local employment prospects". She singled out arts and media as the area showing the "greatest mismatch between the number of students taking the courses and the employment prospects at the end".
She said at least three colleges in the survey cited in the report had more applicants for arts and media courses than any other of their courses, a fact she felt was influenced by course ads listing potential arts posts that raised false hopes as they would never be available to most learners. What the ads did not properly display was the value of transferable skills these courses develop. 
The key question for Spielman was this: were some colleges putting the financial imperative of headcount in the classroom ahead of the best interests of the young people taking up their courses. "If that's the case, this isn't acceptable."
Arts students gain valuable transferable skills
In response, questions at the end of her speech reflected some disquiet at any suggestion that colleges should slavishly reduce courses that didn't directly teach students the skills specifically needed by local industry. 

One college representative, who was defending the offer of more general arts courses, said three million people were in creative professions while a further two million worked as creatives in 'non-creative' industries. "That does not sound like an impossible dream to me," said the speaker, reminding the audience that arts and creative services contributed £92bn to the UK economy.

Another argued strongly that arts courses produced valuable transferable skills: "One of our ex-students told me he was very grateful to his college for the chance to study sport, which had helped set him up for his current career of car mechanics." 
'Evolution, not revolution' 
Spielman did, however, emphasise she was definitely not rubbishing arts courses that did not produce specific job skills set; it was a case of "evolution not revolution". She prefaced her criticism with praise for a number of colleges that were designing their curricula to meet the needs of both students and employers. 

One typical example was London South East College, Bromley, which was working closely with local employers Bombardier and Biggin Hill airport to fill the large gap in aerospace engineering and other aviation skills desperately needed in the local area. 
Make the course suits the student – not vice-versa
She also fully understood the continuing challenges financially and otherwise facing colleges. But her comments all linked to the new inspection framework's emphasis on rewarding a 'horses for courses' approach to students and lines of study. 

"I want to make sure that at Ofsted we are focusing on what is taught and how it is taught: not just the qualification that comes out at the end. This will let us reward colleges and other providers for doing the right thing by their students."

Richard Doughty