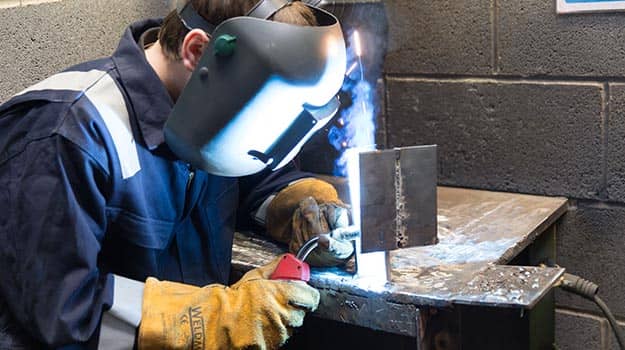 The Government's demand that the public sector provide 87,000 new apprenticeship starts each year till 2020 promises to create a range of new job opportunities in FE colleges.
Public sector employers such as the police, NHS, armed forces, emergency services, and local and central government will have to contribute around 16% of the target of 3 million apprenticeships delivered over the next four years.
Any public sector organisation (or, indeed, employers from any other sector) with a minimum 250 staff will be expected to make up 2.3% of its workforce with apprentices. In key ministerial departments, for instance, the expected quota could be around 4,000 apprenticeship starts per year from a total workforce of 170,000.
Colleges will need to bid against other providers
It's an ambitious scheme requiring a significant change in approach and priorities by colleges, other training providers and employers.
The government will no longer set the price of an apprenticeship nationally, says Teresa Frith, Senior Skills Policy Manager at the Association of Colleges (AoC). The funding mechanism will change, with colleges free to negotiate on price with employers and bid against other training providers for a company's training work.
From April next year, large employers from all industry sectors with a wage bill of £3m-plus will be charged a 0.5% levy on their wage bill to form an apprenticeship training fund. Levy-paying employers will be able to spend their levy payments on apprenticeship training and then negotiate with colleges and other training providers. All smaller organisations are exempt from the levy but can also get support from the training fund, if they are willing to make a cash 'co-investment'.
New opportunities for college assessors
Colleges will have to be more proactive, approaching companies directly and using their expertise as course providers to bid for contracts, says Frith. "And there's a very good chance they'll need more staff to do that."
But it won't mean more jobs at FE colleges unless they go out there and win the work from rival providers in existing or emerging, reform-driven markets. "Colleges will need to do more sales-type work. And we'll probably see more people being required to cost up viable offers of training provision."
One of the big changes will involve college assessors – traditionally tasked with regularly visiting apprentices in the workplace, assessing their progress, making sure they are on track and giving them constant support. A key role has been 'passing' students at each stage of their apprenticeship once they have shown the right level of competence.
Apprentices will have to take a final test
From April 2017, however, college staff will no longer be able to teach and 'tick-box' assess their own apprentices on the basis of portfolios built up day by day. Instead, the old-style assessor role will change: staff will teach their own students and also, in a completely independent role, work as end-point assessors of students trained by other colleges and private providers.
All apprentices will have to take a final test supervised by the new-style assessors working out of end-point assessment centres or any other venue with appropriate testing facilities; these are being set up at suitable colleges and other providers across England to manage apprenticeship certification.
The good news is that many colleges have a head start on rivals; they already have strong links with employers such as local government, the NHS, armed services and schools.
A new style of lecturing role
Applicants for the new role will need to be training deliverers, with recent experience of their chosen occupational role and showing industry competence, formal qualifications, evidence of continuing professional development and, ideally, a level 3 qualification in assessing.
Chichester College, Portsmouth, for instance, specialises in public sector business and management courses, including accountancy (level 4), human resources (level 5), marketing and administration.
Applicants must continue to be qualified at a level higher than the standard they are assessing; for instance, the y need a degree in business at level 5 to teach level 4 in business management and administration.
"It's desirable to have a teacher training qualification (all our current assessor staff have one), but we can also train people on the job," says Hilary Hele, Head of Learning, Business and Management.
 "Colleges will be specialising more as there will be 100s of different course frameworks [standards] … many colleges are already working with private providers such as companies doing their own training but relying on college expertise."
Move towards greater college specialisation
To meet the new job spec, candidates will particularly need up-to-date knowledge of their sector. "Take butchery, for instance," says Mark Frost, Apprenticeship Manager at Sheffield College. "That's a new standard ready for delivery now. But to be an end-point assessor in this field you've got to be a practising butcher."
Sheffield has particularly close links with the NHS. Frost points to new apprenticeship standards already available for health and social care, pharmacy, and lab technicians, but says the courses cannot be offered yet as their vitally important assessment criteria are still being worked on.
College consortia to outbid rivals
The new approach gives colleges a chance to work more closely with employers and be part of their business, contributing to the new course frameworks. Colleges may also – along with any other training provider - put themselves forward as an end-point assessment centre and create more job opportunities.
So the market promises much next year. The levy means colleges will no longer have a limited allocation budget and they will be able to expand as much or as little as they like, says AoC's Teresa Frith.
"If colleges want to compete for national contracts with major employers, they will need to think about creating core consortia. So that might mean pulling together 10 colleges across England that are all specialising in the same subject and approach a big employer in that field.
"There is an opportunity here that needs to be grasped – but you'll need the right staff in place to allow you to deliver."