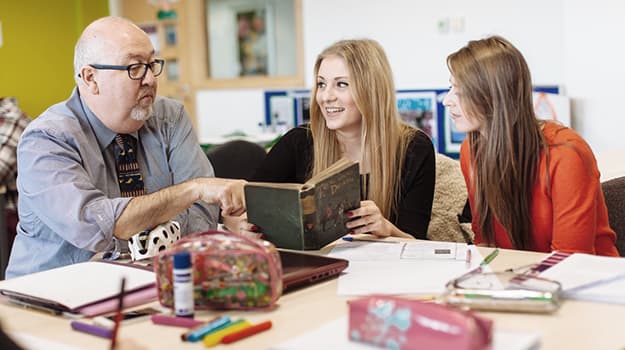 From September last year, a change in funding rules has meant FE colleges have had to start offering English and maths GCSE courses to the many extra thousands of 16- to 18-year-old students who have not achieved A*-C grades. Alongside their chosen vocational courses, most students are required to continue studying for and retaking the exams to gain at least a C grade up until age 18.
This autumn term marks the start of the second full year of retakes, meaning many colleges have had to adapt to the sheer weight in numbers, the different needs of students at exam time and the complex timetabling necessary to offer the courses. As a result, colleges' traditionally flexible approach to change has produced some interesting solutions that involve fresh job opportunities for current and potential teaching staff.
Enthusing students turned off by school
For West Herts College, Watford, hiring an extra 24 teachers for some 3,000 students did not follow a traditional route.
"We knew these two subjects were going to be difficult for students who might be disengaged from them because they had had bad experiences at school," says college principal Gill Worgan. "To our mind, this made the importance of re-connecting as important as any technical ability with words and numbers."
Internal recruitment helps guarantee standards
To maximise student engagement, the college wanted to recruit people it could guarantee were, above all, outstanding teachers. There was one obvious solution. Who, the college concluded, would be more reliable than some of the most gifted members of its own trusted staff, all experts in vocational disciplines as varied as engineering, sport and leisure and tourism, and in many cases also harbouring a strong interest in and understanding of English or maths?
In addition, the college found it easier to hire high quality replacement teachers in vocational subjects rather than finding more scarce English and maths specialists.
English and maths made fresh and relevant
The idea was that staff use their outstanding teaching ability, heavily linked with their own subject knowledge, to present English and maths (E&M) in a fresh and relevant way. 
"It's about outstanding teachers presenting both subjects in new ways - in contexts that make the use of words and numbers relevant to the main vocational subject that each student is following."
Teachers would motivate students by stressing the practical uses of English and maths in the students' chosen vocational courses. The concept of great English and maths (GEM) was born.
Candidates tested to prove abilities
But first all candidates had to go through rigorous diagnostic tests. They had to demonstrate in a formal assessment process that they were outstanding teachers with either strong skills in maths and English or the capability to heighten their talents in these areas.
Once accepted, the new recruits would receive college support to build on their English and maths technical skills.
"We also wanted the teachers we selected to teach English and maths to feel special in new roles with a status that reflected the importance of the task ahead," says Gill. In addition, the new recruits would get a salary supplement.
Pass rate for resits
First year results augur well. Around 35% gained a grade C or above against a national average estimated by the college to be 7%. "We are pleased with the outcome, but it is strictly a starting point," says Gill, who aims to substantially boost that figure next year.
"It's worked extremely well in managing the quality of English and maths teaching and learning. It's definitely improved."
Ofsted inspectors arrived in January to check if non-English and maths specialists could teach those subjects well enough. But after rigorous scrutiny, they concurred that the GEM concept to deliver GCSE English and maths worked, with evidence of innovative teaching and extensive learning. And now Ofsted has actually written up the GEM project as a best practice case study.
Find out how Derby College had to handle large numbers of English and maths students resitting their GCSEs and about the financial incentives there are for initial teacher training in English and maths.