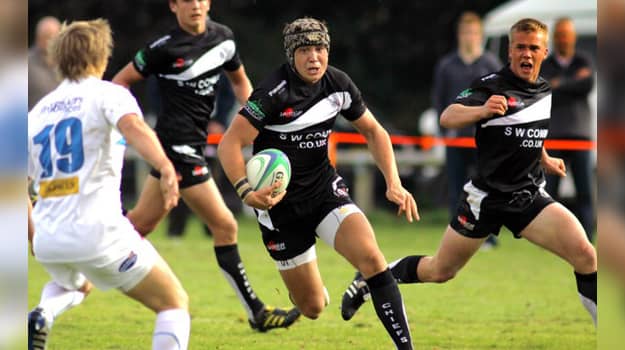 A view from the touchline
Following on from our interview with Jack Nowell Steve Larkins, Head of Rugby at Truro and Penwith College and Head Coach at Redruth RFC, talks about one of his most successful former students and the rise of a now highly respected rugby academy in the FE sector. Steve has been at Truro for 15 years as a coach and lecturer after a long rugby-playing career.
For the World Cup, Jack Nowell has been picked to fill one of the back three positions. What are his key strengths?
Steve Larkins: Jack has been playing most of his time for England on the wings. He is good cover for the back three and his best position is arguably full back. He's a hard-working player who stays involved in the game in attack and defence. He is a great ball carrier where he beats the first defenders on a regular basis and he is also defensively very strong.
His one-on-one tacking, especially when he played full back with us was exceptional as he missed very few tackles.
He did have a knee problem early in his England career but this has now been sorted and he has come back faster and stronger than before.
 When did you notice Jack's talent?
SL: His first year was good but in his second year he began to excel and score tries for fun - he just looked a Premiership player then. In sevens and tens competitions he looked a different class and when we went to Japan and played against the best in the world he was still standing out. That year he came up against some of the guys now playing for international teams such as Willie Skelton (Australian second row). You could tell early on that he was going to be something special because he could create something out of nothing.
Do you recall any key moments in Jack's college career?
SL: He once scored 13 tries in two days at the 2011 British Colleges rugby tournament at Bath University. Truro and Penwith won the gold medal and Jack was untouchable – every time he got the ball he seemed to score!
The rise and rise of elite rugby at Truro College
Truro College runs an elite rugby academy in partnership with the premiership club, Exeter Chiefs. Founded in the late 1990s, the academy has produced a string of top-quality players, many going on to join premiership and championship clubs and some representing England at under-18, under-20 and full international level.
Among recent top honours, the college academy team won the Daily Mail under-18s cup final at Twickenham in 2009, were finalists in the Sanix junior world rugby tournament in Japan in 2012, and won the AASE (Achieving Academic and Sporting Excellence) League Plate in 2014.
Alongside Jack Nowell, other leading players who have taken the same course at Truro include fellow Exeter Chiefs player Luke Cowan-Dickie (hooker), who debuted for England in the win over France in the first pre-World Cup warm-up, and Ospreys' Josh Matavesi, who plays for Fiji.
What's the secret of Truro's success?
Steve Larkins: I think it's the amount of contact time our students get with the coaches here - it's on their timetable five days a week so they get strengthening and conditioning before college, train during the day and then play every Wednesday. Probably not many other colleges are able to offer the number of training hours we put in. All the Truro players are managing to get at least one and a half hours rugby a day.
What qualities and qualifications do you need to become a coach at an elite rugby academy like Truro?
SL: You need a basic coaching level 2 or 3 to give you any chance. Most rugby coaches here have 3s so it's a good standard. We now also have a level 4 coach in Marek Churcher [one of two in Cornwall]. The Football Association has a similar coaching set-up though the process is a bit different.
What do students do who don't make it to professional level as players?
SL: They go on into playing professional sport, sports therapy, physiotherapy, teaching or coaching, and many are semi-professional rugby players. There are lots of options for them. Many of our ex-students are professional rugby players at the championship club, Cornish Pirates and around 200 local players are Truro college students. And last week 16 out of a squad of 20 from Redruth were ex-Truro students.
How do facilities at Truro match up to universities?
SL: The facilities at universities are phenomenal but if you come down to Truro we have full-size classrooms, a sports science lab, three gyms, a swimming pool on site, Astroturf and three indoor sports halls as well. The facilities are very good here and they are improving every year. We have a rugby-specific gym which is used most days and that has made a big difference over the last few years.
What about student application rates?
SL: Our numbers seem to be still increasing each year - we started with something like 15 players and now we're up 60-70 or more. And we're still producing very good sportsmen – we've quite a few players at Exeter Chiefs who have come through our academy structure.