How colleges are sharpening their competitive edge
Did you know that UK further education colleges have helped produce the best young cabinet maker, beauty therapist and plumbing/heating engineer in the world this year?
That bold claim is based on the results of an exhausting two years of training for competitors before they represented the UK in the biennial international WorldSkills championships, held this summer in Sao Paolo, Brazil.
'UK's best ever performance'
The team took three gold medals, three silver and two bronze in a wide range of skills, with beauty therapist Rianne Chester the joint highest overall points scorer across the whole competition. The UK also picked up an unprecedented 24 medallions of excellence, given to competitors who demonstrate attainment of world-class standards in their skill. 
"It's the UK's best overall performance - 83% of the whole team got a medal," says Carole Stott, chair of the Association of Colleges and also of Find a Future, the organization that manages the UK entry for WorldSkills. "It means that that percentage of our young competitors was at an exceptionally high international standard in their skills. That was really key."
'Be willing to go that extra mile'
So what are the real benefits of such events to trainers, students and colleges? Christian Notley should know. A lecturer in furniture-making at Chichester College since 2002, he now runs the department and has seen his students selected for the WorldSkills team for the past eight years. This year Edward Harringman (21) won gold in cabinet-making, emulating his predecessor, George Callow, also from Chichester, who won it two years ago.
Notley says to succeed as a trainer you need "to have a passion, be willing to go that extra mile, taking the extra time to let the students reach their full potential".
'It's been an amazing privilege'
He finds the work incredibly rewarding: "Take a student like 'Woody' Harringman who I first saw at a show where we were promoting our courses. He was around 15. I've had the opportunity to see him really develop well at college, train him up for WorldSkills and see him go right to the top. It's an amazing privilege. He's got a huge future ahead of him. But a lot of students have also done really well and are out there starting up their own businesses – and that's a huge sense of satisfaction for me personally."
He says in many projects students come up with their own ideas and it's his job to inject some realism but also to keep pushing their standards higher and higher. "I make sure from my knowledge that [the idea] is doable by that student."
If you warm to the cut and thrust of competition…
If you warm to the cut and thrust competition brings, working under pressure and straining for perfection, Notley warns that aspiring trainers have to have a very solid knowledge of their subject area, and keep abreast of the constant changes in their industry. "It's not about ticking by but actually excelling in their own field," he says. "To pass on knowledge, they need to have reached those heights themselves. But saying that, I'd expect to train my students to be better than me!"
Chichester College's reputation in cabinet making is buoyant, much of this due to its success with WorldSkills. "Within our furniture sector, we are extremely well-known across the country and people will seek us out so our numbers are going up considerably. When we first entered competitions we were about 20 students and we are now around 80; we also have loads of apprentices and we didn't have any before."
'A lot of positive vibes at Toyota UK and in Japan'
Industry providers to play a key role in preparing students for competition. This year Toyota Manufacturing UK entered candidates for the first time. Apprentices Robyn Clarke and Andy Smith got through to the final stage and won medallions of excellence in the mechatronics category under the tutelage of Peter Spence, from the company's apprentice development centre.
Spence says seven lecturers from Burton and South Derbyshire College based at Toyota provided basic training before Toyota's own shop floor maintenance specialists trained up the pair for WorldSkills.
"It's created lots of positive vibes in the UK and Japan. People would like to be doing what I'm doing to support these people. The interest in the maintenance department has increased dramatically in WorldSkills because these apprentices are going to get places."
'Your work has to be high-quality and very fast'
But what about the competitors? Edward Harringman, who was running his own business while doing his final months of WorldSkills training, spent four years preparing - he just missed out on final selection in 2013. "The competitions themselves are very useful," he says. "The main aspect of the competition is that your work has to be high-quality and very fast – and these both work very well in the commercial world. I can say I am the best in the world at the moment so it gives me an edge and a bit more confidence to be able to do the job."
Robyn Clarke says: "My experience is quite different from people who have not been in the competition. It gives you different skills you are not going to get from an apprenticeship."
---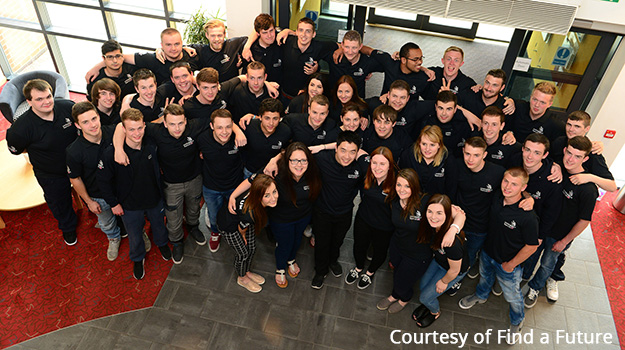 Image courtesy of Find a Future
The secret of the UK's success?
Why has the UK been successful? Carole Stott, who chairs the AoC and Find a Future, puts much of it down to government legacy funding that was provided after London hosted WorldSkills in 2011. "We're slowly beginning to see the impact of that," she says.
'We've entered more competitions this year than last year. We're building up more young people, more trainers, who are able to enter and succeed in competitions.
"We are increasingly moving the way we organise competitions so they are more integrated into the FE system."
The impact of competitions on college achievement
Part of the funding kick-started a new CPD programme last year, run jointly by Find a Future and the AoC to support colleges in integrating and using competitions. The international WorldSkills event, which covers some 50 disciplines, is preceded by annual regional and national heats, all based on internationally benchmarked skills standards. (CPD sessions are not running currently but the AoC hopes to continue them early next year.)
Funding is also supporting an Oxford University research project on the impact of competition on young people and raising vocational standards. Its report. Gold Dust – Using skills competitions to bring excellence to all  presents a series of projects showing the morale-boosting impact that preparing and taking part in vocational skills competitions has on colleges, students and employees
Colleges' growing commitment 
Funding apart, there is growing commitment to competition work in colleges from the top down, says Carole Stott. "It's about supporting their training managers and about the recognition of how it builds success and motivation among students."
She says colleges that have done really well integrate competitions into their curriculum, and working out how to integrate them into apprenticeship training and assessment.
In a recent development, a 'welcome back' reception after Sao Paolo this year saw the launch of a new skills champions programme involving young people who have achieved in competitions. Find a Future aims to use them as role models for other students, raising public awareness and recognition of vocational skills and inspiring young people to think about skills when considering career choices. 
"We want to put young people at the heart of what we do," says Carole.