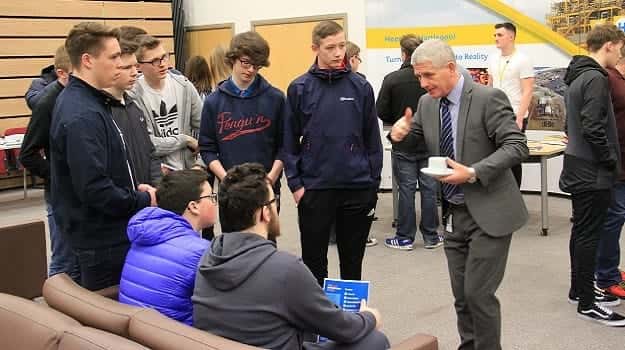 Graham Plant (59) spent 17 years at British Steel Corporation as a maintenance fitter and production foreman, before a further 20 years in engineering instruction and management roles for independent training providers. He joined Hartlepool College in 2011 as Business Development Manager for Engineering. 
What's your main role?
A kind of salesperson-cum-consultant. It's employer-facing and mainly about building and maintaining relationships with companies through good service. I'm a facilitator and go-between (or 'company representative') for employers and the college. I ensure our learners are visible to local industry and the training we deliver meets company needs. Some employers take students direct from school as apprentices, while others like to "fish" from the pool of students already at the college – young people who start out on an academic/vocational route to engineering but then see the opportunities in an apprenticeship and progress across.
What are the key challenges?
* Explaining the government's apprenticeship reforms in funding and course requirements to both companies and college staff
* Negotiating the price per student that companies will pay
* Helping employers understand the new levy-based funding system. The reforms are a revolution. Traditionally, colleges have got most apprenticeship funding direct from the government. Now employers are being made more responsible for funding and how it is spent (see Apprenticeship levy). 
* Helping companies transition from the existing apprenticeship 'frameworks' system based on gaining a set number of qualifications (still current in many apprenticeships) and towards a new 'standards' system. This can be very much tailored to individual engineering sectors and requires students to take a final assessment exam to 'pass' their apprenticeship. It also allows companies to be far more specific about the training they want for their apprentices. I have to ensure the college can manage economies of scale to meet the new, often more specialised training requests. It's an exciting, brave new world.
What's does a typical week look like?
I spend at least two days a week meeting companies, on site or in college, explaining how the reforms will affect their apprenticeship schemes, the new levy (a tax on large companies to fund apprenticeships) and how they can recoup their funds or contribute going forward. I currently have 11 companies requesting apprentices, so I have to sort out interviews and find work placements for students so companies can assess their suitability before hiring them as full-time apprentices. I constantly monitor the many new standards being published and keep college staff and companies up-to-date with curriculum changes needed.
What about direct contact with students?
I teach occasionally as well, and I also help students produce good CVs and learn what it is to be a good employee. They still present me with poor CVs that wouldn't get looked at by companies; I urge students to put some style into them and make sure they both contain the right technical engineering information and say something about them as an individual - not just the "I'm brilliant, I'm a good team player and I get out of bed" which is what most of them do! I also help ensure they're prepared for an interview and the world of work.
What experience and training do you bring to the job?
I did 17 years as an apprentice, maintenance fitter and production foreman at British Steel Corporation. I moved to an independent training provider as mechanical instructor and then engineering skills manager and attended college one night a week for four years to build up my teaching skills. I did similar work for another provider as employer engagement leader. There I got my certificate of education, a Level 3 diploma before topping it up to a 2:1 BA degree in Education and Training at Sunderland University.
Will the changes create more job opportunities in FE?
Potentially. There will be a shift in emphasis in apprenticeships: many more companies will be upskilling their workforce as we're increasing the attainment levels people may reach from level 2 up to level 7 (Masters degree) apprenticeships. Companies that used to pay for staff to do a degree are now incorporating that into higher apprenticeships (levels 5 and 6) so that they can take advantage of the new form of funding.
What qualifications do I need?
A good technical skills background and a formal education, because you have to understand peripherals like funding and government changes. With a degree in education and training, I favour the apprenticeship system as a route to a degree. It's also worth joining a professional association – I belong to the IET (Institute of Engineering and Technology).
What about personal qualities?
You have to care about the students and the engineering profession, and show passion, commitment and dedication. You've got to be keen and eager, be interested in young people and watching them develop, and see the new challenges and opportunities. You also have to 'sell', so you need to be dynamic, affable and not averse to change.
Anything you are particularly proud of?
It's getting my students into apprenticeships and what they achieve. Last year I persuaded a local engineering firm to look at a very quiet, polite lad who was not coming across well in interviews. But he spent much of his own time in a work placement at the firm and his hard work convinced them to take him on full-time. One of the first apprentices I taught as an instructor is now head of the college's engineering department. A high point in company liaison was when Tata Steel at Hartlepool moved from a private training provider to the college. It now supplies us with several apprentices a year.
What's best about your job?
Observing young people, and seeing them in the workshops. Hartlepool, and colleges, in general, are aspirational places. We just need companies to come on board and take these young kids on. Our modern college building inspires me more than any other place I've known - it only opened in 2011 and it still blows me away.