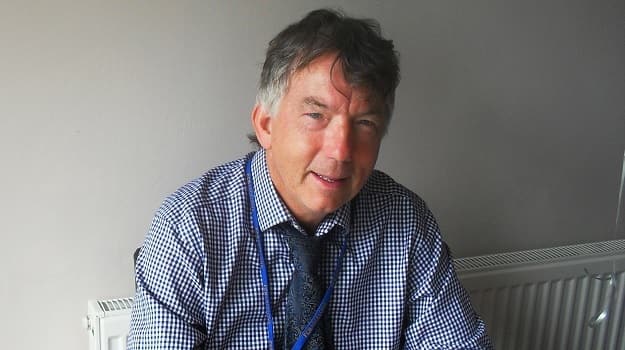 Ian St Peters worked as a local radio and print journalist before being trained on the job as a lecturer in 2002 at Burton College in Staffordshire. After teaching in Birmingham for six years, Ian joined Watford's West Herts College in 2010 where he runs BTec courses in digital journalism and adult learning courses in creative writing.
How did you move across from journalism to teaching?
It's a strange story. I had absolutely no ambition to teach. I'd spent my whole career in journalism including weekends as a football commentator covering Aston Villa, West Bromwich Albion and England games. 
In August 2001 I was walking past my local sixth form college in Burton on Trent and noticed it was an open day. I walked in and had a look at their teacher training material. When I told a staff member I was a journalist mildly interested in teacher training, she introduced me to the head of sixth form who told me they were looking for someone to teach GCSE media studies – would I be interested? I said what about teacher training? "We'll do that for you on the job," she replied. I mulled it over for 24 hours and accepted! A week later I was wracking my brains to prepare my first lesson when a news flash came on the radio saying an aeroplane had hit one of the twin towers in New York. The following day everyone was talking about 9/11. A first lesson I will never forget!"
What is your main role in college journalism?
I've never wanted to do anything else but be in the classroom…I just love working with the students every day. However, journalism has changed so much in recent years and we not only have to teach students how to write but also how do handle video, audio, social media, websites, online uploads . . . I'm also a personal tutor to groups of students, looking after them pastorally, listening to their cares and supporting them … it's all part of the job.
What courses are you responsible for?
A full-time BTec level 3 digital journalism course for 16- to 18-year-olds during the day and then two evenings a week of creative writing for adult learners (aged 18-80 plus).
What's a typical day for a creative writing instructor?
I have to carefully prepare for every lesson and have my resources and online programs like PhotoShop and InDesign in place. My colleagues and I continually discuss student progress and then in class I check attendance, explain what the lesson is about, and set students aims and objectives, such as to write, plan and create a 3-minute radio news bulletin. The days of 'chalk and talk' have long gone so it is important to involve students in practical activities to stimulate them. The teaching is enjoyable but quite intense – as we have to got to get through whatever is planned for that day in the two to three hours timetabled for that session.
How many students study journalism?
On average, we have two first-year and two second-year groups that can vary from 40 to 60 in total across the two years. Around 60-65% of students go on to university and the rest enter the industry or find jobs elsewhere. The skills we teach them are transferable and useful outside college, no matter what career they follow. 
What's a good day teaching future journalists?
When my lessons go well, the students learn and they are excited and inspired. I can sense that by the way they go in for an activity like planning a news bulletin or writing a script for a TV presentation. If a lesson is ticking along nicely, there's no better feeling.
What is the most challenging part of teaching journalism at college?
Working through a heavy syllabus and getting the students to complete all the work throughout the year. We seem to have less time each year to complete more work which makes BTec courses intense with students expected to do a lot more work outside college. The introduction of exams in the new syllabus will increase the workload. We also have to tailor teaching to each student to ensure everyone is learning – they all have different learning styles and some pick things up quicker than others.
What personal skills and qualifications do you need to teach creative writing?
Considerable experience as a working journalist, thinking on your feet (no day is the same which is what makes the job so brilliant), and being confident . . . if not, the students will see through you! They have to believe what you are teaching them and take it on, plan it and do it themselves. I have a degree in education through Nottingham Trent University which I studied for part-time over four years (2002-2006) when I started teaching.
Are there journalism students you are particularly proud of?
Many come direct from school and start quite shy and insular so it's great to see them grow in confidence by the end of the course – as a journalist, you have to be able to speak to and interview people of all ages. We had one shy lad who has now gone on to university and done really well, building up his own blog and regularly posting interviews with Indie bands on his website. Another started out in music technology, didn't take to it, switched courses to journalism and has never looked back. He is now sub-editing on a national  newspaper.
What gets you up in the morning?
I just love to see students learn and better themselves. If I can inspire them to become better people, my job's done.
Does a teaching/ lecturing role in a further education college sound like something that interests you? If so, take a moment to look through the vacancies that are currently available on our website! Apply today to kickstart your career in FE.