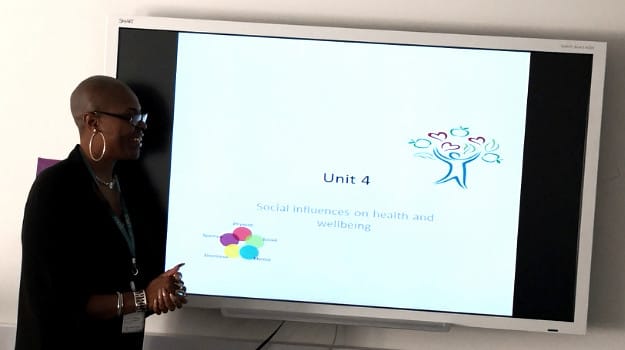 Christine Turay started out as a nursery nurse, went on to work for Lambeth Social Services with prolific young offenders before gaining a teaching qualification. She joined Lambeth College in 2009 to lecture first in childcare and early years and more recently health and social care.
What got you into healthcare?
It was by default! I used to do staff training in my previous job when working with prolific young offenders, working with our advocates who would go out and support the young people. To do the job properly, I realised I needed a teaching qualification so I took a DTLLS course at Lambeth College. I was facing redundancy when one of my lecturers mentioned an opening at the college. I applied, got the job and started teaching.
What's your role as a healthcare lecturer?
I'm the coordinator for health and social care level 2 students (aged 16-18), splitting teaching hours 50:50 between 16-18s and adults. I started out in early years but began providing cover for healthcare colleagues and then moved over permanently. I pull all the 16-18 programmes together, ensure all units are delivered to timetable. I hold regular meetings to check learners' progress and that assignments are fit for purpose. I teach six classes numbering between 15 and 23 people each week and some classes more than once.
What's a typical day?
I arrive between 8.30-8.45am (five days a week) to make sure resources such as whiteboards are working. Most classes start at 9.00. Thursday is my longest day with four classes between 90 minutes to two hours each. The first task each day is to settle the learners, registration and identifying the learning aims and outcomes. Each session I am constantly assessing if the learners have picked up the concept, and working out how best to tweak things for the next session. Then there's always marking!
What do you like most about FE?
Learning about the amazing journeys many students go through and learning from the students – everyone is different. I also appreciate the support from my college for my own progress - it's currently supporting me in applying to do a Masters through Aberdeen University.
What are the biggest challenges?
Working with the 16-18 age group. Sometimes you have to be a social worker, youth worker and everything rolled into one before you start teaching as they come with so many issues. Other students may have learning and/or behavioural difficulties so it's about assessing and meeting their needs. What's important is to relate what you teach to students' day-to-day experiences.
Which students do your courses attract?
Those with a very caring nature as it's their chosen career path and students who do the course to help work through trauma or other issues. There are also those who have come through the youth offending service, experienced social workers, people who have been in the care system and want to give something back, and parents returning to education after a long break.
Any particular recent tasks you have undertaken?
I've been teaching a level 2 unit called 'Social influences on health and wellbeing', looking not only at how parents and our backgrounds shape us but the influence of social media on our identities and everyday life. I may start with a plan for the class but if discussion kicks off I let it flow. It's how meaningful understanding can happen - it's the joy of teaching!
We've just completed a unit on health and care values, examining case studies about service users and their needs - how can we, say, identify how to apply care values to the needs of someone who partially deaf. We look at what is good working ethics and what's not.
How much do you have to differentiate your teaching?
My classes contain a wide variety of learners, some strong but others carrying disabilities, so tasks have to be broken into small chunks for them to grasp a concept. I regularly use visual and audio aids, and sometimes movie clips. I do lots of observations, 1-to-1 meetings, support sessions and organise buddying up (two learners supporting each other).
What really sparks student interest?
They love it when I share anonymised case studies of young people I have worked with. They're interested in other young people's experiences and the fact it's real.
What do you most enjoy teaching most?
I love using case studies, especially my own - I tweak them and enjoy the discussions that follow. The best lessons are when I start off on a theme, the learners take over and you can see the learning happen. 
Anything you are particularly proud of?
A week ago a former student, now a social worker, revisited us to say thank you. She remembered me teaching her safeguarding and challenging behaviour and she said it's all so true! It's amazing when a learner returns like that. I also achieved a grade 1 from Ofsted in 2014 for best teaching - and I thought: "Wow, so I am doing my job right!" 
Personal qualities/skills you need as a healthcare lecturer?
Loads of patience, being a good listener and having lots of drive and motivation - some days are far more challenging than others. Plus an ability to quickly assess learners' needs so they are on the right course - "right learner, right courses". It's really important as a student may say they want to do health and social or childcare and then two or three weeks in they realise it's not for them at all and then you are left to work out where to move them on to. You also have to know your subject well, staying abreast of new legislation and change.
. . . and qualifications?
I took an NNEB in nursery nursing when I left school, and once I was in work went on to gain a lifelong learning teaching qualification (DTLLS), an OU degree in child psychology and philosophy and a life coach diploma. I am a qualified assessor (TAQA) for students on their placements and a therapeutic counsellor, and I also hold a Teaching English as a Secondary Language (TESL) certificate. 
The crunch question to expect at an interview?
What motivates you to become a teacher and what transferrable skills do you have? 
What spurs you on to work each day?
Working with 16-18s! I've been doing it for more than 20 years. It's particularly fun when I get an enthusiastic group. Plus, of course, the fantastically nice and supportive colleagues in the team I coordinate.
Is teaching/ lecturing a career path that you were contemplating? Do you enjoy watching and contributing to student growth and progression? If so, explore and apply to the live teaching/ lecturing vacancies on our website ranging from health and social care to construction/ building trades and beyond.