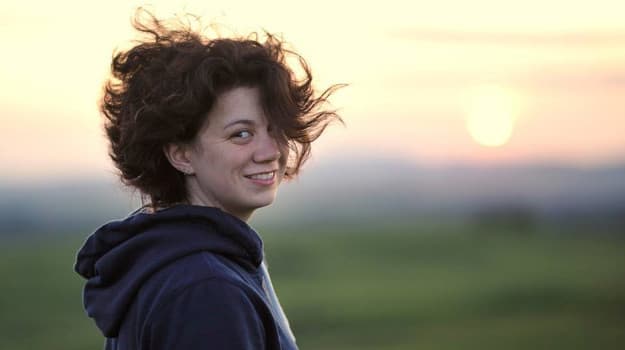 Liz Lakesman joined Brooksby Melton College in November 2017 after 10 years working with dairy herds. At 16, she took a two-year BTec diploma course, before working as a herdsman and later stock manager. In between she gained a degree in agriculture at Aberystwyth University, paying her way when studying by working full-time on the university's dairy farm.
What got you into dairy farming?
Taking part in lambing as a child in Scotland and a love of outdoors made me choose farming. I Ieft school to do a level 3 BTec diploma in agriculture at Warwickshire College. I then worked as a herdsman for four years, took a degree, and went into herd management for grass-based dairies around the country before becoming a stock manager. I'd done a bit of teaching on a children's open farm and had always had it at the back of my mind when my current post came up. My husband said I needed a better work-life balance, so I decided to apply and got the job! 
What's your main role?
I teach farming theory and practice for both extended and subsidiary level 3 BTec diplomas to students aged 16-18. The 11 units I cover focus mainly on livestock although I include a couple of forage elements. I also have a strong tutorship role which means I try to build a really good relationship with all my students. I want to them to feel they can come to me with any problem – and they certainly do! But I enjoy that side of the job – it's like an extended family.
What FE element do you like most about the job?
It's knowing I'm the one in charge and that people can trust, respect and have faith in me. It's about being a positive role model. I don't come from a farming background myself, so it's important to show others that they too can succeed in this industry without agriculture being in the family
What's a typical day?
I get into college around 8.30am after having fed my pigs at home – one adult and four piglets. I go through emails, make sure I'm ready for lessons, check PowerPoint presentations are working, and get up to date with colleagues on the latest college and departmental news. Then I peel off to teach in class, outside or in a shed on the college campus – usually in two-hour blocks through the day.
Describe a couple of activities from last week?
I taught my students how to castrate young lambs, and allowed five students to assist in a caesarian operation on a cow (supported by two vets and three farm staff). None of my students fainted or threw up, so I was very proud of them! When we do the castrations, the boys normally tend to wince and ask: "Are we really meant to do this ourselves?" but the girls love it. You just show them what you are doing and explain it step by step, and then you let them have a go and if they are unsure they can ask me to check their work. 
Where do your students go when they leave?
They find a job on local farms, become apprentices or go to university – we have two going this year and had five last year.
What's the most challenging aspect of your role? 
Dealing with sulky students or those who don't want to participate; it often depends on the day of the week. The last thing on a Wednesday is difficult because that's the last of the three days each week when they attend college – they all want to go home. Every student has work experience on Thursday and Friday as they need to notch up 300 hours as part of their diploma. 
Which subjects do you enjoy teaching most?
I love dairy theory because people have never thought about it before. And I like being the facilitator and showing why we do certain things. I'm fond of leading practical activities as it keeps my hand in and it's what many students will go on to do. 
Which activities inspire your students most?
Most are kinaesthetic learners so they like to go out and do things themselves. If I can prove I can do something for them, they'll have that extra layer of respect for me. One fell into water through the other day and I was able to show him how to turn off the water supply, mend the ball stop, and redo the plumbing all before the manager could get back and find out! It earned me some kudos because they could see I knew what I was doing! You have to be a jack of all trades on the farm. 
Any achievement you are particularly proud of?
My most difficult student last year has become one of my best this year. I earned his respect; I talked to him on a level which he understood and I made time for him.  
What personal qualities and skills do you need?
Good people skills, knowing your subject inside out, and being prepared for crazy questions. One student forgot that a baby pig was called a piglet, so I gave her a piglet to hold. It started screaming its head off but I wouldn't take it off her until she remembered. She won't forget that again! You also need to be patient, keep your temper, and have a laugh with your students as well as being in control. 
Ditto background/training/qualifications?
You really need a degree – and universities require applicants to have considerable practical experience. Very often a college will sponsor you through a PGCE course – I'm close to finishing mine at Brooksby Melton. 
Key questions you'd ask a candidate being interviewed for your type of job?
How would you cope with a stressful situation? (If you don't know yet, give an idea of how you would handle it). And are you mature enough to switch to teacher mode and not remain in student mode all the time? 
What spurs you on to work each day?
Being able to make a difference through teaching people. I also work with a great team … we all work well together.
Are you passionate about agriculture? Do you love all things land-based? If so, maybe an agriculture or horticulture teaching job would be the right fit for you! Browse through our vacancies and apply for your chance to secure that all important interview.