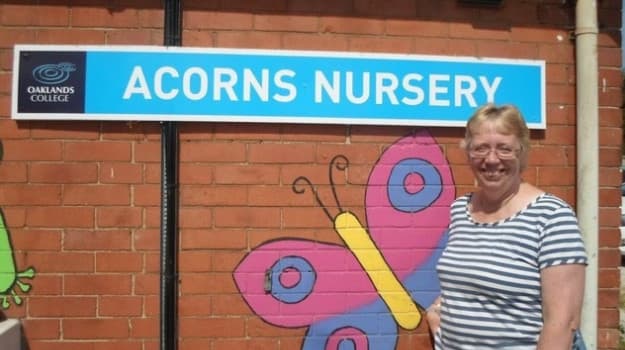 Wendy Taylor has managed the nursery at Oaklands College, St Albans, since 2013, following a long career working with young children in primary and Early Years teaching, lecturing, examining and family liaison roles
Why and how did you become a nursery manager? 
I gained a B Ed degree from the University of East Anglia for teaching 4-9s, taught in a primary school, and then got into Early Years and ran a small play group when my children were young. I began lecturing in Early Years at Oaklands College in 1993. Twelve years later, I moved on to Cache, the awarding body for Early Years qualifications, became their chief examiner, and then spent several years working with families at a children's centre before returning to Oaklands in 2013.
What's are your main roles?
Finance is a key responsibility - you are running a business but also working closely with children and their families. I'm in the office much of the day but I'm also hands on. I frequently go into the nursery rooms so I know the children well. I help young parents, many of whom are facing multiple pressures these days, such as children's behaviour. Mums are often in tears as they don't want to leave their children but have to go to work. So we make this a home from home, and pastoral care is a key focus. We liaise closely with feeder schools to ease the transition. About 16 children are going on to school next term. Teachers visit us and we sometimes take children into schools.
I regularly work with other agencies, I'm a board member for a children's centre and get involved in special educational needs. I am constantly supervising and appraising our 23 staff. I also have two great deputies who undertake much of our hands-on work. I have to ensure we track each child's development and that they are not falling behind, and I liaise closely with the college. My days are full but never boring. It's an exciting job, spiced up by the occasional Ofsted inspection - last year we were ranked  "outstanding"! 
What's it like running a nursery inside a college?
Financially, the college aims to put something back into the community so it maintains our building, doesn't charge us for utilities, and provides support through its finance department with some of the day-to-day work like taking direct debits. I use a software package that helps me monitor fees coming in and out and also occupancy, which is a huge part of my job. I look at our pupil numbers - I try to maintain 80% occupancy (40 children), which is quite difficult to achieve with so many parents maybe studying for a short period of nursery sessions. However, we are full with under-2s until July 2019. I'm also constantly showing parents round; we get heaps of enquiries.
What's the FE element you like most about the job?
Additional resources like the fantastic grounds, maintenance and catering facilities, and the on-tap knowledge and expertise of other colleagues including the HR department.
What's a typical day?
I don't think there is one! My hours are 8.30-5.30 but if have to cover for staff I come in at 7.30 but then try to leave at 4.30. When I come in at around 8.30am, I check emails and then usually cover in the children's rooms until 9.30 as we stagger staff arrivals till then. I may then stay in the room, observing, planning or interacting with the children till 10.30. Then up to 11.30, it's admin work, emails, finances, liaising with the college and so on. From 12-2pm I'm back covering for staff at lunch. In the afternoon I often show parents round, which takes about an hour, more admin and back into the rooms over tea at 4 pm when staff start to go home if on an early shift.
Any specific things you did last week?
I handled a couple of safeguarding issues. Then there was a sponsored campus 'toddle' for all the children up to four plus to raise money for Barnardo's, finishing with a picnic tea party in the gardens which many parents attended. Last Saturday we ran an occasional Dads and Co session where fathers bring their children in and play with them for a couple of hours. And how could I forget us picking up a 'nursery of the year' award sponsored by our local newspaper!
 
What're the most challenging aspects of your role?
Safeguarding. It's difficult to get the balance right and making the right judgment call – whatever we decide affects lives. After that comes balancing the books – made particularly difficult by the government's free 30-hour nursery provision scheme which does not pay out enough to cover costs, leaving nurseries to make up the difference. There's a big campaign for reform. 
Any achievement you are particularly proud of? 
It has to be our 'outstanding' Ofsted grade in July 2017. 
What personal qualities and skills do you need?
Communicating well, being a people person, patience, staying calm in a crisis, and the ability to gain the loyalty and respect of your staff.
Ditto background/training/qualifications?
You need a minimum of a level 3 in childcare and education, although I think you definitely need an education degree as you have to think strategically. Besides my B Ed, I have a level 3 in Working with Parents alongside a National Professional Qualification in Centre Leadership (level 7). While my career in education has really helped prepare me for the job, my passion for children and the confidence in the team I have around me is what really makes it all achievable and fun.
What spurs you on to work each day?
It's the sheer variety and job satisfaction. After many years in education, I still love working with children and their families and with my colleagues. The nursery is a fun place to work and, despite having to handle some serious situations, we always find something to giggle about during the day.
Is a career in childcare something that you are considering? Yes? If that's the case, browse through our childcare/ early years vacancies and apply for the chance to start a fulfilling career today.