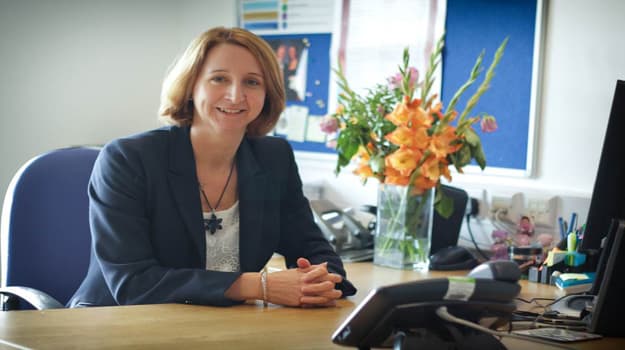 Could you start by setting the scene and saying a bit more about your other public sector experience?
I worked in public sector finance for 15 years before moving into Further Education (FE). I worked mainly for local government, but also for the police and an outsourced private sector company who was commissioned to deliver services to local government. I was always driven by the determination to deliver public value and was and remain a huge advocate for the public sector and their primary responsibility to make our local communities better places to live and work.
What led you to seek a job in FE?­
During the latter part of my public sector experience, I delivered a PFI project (Public Finance Initiative) to develop new police stations. When the job opportunity for a Vice Principal (Resources) which encompassed all the experience I had accrued to that time in terms of supervisory, change management, capital developments and commercial negotiations (the role was primarily to manage the project to relocate the college from four sites to one), I couldn't resist the temptation to apply. In addition, I had attended Middlesbrough College as a student and so I already held it in high regard, and understood its huge potential after the relocation.
What was it like to go through the application and recruitment processes?
It was rather daunting at the time - a board room within an old grade 1 listed building with a very large panel of governors as well as the senior team and the managing recruitment agent. However, I researched the sector well and made sure I understood the context in which it operated and the changes likely to be afoot in the future. I received feedback after the interview to suggest that it was that depth of research and understanding that set me ahead of others who were more experienced in FE, on the day.
How did you settle into your new role? Was it a difficult transition? Were there any surprises?
I loved the role from day one and the College made the transition very straightforward. There are two things that I particularly love about the sector, firstly, the pace of decision making - this was a constant frustration for me in the public sector and so to be relatively free of that bureaucracy and to be able to make swift decisions, and see the benefit of them immediately, was liberating. Secondly, the work ethic of the staff at the college who are genuinely the most professional and compassionate group of people I have ever met and who go 'above and beyond' every day to change lives. Both of these were pleasant surprises. On the downside, I never cease to be disappointed by the fact that FE continues to be the poor relation in terms of education policy and sometimes, the policies seem somewhat unfair given our significant contribution to the local and national economy and the myriad of tasks we are expected to perform. The need to stay one step ahead and respond quickly to rapid and sometimes conflicting policy changes remains a key factor in determining the success of colleges today. That along with the increasingly complex funding and regularity rules was certainly a bit of a surprise.
What jobs have you held since moving into FE, and what are the main elements of your current role?
I have been at Middlesbrough College for 9 years now as Vice Principal, Deputy Principal and now Principal. My role developed to include all corporate services and then further developed to encompass the curriculum, quality, student services and business development elements. I was very fortunate to work for two previous Principals, John Hogg and Mike Hopkins, who both saw potential in me and who developed my role and also allowed me to shadow and deputise for them on many occasions to build up my knowledge, experience and confidence in areas that were new to me.
What are the biggest differences between your experience in the FE sector and in your previous roles?
FE is quite simply the best, college's change lives every day and as leaders within the sector, we have a duty to ensure our services not only meet but exceed the expectations of our students and the many employers we work with. This role is much more focussed on the development and management of people (both staff and students) which is less of a science than many of the other roles I have held. I have learned a lot from working within the sector in terms of personal reflection, coaching and motivational techniques and find that the sector as a whole is far more open to continuous learning and improvement than others I have worked in. However, the role is also more open to public scrutiny than other roles I have held both in terms of the general press interest and of course the regular Ofsted judgements and so resilience is increasingly a key quality that FE leaders require.
How have you applied your previous experience to the FE sector?
In my previous roles I have been fortunate to gain a broad and varied experience of finance, capital developments, commercial negotiations, people management and the application of business improvement techniques – all have been invaluable. Perhaps surprisingly, even my previous outsourcing experiences (which were not positive ones) have proved useful and prompted me to trial the insourcing of College catering services which has been a huge success. Wherever I have worked I have come to understand that good leaders are good listeners, clear communicators, are considered in their judgements, they are resilient and have, primarily, the ability to ask the right questions.
When you reflect on the different environments in which you've worked, do you think they have anything to learn from each other?
Yes, I think local government could learn from the pace of decision making within the further education sector. We often say in the College 'just do the right thing' and I think as a rule all sectors could benefit from following that mantra as opposed to being driven by KPI's or complex rules and guidelines.
Would you do it all again in the same way? What advice would you give to someone following in your footsteps?
Yes, I would recommend FE as a sector for anyone, whether from the public, private or third sector. It has a wonderful mixture of all 3 within it and will benefit from new ideas coming in as well as offer a range of opportunities for staff at all levels no matter what your background.
What do you find most rewarding about working in the FE sector?
Quite simply, the rewards associated with doing something worthwhile. You just can't beat the sense of achievement when you speak to, or receive letters from students, former students or their relatives explaining how the college has changed their lives completely. From helping those who lacked hope and were disengaged from education to gain confidence, self-esteem and go on to great careers; to stretching, challenging and developing those who achieved well at school but needed more work experience, interview practice or wider careers advice to make the best choices for them. We describe Middlesbrough College as 'a world under one roof' as it really does serve all corners of our community, no matter what age, background or starting point, so it really is hard not to get the 'FE bug' when you work somewhere that transforms lives like we do every day.
Are you a deputy principal or staff member in an FE college looking to progress your career? Or are you interested in changing sectors while maintaining a chief executive title? If so, search through and apply to our current live principal/ chief executive roles.