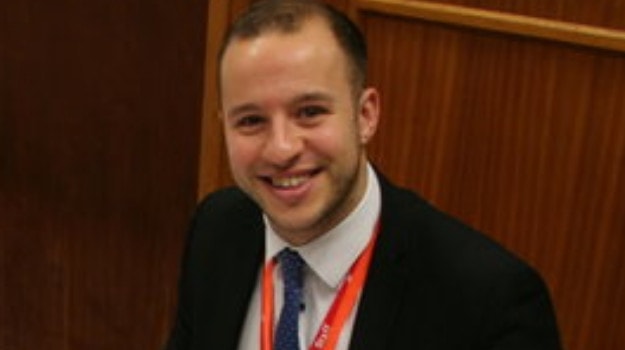 Chris Gibirdi joined Wigan and Leigh College last September after a similar role at Runshaw College and five years spent first promoting sport across a primary/secondary school network and then as a qualified primary teacher
Why and how did you get into school liaison and college admissions? 
I've always been keen on sport, particularly cricket and athletics, and gained a BA in sport development with coaching at Sheffield Hallam University. From 2008 for the next five years, I worked for a network of Sheffield primary and secondary schools to create and promote new school sport opportunities and then, after a brief marketing stint for a radio station, became a coach in a primary school and went on to study part-time and qualify as a primary teacher. 
But I then chose a different path in education when I applied for and gained a post in schools liaison at Runshaw College, Leyland, for which a teaching qualification was one of the requirements. The job brought together my coaching, communication and marketing skills such as speaking to students, delivering assemblies and promoting/marketing sport. 
What is your main role? 
My key tasks are marketing the college to prospective students in our local schools network and ultimately convincing them to apply and enrol. It's about building relationships with schools and making them feel confident that, if their students do come to us, they will get a good education and succeed. 
How do we convince schools? It's all about regular dialogue. Schools ask us to go in to run career- or curriculum-based sessions in their timetables. Several schools really like the curriculum elements we offer such as our psychology team giving a psychology lesson. I'm responsible for making that sort of event happen. We show them the opportunities available at our college and also provide them with curriculum material. Early in the school year, I am in schools more than in the office.
What's a typical day?
I will often generally start my day at a school that has booked me in for an assembly for a 5-20 minute talk about what courses we offer, how to apply, travel arrangements and so on. Then I might go back to the office, do some admin – not too much in my role where most of the focus in on delivering to schools. 
I'll frequently have lunchtime appointments – say, a drop-in session at the same school I visited earlier. You give the information to the pupils in the morning and if they want more details they can then get it from you straightaway. During the day I could also be running or visiting careers fairs or holding mock interview sessions . . . as long as it matches a school's careers needs. We help schools out by ticking these sorts of boxes.
Students will apply from September onwards, with us going into schools to do interviews during the Christmas period and up until March. We work in a partnership with schools to ensure their students have the opportunity to be interviewed in school. And anyone at a school with a sixth form wishing to apply can book themselves in for an interview with us on campus.
What are you specifically working on at present?
Our work is very cyclical. In late June and early July we're liaising mostly with schools without sixth forms that bring in their year 10s to sample the type of subjects we offer. They attend for a day, we ask what they wish to sample, organise a timetable and encourage them to apply.
What's the biggest challenge?
Variable hours. Sometimes I have a lot of evening work and it can be tough working out the right work-life balance. Year 11 parents' evenings at schools are often 4-7pm or maybe even 6-8pm. It's a very competitive market and we need to be at the front of the queue ahead of other providers.
Anything you are particularly proud of?
The college recently won the Educate North award, FE College of the Year, for achievement rates and student progression. From particular schools this year we have seen an increase in students attending sampler sessions.
And we had an appointment to speak to a year group at a school outside the borough we'd never visited before.
Any student achievement that stands out?  
Seeing two of our BTEC level 3 health and social care students claim gold and silver awards at last week's World Skills regional heats in Birmingham!
What personal qualities and skills do you need to do your job?
Organisation plus patience and understanding when juggling numerous appointments with schools that all differ in their approaches to the college. Building positive relationships is key. You must also be confident presenting your message to 100s of students at a time, so it helps to be more extrovert than introvert and communicate well, whether verbally, via email or by phone. Just enjoy communicating with young people!
Ditto background/training/qualifications?
Experience of working in a school or with young people helps as does a marketing background because you are really 'selling' the college. Some job descriptions state a teaching qualification or a degree is desirable while others specify just level 3s (A-level equivalent).
Key interview question?
Working in school liaison can place demands on your lifestyle with out-of-hours appointments across the year. In busy periods, this could mean three nights a week, only getting in after 7 or 8pm. How would you cope with these demands?
What spurs you on to work each day?
The desire to drive up applications and make the college and its students as successful as they can be.
Interview by Richard Doughty
Are you currently looking for an FE co-ordinator role? If so, take a look at some of our live vacancies and start your career at a further education college now.