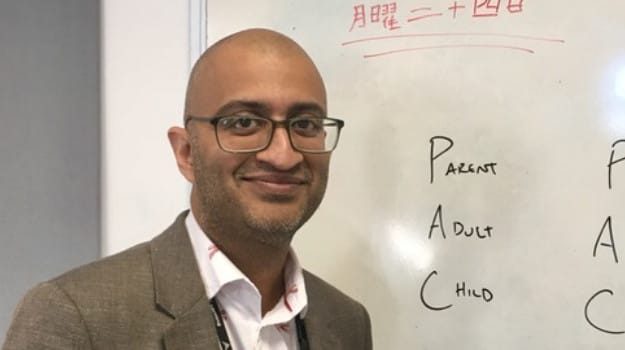 Jess Sachania joined Reading College four years ago as a learning support assistant for students with learning difficulties and/or disabilities, after several years as an organisational development trainer at ING Direct bank. He began teaching a few hours a week at the college, qualified as a teacher and took on his current role in 2016
Why and how did you become a English teacher?
My background is in corporate training. After leaving school, I first studied classical civilisation at Queen's University, Belfast (a degree completed later as an OU student), before working at a county court, then in immigration law, finally moving into staff training while working at a call centre. I moved on to ING Direct in a similar role in organisational development and got a taste for working with people with learning difficulties as part of the bank's corporate social responsibility programme. I'd never planned to enter teaching! But I loved the personal involvement, I'd always been passionate about diversity and inclusion, and the financial crisis let me re-evaluate my career. An LSA post came up at Reading and I got it. 
I first worked three days a week with two separate students; one suffered from ADHD, so I helped her progress in lessons. I spent the other two days offering learning support in class. I really took to teaching and used the opportunity to pick up a few teaching hours. I started teaching IT twice a week. It was everyday living, helping students feel more comfortable using IT. Then the college offered me a part-time two-year postgrad PGCE with a specialism in FE, including an in-house placement. The course was amazing, I was well mentored throughout and surrounded by motivated colleagues.
What is your main role at the college?
I mainly teach English functional skills to 16+ learners, which include letter writing, filling in forms, presentations, and verbal communication, all of which I'm aiming to develop further. I constantly incorporate the media, current affairs and social issues in my lessons to make English relevant to their daily lives. I aim for well-written letters so I give students the added incentive of writing for a strong social purpose. This term I've invited Amnesty International to come in to introduce their work and then the students will pick out individual campaigns that interest them and write letters of support linked to those. 
I teach around 100 students a week in classes rarely more than 14. Most students have education healthcare plans and some have individual support as their needs can be quite complex. Just occasionally it feels like 40 but you have the support, the space and resources! We started offering GCSE English courses last year.
What attracts you to the job in FE? 
One attraction is the wealth of different real world skills and talents my colleagues bring to a teaching environment: think, say, of drama, hairdressing and gardening. We have all got to a point where we want to pass on our skills.
 
What's a typical day?
I can't think of one . . . I'm currently still learning about the new students I'm working with. I start teaching from around 9am till 4pm, though I get here earlier and leave later to prepare lessons. I teach around three hours of English per day plus other subjects, such as independent living. I also take a sensory class and GCSE English. 
In most industrial roles you can tick off the last thing on your 'to do' list and go home but not so in teaching. I need the extra time at the start and end of every day as there is so much to do. You have to prioritise. I run regular lunchtime clubs with the students. Some find socialisation hard in college away from their old school peer group… but we make a big effort to make them feel at home. I organise Yu-gi-oh!, the card game equivalent of dungeons and dragons that many students played at school, and it helps them settle in.
Any specific things you did last week?
I met Amnesty to talk about how to introduce students to the refugee crisis; phoned several parents of students with different anxiety, health and care issues to find out how best to support them; and set up an exercise circuit for students in a health and fitness class.  
There are always moments when the students show what they can achieve. Every so often one learner will take another under their wing – during a fire drill recently one student was able to calm the anxieties of another. Those are the moments. 
Anything you are particularly proud of?
Last year's GCSE results. A grade 4 is the  pass rate, and of our GCSE students, two got 3s and two 4s. For our students, it was a wonderful achievement. I've set up a lending library of vintage and modern comic books – I collect them – to encourage reading, which is never easy. It's proved so popular that two students have taken out monthly subscriptions at the local comic shop. And we've had some amazing ideas from our new students on an induction project to design a college of the future. They'll present their designs to industry experts in a 'Dragons' Den' event next month and the winner gets sent on an Alan Sugar-style experience.
What's one of the key challenges of the job?
Time management – it's a big learning step.
What personal qualities and skills do you need?
Compassion – you have to be ready to get involved and be personally invested in other people. Inquisitiveness – you have to get to know students' behavioural issues to solve the puzzles they present, 'unlocking' a student so they can start to trust you and enable you to teach them better. And, of course, time management.
Ditto background/training/qualifications?
It helps to have a training background; I worked for around nine years as a trainer at a call centre and a bank. I also have an arts degree and gained a two-year, part-time PGCE teaching qualification while still a learning support assistant – it's a key ingredient in most applications for teaching posts.
What spurs you on to work each day?
Seeing often tiny bits of progression such as someone remembering to put a full stop at the end of a sentence or a student giving me eye contact for the first time – like last week.
Are you interested in starting a career as an SEN teacher? Do you like helping others? If that's the case, take a look at the latest SEN teacher vacancies at further education colleges and apply today.