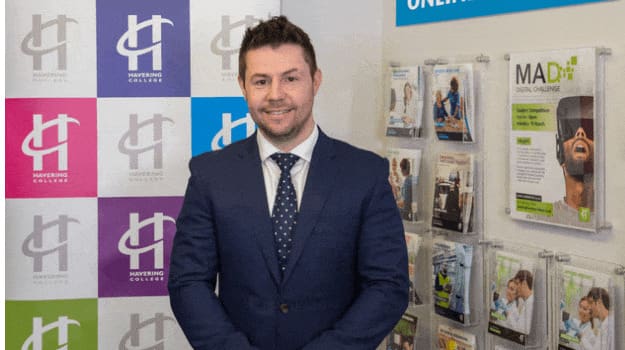 James Webber (39) joined Havering College in 2001 as a data administrator for the college's management information system after studying finance and financial information systems at Greenwich University, before becoming an analyst.
Why and how did you become a senior information analyst?
I've always been interested in how things work. I'm also imaginative (and at times sceptical), self-motivated, open-minded and flexible in my approach to work. In my first role I was always interested in how all the different aspects of the college systems hung together and I wanted to be more involved in report writing. I joined the reporting team in 2006 as a report writer taking data from our system and converting it into something readers can understand (eg. how many students enrolled this year compared with last). Over the years I've worked with different college systems and new software, which we invest in frequently to try to keep at the forefront of performance analysis. I then moved into an analyst's position.
 
What's your main role?
Supporting the information services director in producing reports relating to funding, success rates and other key performance measures needed by the college's senior management, stakeholders and funding bodies. I also oversee the required statutory data returns required of colleges and advise on and produce management information, trend information and forecast data to support the college's strategic priorities.
 
What do you like most about working in FE?
The feeling we are driving forward to support our students and the local community.
 
What's a typical day?
Starting at about 7.45am, I'll check the college's central management information system to make sure it's still alive, check overnight processes have been completed successfully, sift through the team mailbox for data requests and/or database errors that might have occurred across the various servers, and then go through my own emails. At around 9 am I discuss what's coming up with my director, update him on my existing workload and run through any new data requests. I typically work through till 2-2.30pm and continue to monitor emails through my lunch break, which may include a brief walk around the area. I'll sometimes update my director in the afternoon on my progress on a project or deadlines I've met. I finish around 5.30-6pm.
 
Two or three specific things you did last week?
I finalised and produced the data for the college's final portfolio planning meetings for 2018-19 and ensured all data sources were correctly correlated. I developed a new dashboard solution with the head of quality so that we can monitor predicted achievement and mark book progress and assessments online in a self-service environment. I also supported our web maintenance and development officer in publicising the college's new range of free adult online courses and ensured we had the correct course data online.
 
What's the most challenging aspect of your role? 
Changing priorities and short deadlines. Although the reports I produce are usually to the requirements of the end-users, or data requests may at first seem straightforward, the work involved is often complex and requires use of multiple data sources requiring long periods of concentration and attention to detail. It's very rewarding as I'm using my expertise and sometimes learning new skills I might not otherwise have uncovered.
 
Any achievement that you are particularly proud of?
My team aims to be efficient in how we work and encourages data autonomy by providing and promoting a growing self-service reporting platform; this enables staff to access their data in the format they need, at any time and from a central place. A large part of this self-service is the college's dashboard which I develop and maintain. It has quickly become an important tool for staff and governors to access information and I recently presented our work in building and developing the dashboard to other providers at a regional user group meeting held by the software provider. Since then other providers have picked up on it nationally and we've had a lot of positive feedback.
I was also recently awarded a Made A Difference award by the principal.
 
What personal qualities and skills does an analyst need?
Explaining things simply to others – if you find something difficult to explain, you probably haven't understood it yourself! Communicating well across the college so you gather and provide the information people need without too much toing and froing. Paying attention to detail – a report might look fancy and do this and that but an error in the data will lose it all credibility. Presenting data creatively, otherwise, people may not engage with it. Not being afraid to make mistakes when developing; learn from them and you'll be better for it. And knowing when to call it a day. Sometimes you'll spend ages trying to solve an issue with the system(s) or the data set it's always clearer with a fresh pair of eyes in the morning
 
Ditto background/training/qualifications?
If you are interested in detail, writing code, trawling through data, and developing reports and KPIs for others to see and use, you may an analytical outlook. Any qualification (at degree level) or experience picked up from several years working in the field that teaches you about databases, large data sets, tools and systems to develop something meaningful and useful for the end user will help massively, though I have learnt a lot on the job'.
 
What spurs you on to work each day?
It's knowing important decisions are often made based on the information I provide and that staff rely on my availability and accuracy to help the college progress. It's also about being among fun colleagues who go above and beyond to ensure our students succeed.
Is a career in IT something that you are considering? Are you good with handling data? If so, check out our latest Further Education MIS / Data Jobs vacancies and apply today!