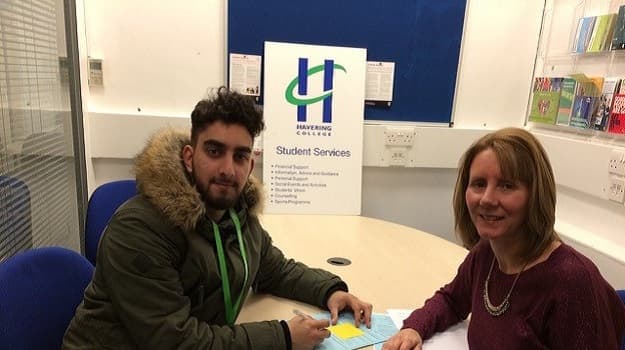 Lesley Gill joined Havering College's student services department 12 years ago as a part-time administrator, moving into a more advisory role before being promoted to manager.
What's your main role?
I manage the college's student services funding and welfare team. I'm responsible for our learner support fund budget and conduct financial interviews with students to determine if they are eligible for financial support. I have progressed from a small part-time admin role to my current post where I line manage a team of five who give out financial support and guidance to any student needing it. We have to ensure any homeless student has a proper place to stay and help them claim benefits. We normally recommend them to the local YMCA, where they stay until they have gained their qualification, find a job and then move out to their own rented place. We've already helped 760 students since September. 
What sort of welfare issues do you handle?
This side of the job is growing as more students are suffering from mental ill-health. Our college counsellor's heavy workload means we often have to refer students out to other mental health facilities within the borough. Many are affected by anxiety and a general inability to cope with the stresses of teenage life. 
Homelessness is a big issue this year, often resulting from fall-outs with parents under financial stress who pressurise students to find a job when they may want to stay in education. The recession is squeezing many poorer families. We also handle other issues such as drug and alcohol addiction and refer students to outside agencies to get the proper support. We guide them, we don't do everything for them as we feel they need to build up life skills to get more confident in doing things for themselves.
What's special about your job?
It's the feeling you're making a real difference to students' lives. Every day is different, depending on who walks through the door. We deal with every sort of student issue and problem – without our financial and welfare support, many young people would struggle. For the further education is vital –  if they leave with no qualifications, they cannot gain employment and it will affect their whole future.
Outside circumstances can affect their attendance, ability to concentrate and achievement levels, so we have to ensure they have the same access to everything as more fortunate students. Our support enables them to achieve despite the odds. 
What's a typical day look like?
It's very varied – I'm here, there and everywhere. The hours are 9-5, but I get in a bit earlier and often stay later if we have a deadline. I regularly see students ensure they can access all the financial support they are due, such as travel costs, and then organise monthly payments from our annual £200,000 learner support budget. I constantly monitor our spend to ensure there is enough in the budget to take us through the academic year. Out of that we also pay termly bursaries to those eligible if they achieve over 80% attendance to cover travel, meals at college, or any other course expenses.
I often help out at reception when they are busy, meeting students and visitors face to face to answer queries on student services or spending time giving advice and guidance. I'll see students I'm supporting individually to discuss their situation and find out how I can help. I also take time out to discuss issues with my staff. 
What sort of tasks did you do last week?
I presented a termly departmental report to governors showing how many students we have within each age group and the type of financial help we have given them. I had to show how many students receiving loans the previous year had stayed on to gain their qualifications and that our service was affecting students positively. Other tasks included a one-to-one meeting with a homeless student whom I helped apply for a national insurance number because he had never been allocated one. We then found he needed a birth certificate – he'd left home without any documents. I also have an induction to a new temp on our reception desk.
What's one of the key challenges in your work?
Being responsible for all the learner support funding budgets. I also 
have to file mid- and end-of-year returns to the Education and Skills Funding Agency and ensure all the figures are correct!
Any achievement you are really proud of?
One homeless student fell out with his parents. He'd been a really good student but his attendance and achievement levels started dropping off. His tutors got quite worried. We helped him get housed and back on track and his attendance and performance picked up again, he got good grades in his diploma and went on to do a business course at university.
Any surprises in your work at Havering? 
I'm amazed how open some students are, they tell you everything! Maybe they've not been used to having people willing to spend time listening to them, so they make the most of the opportunity.
Personal qualities and skills you need?
You've got to be a good listener, empathetic and non-judgmental – otherwise, students won't open up to you – and an excellent communicator. You also have to show you care as you can't do this type of job without a strong desire to help people. My work in insurance and retail honed my ability to communicate, but I've learnt most of my skills on the job.
Qualifications?
I'd recommend doing at least levels 3 and 4 in information, advice and guidance, which the college paid for me to take one evening a week in-house over a year. Much is coursework done in your own time. I also started an ILM level 5 leadership and management course which I then found was too much to do alongside a full-time job. What I did learn was very useful as a line manager and I plan to take the course again. The most useful degree you can have is in youth work.
What spurs you on each day?
Students are at the heart of everything we do. It's seeing how I and my team's support affects them positively, and our opportunity to help them progress in their education and life. I really like the job I'm doing – it's ideal!
Interview by Richard Doughty
Are you looking for a fulfilling job role? Do you like to feel like you are making a difference in people's lives? Perhaps a role in a student services department at a further education college could be perfect for you! Browse through our current live student/ learner services vacancies and apply today!