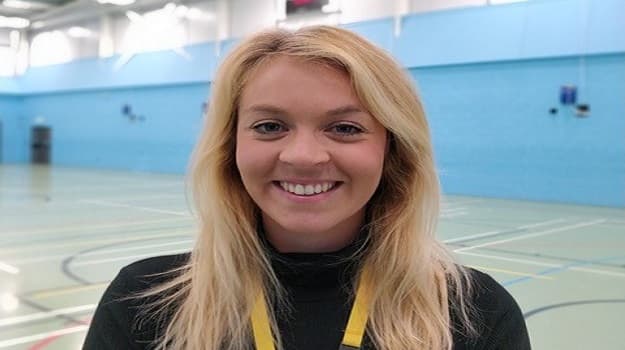 Louise Neil (25) gained a sport development degree, before joining Aldershot Town FC's Community Trust as a community officer and then moving to Newbury College, Berkshire, as a sport maker in October 2016.
What attracted you to the job?
I've always liked working with 16-18s after cutting my teeth as the co-coordinator of the National Citizens Service activity programmes for teenagers. I like the challenge of keeping young people active – they've all got their opinions, and some need some convincing as sport is not compulsory at college. I had a really positive experience as a student myself so I want to give them the same opportunities I had. My job was advertised and seemed like a good opportunity to engage with students across the college and get involved in a wide range of activities. My own sports are badminton and netball … I played county badminton when younger and currently play for two netball teams.
What's your main role?
Engaging with students to try new activities, getting them active and raising awareness of different topics – we have themed weeks throughout the year. I started out as a sport maker focused entirely on raising sport participation, but because of changes in funding arrangements by Sport England, my role has since changed slightly to become more enrichment-focused. So I now also organise campaigns ranging from Pride week to Mental Health Awareness week, each day of which is based on a 'five ways to wellbeing' topic including a 'be active' day when we get students to do sport and other activities.
What are your most rewarding moments so far?
I've seen total student participation in sport increase across the whole college and from all departments, particularly in hair and beauty and foundation learning. There's been a welcome rise in numbers of female and special needs students. Perhaps the best moment so far has been organising a 'This Girl Can' event funded by Get Berkshire Active; I ran the event for the hair and beauty department.
Each student got to wear their own tie dye tee-shirt designed by art students and took part in activities through the day, including netball, rounders, Pilates, and Clubberise. Then at the end they asked when the next event would take place as they'd "really enjoyed it!" It's always difficult to get them involved but we focused the day around them and it was a great result. You are seeing your efforts bring about change.
Describe a typical day? 
Each day is very different. My hours are generally 9-5 but we also run open days that can be on Saturdays, plus progress evenings during the week. On Thursday afternoons, I  am currently teaching sport to develop as a teacher and complete my Level 4 in Education and Training. Every lunchtime we have a sport activity - and I run taster sessions in timetabled tutorial slots on healthy lifestyle to encourage students to attend the lunchtime sessions. 
Name a couple of events from last week?
We had a basketball match against a local school and won! There was an autism awareness day when Mencap came in to run a series of workshops with different student groups. On Friday I took students on a weekend residential trip to an activity centre where they tried out a high ropes course, canoeing, kayaking, raft-building, rifle shooting, abseiling, archery.
Most challenging aspect of the job?
Keeping up to date with student trends which change all the time. I get their thoughts and feedback by running focus groups or chatting to students sitting down in the 'street' area of the campus where they mingle during breaks and at  lunchtime. We also have a student council where I can gauge what they'd like from the college and the sport and enrichment programme. 
Anything you are particularly proud of?
Last year we did a Pride LGBT week including a college-wide football tournament. We talked about athletes being involved in Pride. We all wore rainbow-coloured shoelaces to raise awareness of the key issues in sport as well as in other areas and had a whole range of students supporting it, whether LGBT or not. There was feedback from the college about having a gender-neutral toilet. We now have LGBT as well a range of other ambassadors including sport. Sport is a difficult area, football in particular, so we used football as a good way to raise awareness. Everyone got involved.
What personal skills and attributes do you need?
It's a personable, student-facing job involving staff and different organisations and you need to be energetic and enthusiastic. You have encourage students who are not so willing so you have to try to accommodate what they want to do and be good at negotiating what can be done at lunchtimes.
What about training and qualifications?
I have a degree in sport development plus coaching badges in football and badminton. The college has also supported me in CPD - I've qualified as a basic expeditions leader and boxacise instructor and have been studying part-time for a one-year education and training level 4 qualification since last September.
What spurs you on to college each day?
The variation in my role, the freedom to engage with everyone and a very friendly college with a great community – and, of course, I always look forward to seeing my regular students at each lunchtime session.
Are you passionate about sports and enrichment? Are you also interested in a sports coordinator role? If this is the case, have a look at the available sports coordinator roles on our website and apply today!