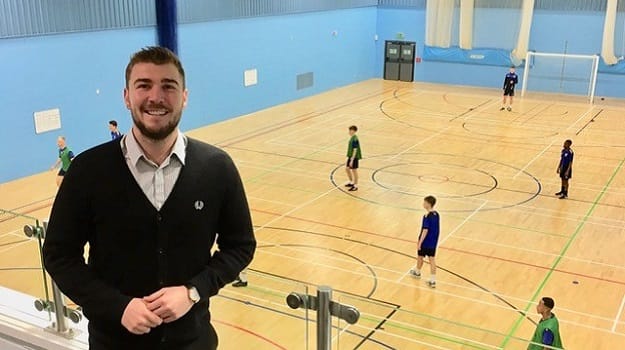 James Thorne (27) is four months into managing the sports programme at Brooksby Melton College. After taking a sports degree, he spent a year as a 'sport maker', promoting sport to all students, then three years lecturing 16-18s and undergraduates at Heart of Worcestershire College before running its higher education programmes and taking his current role.
Why and how did you become a sports manager?
I've always played rugby, cricket and golf at a good club level and initially aimed long-term to be a university lecturer. I studied sport and exercise science at the University of Chester followed by an MSc in the sociology of sport, before going travelling for 18 months. My first job (funded by Sports England) was as a sports maker in sports development and participation at Heart of Worcestershire College, where I also started lecturing to gain experience for free, and self-funded a teaching qualification from Warwick University. I then got a full-time lecturing role from 2014-17, first to 16-18s for a year and then at degree level. I was running the college's HE sports programmes before taking up my present role last October, fitted in a lot of CPD, wrote new higher national qualifications for Pearson (the company responsible for BTecs), and qualified as an external examiner to inspect other colleges.
What's the role of a programme manager?
Keeping a fine balance between education, looking after facilities, managing lecturing staff and ensuring quality provision for students. You also need a business sense in terms of external partnerships, looking at funding streams and links to the wider community.  Education is my main priority but I also manage two elite sports academies - Mansfield Town FC and rugby union's Leicester Tigers. I'm in contact with their partnership managers, and a lot of logistics are involved. I must ensure partnerships with the two professional clubs go smoothly and have just signed an agreement with Leicester City women's football team to set up a third academy this year.
We also had new facilities in 2015 and I have to ensure they are all in constant use and earn income. We are in talks about creating a potential rugby hub with Leicester Tigers and looking at potential income streams for that. I currently do little lecturing but do a cover for colleagues.
What's special about a job in FE?
I used to think to get a PhD would land me a university lecturing job and FE was a good stepping stone, but now I'd find it very hard to leave. When you see a 16-year-old struggling to write an assignment and then 5-6 years later leave with a degree in sport, loads of work experience and walk into a job, you realise FE is not a 'qualification' but full-on education with vocational experience embedded in the curriculum. Our students help run cross-country events and mini Olympics in schools besides managing after-school clubs.
What's a typical day?
I do a 10-minute whizz-round to check out my lecturing team are in place with no problems and that our students are present. Then I'll often spend the morning on partnership work and set up afternoon meetings – today I met the LTA's Tennis Foundation for developing tennis facilities with the community. I spend half my time meeting external organisations to see how we can collaborate.
I also ensure we meet our elite academies' needs, keeping lines open between lecturing staff and coaches and keeping both parties happy. And, of course, constantly evaluating and improving our courses.
Best moment so far?
Last week we sealed the deal on the new Leicester City women's academy – female recruitment has been a priority since I joined the college.
A couple of tasks you completed last week?
I met local rugby clubs who were seeing their talented 18-year-olds move away from the area to university etc, and thus lose their flow of players. It's given us another reason for offering an HE provision in rugby so we'll be able to keep local rugby players at their clubs. I also attended the Association of Colleges' sports curriculum conference at Loughborough University to keep up to date with the sports industry and any changes in education.
What's the most challenging aspect of your role? 
Prioritising my time within education and managing 12 lecturers, all the business work I do in terms of facility development, academy partnership work and talking to external organisations. And keeping everyone happy – elite sport at college often has very different priorities to those of our generic student population so I have to ensure there is a balance and resolve any conflicts over timetables and fixtures.
Any surprises? 
Seeing talented 16- and 17-year-olds manage and prioritise their time and still play high-level sport!
Personal qualities and skills?
The ability to communicate face-to-face or by email to create positive relationships with people in the local community or elite sport. Understanding the different needs of an elite sports coach - performance, first team success, producing professional athletes – compared with a local club coach - inclusivity and ensuring everyone has a chance to play. Recognising everyone's strengths and weaknesses and giving support when needed.
Background and qualifications?
Sport is a very competitive area so doing masters can give you an edge but experience and track record count most. Build a diverse CV - and do voluntary work when you can - I did an internship in sports analysis at Warrington Wolves rugby league club and Sale Sharks rugby union club showing I was willing to do voluntary work in elite sport.
What spurs you on to work each morning?
I realise I can make a difference whether, for example, it's increasing women's football opportunities, keeping students in the area within a rugby hub, or ultimately helping a new student with no qualifications become a very employable member of society. 
If this is something you feel passionate about, take a look at our FE vacancies in sport and physical education. Explore the related live vacancies and apply today!