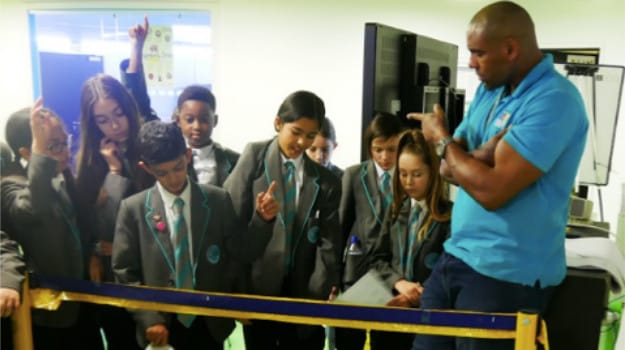 Errol Seaman joined Barking and Dagenham College in 2010 via a science degree at North Georgia University in the US, eight years' playing professional basketball, and several more as a public services FE teacher in London. He took up his current role last August.
Why and how did you become a STEM (science, technology, engineering, maths) development lead?
It was through love of science and sport. I won a US university scholarship, studied biology and chemistry and played national college basketball. After graduating I began an eight-year professional basketball career in the UK, playing first for Manchester, then Brighton and Reading. At the same time, I began coaching basketball and lecturing in sports science at two London colleges, later specialising in public services teaching at Barking and Dagenham. 
I began to use experiential teaching and learning; rather than front-of-class didactic teaching and just delivering information, I designed activities to put students into a particular context to display their knowledge. If they were, say, learning about leadership or teamwork, I'd then expect them to lead and display their skills in a 'real life' scenario.
When my current job came up, I was seeking a subject change after teaching public services for eight years but still wanted to apply my experiential approach to STEM subjects.
What's your main role?
Promoting STEM subjects to young people. We deliver classes mainly to 16-19s but also adults and primary/secondary pupils in engaging, interactive and practical ways. Many students want to be astronauts or engineers when they are young but then something happens along the way and when they get to secondary school and post-16 level, they lack that self-belief that they can take on a Stem career. I help them rediscover that belief that, yes, they can do this. 
My team and I support mainstream curriculum subjects off-curriculum in our STEM centre. Our activities are not necessarily qualification-based – for instance, a hair and beauty group needed help in an anatomy and physiology course to understand the difference between muscles, ligaments and tendons. So we brought in some chicken legs and got them to dissect them. Or we help on the pastoral side. This morning we had a group tutorial on healthy eating. I showed them graphic images of the effects of high sugar and fat diets – ie. obesity, tooth decay and diabetes (including amputations – around 136 per week in the UK). They then each drew up a typical daily eating plan and worked out how much sugar their menus contained, measuring it out in real sugar. They hadn't realised just how much sugar they consumed and the shock made them think.
What do you like most about the role?
Freedom to use an experiential style of teaching to get students to engage – I could never return to "traditional teaching."I'm pleased to be using my science background. And I also love the variety – every day is different and this lets me develop new skills and enjoy managing the centre.
What qualities do you need for the job?
Subject knowledge is key but to be a good teacher you have to connect with a group straight away. You may only have students for a day or even an hour and not see them for the rest of the year. You have to think on your feet to create rapport, be a good communicator, entertain charismatically and be creative. I use humour a lot. Can you relax and open up a group which maybe don't want to be there, are too scared to interact, or are just quiet, sullen or shy kids, especially today's generation. I try things like asking people for their names and then immediately referring to them by name.
What's a typical day?
I get in at 8-8.30am to check emails and set up activities with my STEM facilitator, We will usually display a relevant YouTube video on our promotional video screens around the STEM centre. Aside from taking college students for all sorts of activities, we hold 'experience days' for external groups of up to 30 students from, say, secondary and primary schools or home-schooled children. Our first session at 10 am usually starts in the cinema room and may see us all sitting in a circle having a general conversation getting to know each other. With quiet groups I often use 'brain gym activities', using body and mind at the same time. It's often hilarious and it breaks the ice! Then we split up the activities before and after lunch.
Any specific recent activities?
A group of childcare students came in to do a crime scene investigation (CSI) activity. They had to solve a murder case in three exercises – video e-fit, fingerprint lifting and blood spatter analysis. During the presentation, I asked them how did they think being in childcare could relate to CSI? They looked at me as if I was crazy but I carried on by asking how would they spot a change in the behaviour of a child facing abuse? Bruises, they replied. But if none, what else would they look for? And so on. It was teaching them to be observant and identify what was different.
What's most challenging in your work?
Constantly refining current and creating new, innovative and engaging STEM-related activities to avoid anyone leaving uninspired. It has to be fresh and unique.
What training/qualifications do you need?
A teaching qualification like a PGCE is a must. A STEM background is a definite advantage although, if you are a competent teacher, you can up-skill. I also took self-funded courses including an online distance learning qualification in gamification in the US, presentation skills and my whole experiential teaching skills approach. 
What spurs you on to work each day?
I love the journey of taking young people from point A to wherever they develop, of being part of that process.
Interview by Richard Doughty
Ever considered a career in teaching or developing STEM subjects? Are Science, technology, engineering or maths subjects that you enjoy or are passionate about? If so, have a look through our vacancies and apply today!