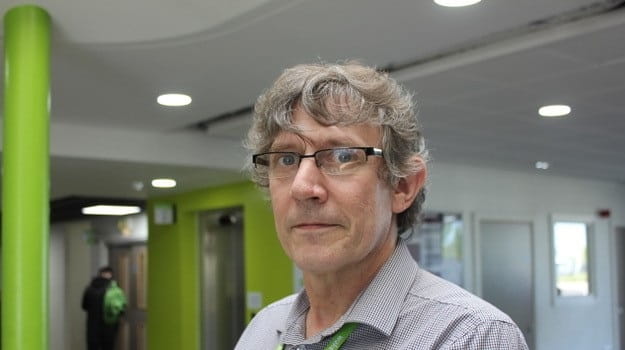 Tony Jackson took on an FE classroom support post in 2003 after 12 years in road construction, then qualified to teach basic skills and expanded his role into skills development, liaison with industry and apprenticeship management. He joined Wakefield College full-time in 2009, starting his coordinator role in January 2017.
Why and how did you become a work placement coordinator?
Left school at 16 and did 30 months in a mechanics apprenticeship and YTS 'cos my dad told me to', before deciding it wasn't for me. After several years on the roads as a labourer and then surfacing supervisor, I decided to become a basic skills teacher after supporting 50- to 60-year-old road construction workers who couldn't read or write. I realised I could teach and got a buzz from seeing people progress.  
Various roles followed including business development adviser, apprenticeship coordinator, business services coordinator, and adult employability and skills lecturer/coordinator in customer services and IT courses. When I started saying we needed to ease the transition from classroom to apprenticeship to offer wider vocational opportunities for young people – and encourage employers to come to our two campuses – the college came up with the coordinator's job which I was then offered after a competitive interview. 
What's your main role?
Line-managing a team of six work placement officers and two administration staff, along with overseeing other work placement officers, managed by their own departments. I'm ultimately responsible for finding suitable work placements for anything between 1,500 - 2,000 students. We try to source employers with gaps to fill in their workforce and who can then offer full-time work opportunities for young people when they finish their placement.
What attracts you to the job and FE?
One word: challenge. The FE sector offers a fantastic career for those who don't fear change. I never get bored – it's like having lots of different hats to wear. I can spend one week working with the construction team, then the next with, say, my motor vehicle, business or IT teams.  
What's a typical day?
First thing every morning, before I even leave my car, I scan through social media because I have to be proactive on social media platforms. I flick through business news, checking to see if any item will affect the working day and if I need to pass on information to my curriculum colleagues or work placement officers. We 'sell' the local area as a sales package; for example, we learnt through a business publication that John Deere Tractors had moved to Wakefield so we tipped off the local council (who knew already), invited the company in to tell us about their employment strategy, introduced them to Department for Work and Pensions colleagues, and explained how we could support them with our students. 
Once in the office I, check my computer for emails, including communications with employers overnight about any student that they are unable to take that day, check how close we are to placement targets in various sectors, and chase up any leads on social media or business channels. There is also data inputting and regular system audits, health and safety checks in workplaces, allocating caseloads and monitoring team progress. I split days between our Wakefield and Castleford campuses.
How much contact do you get with students?
Quite a lot. I go into classes, give talks, and set up and coordinate talks with employers. For example, the National Crime Agency is coming in to talk to students for the first time – some of our students are designing a national work placement programme as part of our close partnership with them.
Two specific things you did last week? 
I organised an ars partnership for students who are stewarding and/or performing at a week-long festival at Wakefield's Art House centre used by national and local artists. I also set up a student trip to an international logistics centre run by Asda to track its food distribution.
What's your biggest challenge? 
Keeping everyone regularly informed of each student's progress in their work placement – by the end of this year around 2,000 students will have engagement activities aligned with their studies. Employers are constantly changing placement dates or, say, workplace mentors may not be in to supervise a student, so the student, workplace officer, parent and tutor all need to know. One phone call can alter the best-laid plans.
And the most rewarding work to date?
Persuading employers who have not thought of offering work experience placements to employ students as apprentices. 
Anything you are particularly proud of?
The 100% commitment my team put in to support students and employers with every engagement opportunity. We've just finished the first phase of a JCT 600 car showroom franchise, where students have worked with top car brands and where 7 out of 10 students have been offered VW training in JCT's academy.
Personal qualities and skills?
You have to be responsive, approachable, flexible, organised and adaptable – all the traits we strive to teach our students! You also need to be very proactive, communicate with people from classroom to the boardroom, and know how to turn situations to meet your objectives. Forge close links with your college's course information and marketing departments, curriculum managers and careers advisers, and foster regular contact with the local sector and community groups. Stay relaxed around students and show you are really interested in them whether just chatting in the corridor or in 1:1 meetings. Always keep the conversation positive and about work experience opportunities. Above all, take the job seriously but not yourself. 
Ditto background/training/qualifications? 
You need some kind of Certificate of Education to fully understand the learning process, how a job can fit into a students' aspiration, and what will they do with what they have learnt. Plus a level 4 Lead in Quality Assurance (LIQA) qualification that enables you to judge quality and consistency of assessment; it also provides a firm foundation when it comes to audit. Coming in with industry experience and contacts is a must; without them and a sound knowledge of what employers can offer, you can't do the job.
What spurs you on to college each day? 
The challenge of working in such a vibrant sector and having a fantastic team to work with. The people around you make the job as much as the job itself. They make it fun. 
Interview by Richard Doughty
Discover more of the latest FE co-ordinator positions, and start or progress your career in further education today.