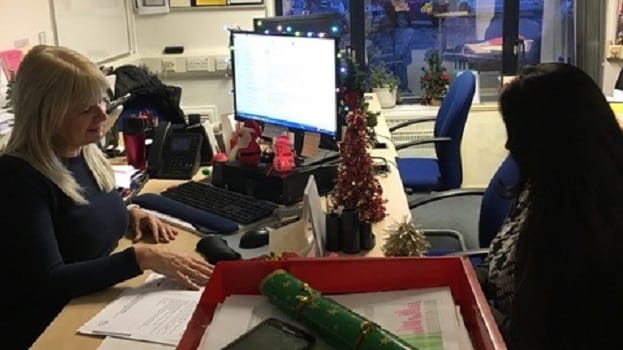 Jacky Herlihy has worked at Harrow College for 17 years as a receptionist, part-time IT teacher, assessor and now admissions assistant after careers in accounting and the film industry.
What prompted you to join Harrow College?
I was working full-time supplying animal 'stars' to the film/TV/fashion industries for 12 years, where I rubbed shoulders with the likes of Richard Gere and Lord Lichfield. But then I began to need more regular hours and pay, so I took some teaching courses at the college before running IT evening classes. I then took on a full-time receptionist job and continued teaching IT for the next 11 years.
How has your FE career developed?
I took advantage of free college courses for staff – I took an assessor course… and became an assessor for two years before returning to a receptionist/admissions assistant role in 2011. The college had wanted all assessors to become self-employed but I needed a full-time post. Just two years ago I got an NVQ in IT and earlier took NVQs in advice and guidance and customer service. 
What's your role as an admissions assistant?
It's about meeting and sorting out people coming into the college and also doubling up on reception duties. We do everything from enrolling students and handling bursaries to processing all post and email, handling customers, supervising security, radio, phones and so on. Knowing about everything really helps, particularly in the evenings; with only one person on duty, you can end up doing all sorts of jobs, including enrolment confirmation.
What's a typical day?
We rotate between receptions on our two campuses and first thing each day update the notice board in reception, turn on the TV which informs students and visitors, check the calendar to be aware of who is coming in during the day, ensure afloat is in the till and then wait to see what happens during the day. We do everything including sorting out the bursaries and students' documentation proving their eligibility before taking payments. Whenever we enrol sixth-formers, we search the database to see what they have been offered, enrol them on a course, and check for any money owed. Yesterday I was at the reception, today it's the admissions room where we keep a computer record of everything. My IT experience is a real bonus as our new enrolment system has a few glitches. 
We also deal with course enrolments from our website. We organise initial interviews and attend all open events to catch details of visitors for our marketing team. People start applying in the winter term for entry the following  September, so we get them interviewed by teaching staff to ensure they are suitable. Applications come in between November and January and we interview right up to next October.
The busiest time of year?
Enrolment in the last week of August and most of September. Students interviewed earlier come back for their induction and start their courses. During our main enrolment period, we have lots of temps in to help our eight-strong team plus our line manager and learner services manager. I work full-time though others are part-time.
Why do you like the job?
Every week it's different; one minute you're doing interviews, then you're getting ready for the main enrolment which is so hectic. We allocate course places over about three weeks in a big room in our new building, then go back into our normal office to do more enrolling, and start processing the bursaries. Halfway through the winter term, we get back into the main enrolment for ESOL (English for speakers of other languages) for a couple of weeks. Then we start getting ready to interview people before Christmas, sorting out interview dates with teachers. That goes on until another ESOL enrolment window comes round (four times a year) and it gets busier and busier until August again. You have to be very flexible and just fit it.
Most challenging aspect of your role? 
Dealing with some people who can't get what they want – they think they should get on a course for free yet their paperwork says they have to pay, or they try to enrol too late. They can get quite upset and we have to calm them down and maybe direct them to the careers centre for advice or look at other courses. 
Most rewarding moment?
I was on reception once when a student said he wanted to withdraw as he didn't like the course. I explained we only get one chance at education and if he was to tell a potential employer when he left college that he'd given up and done something else, it would reflect badly on him. He did finish that course, which made me quite proud that he had maybe listened to me and got on with a better life.
Personal qualities? 
You need to quickly learn how the college works, know the people in the college and listen carefully to people as many can't speak English well. It also helps to be confident. Before I joined the film industry I was very shy but my confidence grew – when you went on set next to a big film star and you were dining with them every day.
Generally, you have to be ready to do whatever's necessary, fill in for others if they are unwell, and be flexible on working hours – sometimes coming in at lunchtime and working late if it's main enrolment time or there's an open event. You also need to be a people person and be able to figure out problems. 
Qualifications?
I have an NVQ level 2 and 3 in advice and guidance and a level 3 in customer service, which I studied part-time at the college through staff development. A degree in youth work is also useful (though I don't have a degree myself). But you can start on reception with no specific qualifications as the college helps to develop staff skills – everyone gets training on the job in areas including customer service, health and safety, how to sit at a computer, dealing with drugs issues, and safeguarding. Taking an NVQ makes you think about what you are doing and helps build your self-esteem because after training you know you are doing it right. Also, when you do an NVQ level 3 and then learn it's the equivalent of two A-levels, you get a real sense of achievement to know you are working at that sort of level. People often can't quite believe it! 
For your chance to start a career in FE, browse through various assistant roles and apply now for the opportunity to secure an interview.