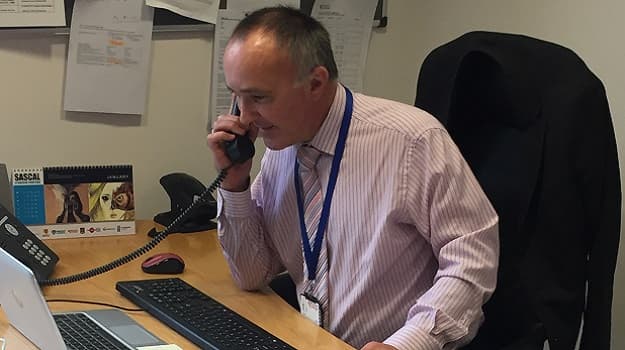 Jon Mold (54) is Group Director of Finance and Resources at Stoke on Trent FE College. He spent 14 years with Derbyshire County Council's treasury department, during which he also studied for A-levels and accountancy exams at college and university. He then joined Derby College for 21 years, leaving as Assistant Principal - Finance in 2013 to set up a consultancy before taking up his current role the following year.
What attracted you to further education?
I left school at 16, quite liked figures and took a job in Derby Council's treasury department where I got a grounding in every aspect of finance you can imagine. I had reached the level of Principal County Officer on Investments when in 1992 colleges were given financial independence from local authorities and needed finance directors. It was a very good career move for me … I got a job at Derby College based on my experience. 
What's unique about running college finances?
In my job, finance is just one element. Finance directors deal with anything from IT finance and premises through to resource management and capital projects - they all end up within my remit. If you are a finance director at a plc you would not be expected to pull in all these other elements.
I come in not quite knowing what I'll face on any particular day. It's very varied and you're regularly hit between the eyes!
How has your role developed at Stoke-on-Trent college?
The focus has changed. Early on, I found the college's finances were not quite how they had seemed. Forecasts for the next three years were not robust, so almost immediately we had to start getting the college back into recovery. It's now much more stable against the backdrop of continuing funding pressures and cuts. We successfully managed it and saved something critical from going badly wrong - that's part of the job.
What is a typically big challenge facing you?
It's the constant need to save money - by improving efficiencies, among other things. We've had to utilise staff time better. The average lecturer is expected to deliver 864 teaching hours a year. But we were getting under 90% of that. It's now 98% – an extra 85 hours of teaching each week. If someone was not doing teaching for whatever reason, we were having to pay somebody else to do it.
Previously, each year lecturers were given some 14,000 hours as time off from teaching schedules to do various activities but we have cut that to 4,000. 10,000 hours is a lot of money. We've also upped class sizes and thus use fewer teachers and classrooms. It's only when you spend a lot of time analysing that you get these savings, but it's meant we hit our 2014-15 savings target of just over £3.5m on time.
Last June we set up a new type of subsidiary company at the college — a. big problem is huge and rising pension costs for support staff. They're all originally linked to the individual pension scheme funded by councils across the UK. Now new support staff will not be employed by the college but by our subsidiary. It does have a pension scheme but instead of the college contributing 16-20% as an employer, it is now 5%.
What's the busiest time of the year?
September to November is accounts time and something you have to fit in between the day-to-day stuff – like managing two large, multi-million pound building projects for the past two years.
What personal qualities and skills do you need at a senior level?
Bags of self-motivation as no one else will motivate you when you are battling against the funding bodies. A huge sense of humour. An ability to multi-task. And a good set of presentation skills - without them, you're lost before you start.
And if I'm coming in from industry, what do I need?
You can have all the qualifications but experience in FE counts for a lot. You need to understand the sector to make a difference. You are solely responsible for so many things – that's why you are employed as it's such a specialist area to get a grip on. I've seen people from the private sector leave colleges very quickly because they just can't cope with it. 
What is the ideal junior entry route to finance director?
Your opportunities will depend on the size of college you start at. People can work through from purchasing and sales, get their AAT accountancy qualifications or something similar and then go on to take more qualifications. Two of my staff are fully qualified chartered accountants and with a few more years' experience could go for head of finance positions somewhere in the college and then on to a financial director's post. It can be a long path – you absolutely have to stick at it on the way up - it's not something you can go into straightaway but the rewards come with the job.. 
What gets you up in the morning?
A very early set alarm clock! Even after three years it's still a job I enjoy doing. There are new challenges every week, and yet with my background and experience I know I can still make a difference.
Interview by Richard Doughty
Has Jon Mold's account got you thinking about venturing into a career as a finance director? If so, explore the finance and accounting jobs that are currently live on our website and apply for the chance to secure an interview!