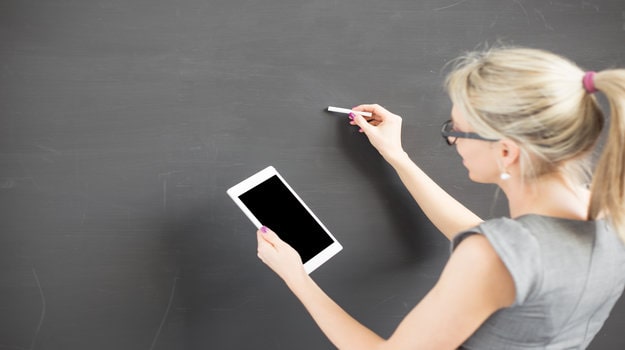 Though some might still wonder whether technology is a distraction to learning, many educators now understand that if used correctly it can be an incredible incentive for students. It will help them prepare for their future careers, expand their horizons and fill gaps in their knowledge in an engaging way.
The focus on technology in further education specifically has intensified in the last few years. In 2014, the Association of Colleges and the Association for Learning Technology presented a position paper titled "A summary discussion of the use of learning technologies in further education". In it, they discussed the potential uses of technology in FE classrooms, highlighting how the integration of tech solutions in schools is both inevitable and already well underway.
New instruments encourage the development of new teaching methods
The latest advances in technology have made many more tools available to students and teachers, which has forced the latter to enhance both their process and their classes.
A survey by PBS LearningMedia found that 74% of the US teachers interviewed thought that technology helped them "reinforce and expand on content", with 45% of instructors using web-based educational activities with their students.
Tablets increase trust and literacy in students
A 2014 study commissioned by education technology charity Tablets for Schools showed that almost 70% of primary and secondary schools in the UK now use tablets in the classroom.
While that study struggled to find any measurable benefits in the use of technology in schools, the researchers did find that giving technology to students helps create a "sense of empowerment" and makes them feel trusted and valued.
Research from the Learning Technologies Centre at Perth College (Scotland) looked at the use of tablets in a FE setting, in particular in the Language School, Social and Vocational Studies and Hairdressing departments. The study found that despite some technical issues on the staff's part, the feedback was "overall very positive".
Software can address a student's unique needs
The use of "assistive technology" could be the way to level the field for special needs students. Specific devices or software, for example voice recognition that eliminates the need to write, can help teachers customise their lessons to each student's requirements.
Bridge College in Manchester, a specialist college for students with complex learning needs, teamed up with Manchester Metropolitan University and integrated iPads in their classes. The pilot project found that students were enthusiastic about using tablets in class and that the majority of staff also believed that the iPad was a device that had the potential to support learning and communication.
Technology can also be used as an additional support for ESL students, who might need help when reading and look for pronunciations and meanings as they work through a text on a tablet.
Students can collaborate easily with each other and teachers
Working on digital platforms means that students can collaborate easily, such as to share ideas or prepare a collective project without the need for specific meetings. Teachers can also take part: for example, if students are encouraged to put their work on Google Drive, teachers can edit directly instead of having to send a documents back and forth via email. Digital tools can even turn teaching during a lecture into more of a give-and-take process.
Social media is also emerging as a powerful tool to share content and get students interested in a topic and even encourages them discuss it with each other outside the classroom.
Skype can help bring the world to the classroom
It may seem strange, but Skype can become an amazing learning tool in the hands of the right teachers. The company itself has a portal dedicated to education, featuring games such as Mystery Skype, in which a class gets connected to another class somewhere else in the world, and the students have to ask questions to guess each other's location.
In a FE setting, the Microsoft UK Further Education Blog's suggestion to use Skype to invite guest speakers to the classroom might be particularly useful, giving students the opportunity to interact with professionals and teachers that they would not be able to meet otherwise.