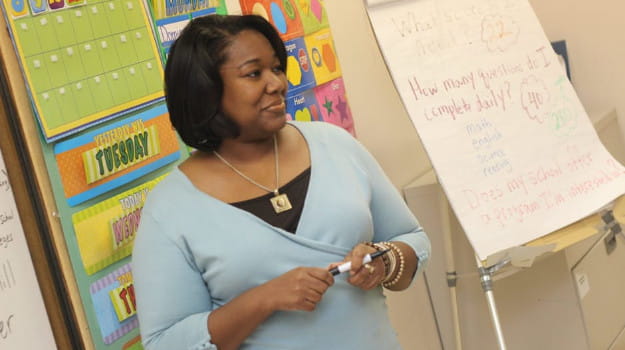 The global demand for English as a Second Language (ESL or ESOL) continues to be outpaced by its supply. Despite a 62% increase in students for ESL courses over the past three years, the number of full-time teachers lags behind.
Becoming an ESL teacher has numerous benefits. An ESL teaching position offers you rewards in the form of challenges, personal engagement and interesting work both within the UK and abroad. It also pays to teach ESL. At the time of writing, annual salaries for ESL teaching jobs on the AoC Jobs website range from £18,000 to almost £40,000.
There has never been a more opportune time to consider moving into a career as an ESL teacher. We've taken a look at some of the skills and qualifications you will need.
Teaching ESL requires two key qualifications
As with any other kind of academic teacher, becoming an ESL teacher requires you first qualify as one. To teach English as a foreign language you will need to attain:
an undergraduate degree from a UK university (or equivalent, for example a US or Australian college degree), and
Teaching English as a Foreign Language (TEFL) certification.
You can study to become an ESL teacher with no previous experience
The training for these courses is designed to impart the skills needed to teach English, even to those who have no teaching experience.
You will learn to address common issues that ESL teachers might face and get practical experience before qualifying. Final assessments also include teaching a small class, giving teachers a chance to test their skills in the real world.
You don't need to be able to speak a foreign language
Not being fluent in any foreign language can stop people from choosing to become an ESL teacher. However, you are not required to have a second language yourself to be a teacher of English as a second language.
When teaching in the UK, classes are often multicultural, but English will often be the only shared language for students and teachers alike. As it connects the teacher and the classroom, English is the most important language to be fluent in.
Non-academic requirements to become an ESL teacher
There are some basic personal characteristics that a prospective teacher of any subject should have; notably good communication skills and patience. This becomes especially important when teaching students who might initially struggle to follow a conversation.
Most schools will also ask for you to declare any criminal convictions and will carry out a DBS (Disclosure and Barring Service).