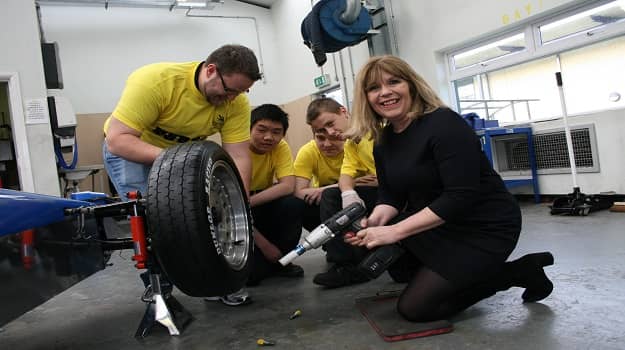 Colleges value highly trained professionals from industry with specific knowledge of their subject and a popular route into teaching for career changers is to get hired and teacher-trained as you start to teach. Or, of course, come ready qualified.
"You have got to have a good teacher training qualification that teaches you the theory behind learning," says Sian Davies, a lecturer in human physiology at Birmingham Met College for 27 years. Students entering higher education in a college tend to be those who benefit from guidance and support through having better access to teachers in smaller class sizes.
Be on top of your game
"You have to be on top of your game and know your material," says Andrew Smith, Blackpool and the Fylde's Course Leader in its School of Engineering and Computing. "BAE Systems takes the cream of local students so we have some very high achievers – we're trying to get three of our students published in a science journal!"
On a more general level, he says, you need empathy to understand where your students are coming from and the difficulties they may face working at a particular level of study; an ability to draw out humour in your subject matter; and, most important, a talent and love for teaching.
FE teachers take a journey with their students
Unlike university, the emphasis in colleges is on teaching, not research. "We lecture and then have a seminar with the same students," says Smith. "We try to replicate some of the experience you'd expect at Oxbridge – we set aside blocks of time for one-to-one tutorials, hold small seminars and run debates. We take a journey with them and there's that element of trust; we're developing them as critical thinkers whereas at uni it's sink or swim."
Like many FE teachers, Smith has spent a long time in industry – he ran his own computer games company for 17 years. His journey into FE began when he was invited to speak on a multimedia course at college, then to do two nights a week. He went full-time at the college, at the same time studying there part-time for a Certificate of Education. He was then taken on as a "dual professional" – a professional in his own vocational area and but also as a trained teacher. 
Further education colleges help new teachers
Former soldier and police officer Neil Barnes is head of teacher training and development at Colchester Institute, where he trained recruits and was then put on a PGCE course at the college – this was to supplement the degree he already had in risk and security management. "If you are a brand new teacher at our college, you get 25 per cent off your workload to help you settle down in the first six months and then as you grow into the role your free time is reduced down to 3 hours a week while your workload gradually builds up. The college makes sure it's supportive of anyone new getting into teaching."
Sian Davies says she'd never do any other job. "It's the most exciting profession you can go into, working with people. There was one student who came in at 23 who'd left school with some GCSEs, and he recently contacted me to say he had been offered a place at Bradford University in pharmacy. That's what has kept me in this job.
"It's about working with young people, giving them guidance and helping them get to places they want to get to."