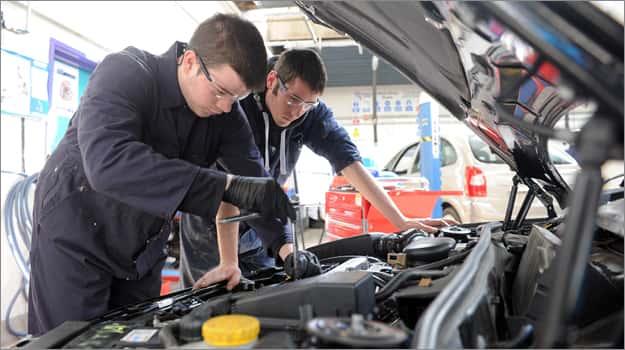 Carol was just like many teenagers – she didn't know what she wanted to do after school and opted for a place at her local college. She had been interested in hairdressing. Things didn't go well. She lost interest quickly, got bored and lacked real motivation. Her attendance at her day release course was sporadic and when she did turn up, she disrupted classes. She simply didn't want to be there.
Three months on, though, and she's no longer "at risk". In a remarkable turnaround, she has moved from doing almost nothing for her NVQ to recording her own work and sharing it with her tutor, even inspiring a friend to take up hairdressing and apply to join the same salon.
Carol is one of a growing number of apprentices benefiting from a radical shake-up in college mentoring and assessment, which in turn is opening up new career paths and job opportunities across the FE sector.
Carol attends Milton Keynes College, which since September has transformed the old-style, rather hands-off observer role of "Assessor" into a new, vastly expanded role of "Workplace Trainer", also known as "Tutor Assessors" or "Assessor Trainers" at other colleges.
Urgent need for work-based trainers
The Milton Keynes move reflects a sea change in national apprenticeship provision. Ten years ago Britain was seen as one of the least vocationally qualified nations in Europe; few workers had paper qualifications to show their competence so the government launched Train to Gain – a drive to fund/part-fund anyone in work (mainly 25+) wishing to gain an NVQ level 2. This needed assessors – and lots of them.
Then in 2010, the new coalition government dropped the scheme to focus on getting young people (16-23 years) into the workplace through apprenticeships – and this increased the need for trainers to keep them on task. So now most college assessors are no longer merely judging student performance at NVQ level. Rather, they are taking on responsibility for the whole apprenticeship framework, becoming the key link between employer, student and college, and mentoring, cajoling and encouraging students throughout their apprenticeship.
Assessment just part of the role
"The new job title is sending out a different message about the remit for someone in that job role," says Tracey Matthews, deputy director for apprenticeship quality management and the force behind the change at Milton Keynes College. "Now it's very much more focused on teaching and learning and assessment – on real 1-to-1 coaching and development that is needed to draw out skills, competency and knowledge and develop those to a high level so students can operate fully in their working environment."
For Kerry O'Neill, an assessor for apprentice hairdressers for the past five years, the retraining she received at the college has been a huge and welcome change. The emphasis is now on stretching and challenging students, not merely watching and challenging, she says. "We're not sidelined support any more but are guiding them through their whole qualification.
'It's not just about hair'
"I've always loved supporting the students but now it's very much focused around teamwork," says Kerry. "We had a lot of quality and diversity training on subjects like how we'd interact with students so they know more how to deal with clients from different walks of life – perhaps someone comes into a salon needing wheelchair access – and how we can embed that into our everyday assessments. We now don't just talk to them about hair but get them to understand how everybody is different."
During retraining, she did sessions on best practice and teamwork with other assessors and did lot of training in maths and English. "Now we're not just going in again [as old-style assessors] to say 'can you do a haircut in 45 minutes?' but 'can you also say how you are going to change it for this type of person? How long will it take? When will it need to be finished by? What can you add to that service? How are they going to take the bill?' It's really about making students a lot more work-savvy, so quality is improving because of that."
Closer contact with students
In Carol's case, Kerry could tell immediately that she had not been logging in on college days and alarm bells rang. But whereas before Kerry could only have observed this, the retraining has enabled her to sit down with Carol, check first that she was on the right course, then meet regularly and work out with her what plans to put in place to achieve what she needed to."
In another change, the college has moved from paper-based to online portfolios, making it much easier for both trainer and student to chart progress. "We regularly spoke about what she what she wanted to achieve from the course, how she'd get a career," says Kerry. "It was not just something for now but about something she would have for the rest of her life. She could see the effort we were putting in and she eventually turned things around."
Job applications on the rise
The college has already seen a noticeable rise in job applications, including from those who would not have considered the old-style assessor role. It's a national phenomenon – in mid-February the AoC Jobs site carried 45 vacancies, only behind numbers for tutors, teachers and lecturers. One successful applicant is Penny Mayhew who joined the college in January as a work-based trainer in marketing. An independent freelance commercial trainer for many years, she'd previously qualified as an assessor but missed not seeing the students again as the courses were short and wanted to join the college.
"It's very rewarding when someone gains an apprenticeship or NVQ," she says. "Some may have failed in other ways, perhaps when they took school qualifications and felt they could not achieve something new, so when they pass it's rewarding to know you have helped them. Every day is different, never boring. If you love working with people, you'll love this job!"
An electrical engineer who loves his job
Richard Taylor, who worked for 32 years at the National Brick Company as an Electrical Engineer, has been a work-based learning assessor in electrical engineering at Wakefield college for just six months after teaching in a Leeds college for 12 years. He loves his current job so much that at age 62 he plans to work for another 10 years. He supervises 60 apprentices in electrical engineering.
"It's a calling and not a 9-5 job," he says. "It's a privilege to attend college and failure is not an option. I try to redevelop students' philosophies to get them to work hard. I get a good reaction as I'm an enthusiastic sort of person and they're responsive to that! I talk to them, find out their problems and what they don't understand." He thinks nothing of spending 3.5 hours with a couple of students in their workplace to help them get through a rough patch "and it will be the same next week until they are successful."