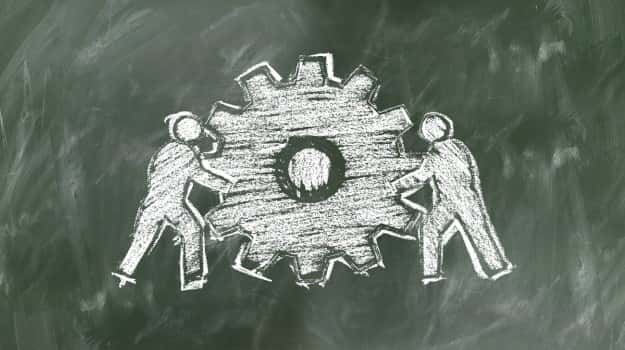 Working in FE can act as a natural career pivot for you, especially for professionals who are experts in their chosen field. Some fields, such as engineering, are currently experiencing a skills shortage in the UK, and it is expected the country needs 1.8 million new engineers and technicians by 2025.
Having expert engineers move into FE can help bridge the skills gap by teaching a new generation of engineers ready for the working world. There are a number of engineering teaching jobs available for those who want a change in working environment. However, teaching isn't suited to everyone, in which case there are many other options for those looking to move into an FE career without taking control of a classroom.
Take on the role of an FE technician
Technicians work to support teachers and lecturers in FE and are crucial to keeping the course and lesson plans on schedule. This role is ideal for experts who want a taste of the teaching life, without having to commit to a classroom full time. Engineering classes often require practical lessons and workshops, and technicians will be able to supervise the training students, and safely prepare the tools and equipment.
While technicians are not official teachers, they are responsible for the teaching environment and can offer advice to both teachers and students when it comes to working in the industry. As a technician, you will be able to offer real-world experience to the classroom, giving valuable insight into the working world, where the lecturer teaches the main course and theory.
You will offer extra knowledge to students in lessons, and help to enrich the lesson plans and curriculum. In some cases, technicians can go on to become teachers or lecturers down the line, once they have built on skills working in a classroom. A technician role is perfect for a taste of the teaching life in FE.
Engineering professionals can take on an assessor role
Many FE qualifications are vocational, and therefore skills are assessed constantly throughout the course, as you learn on-the-job. The engineering industry works in this way, and students are constantly having their practical skills tested by assessors. Having a working professional check the skills is crucial to ensuring that students are passing to high working standard.
In order to become an engineering assessor, you will need experience working in the industry, as well as knowledge of the assessment approach. Depending on the Awarding Body, you may need to get qualified before moving into the role, as they require specific qualifications for assessors on the course. There are many practical elements as part of an FE qualification, which all require professional assessors, so taking on this role can further help to minimise the skills gap in the engineering industry.
Consider a learning support role in engineering
Those who want to teach on a more individual scale, without having too much of the classroom responsibility, can pivot into a learning support role. In this job role, you will work with small groups or even one on one, and offer support to students to help them progress further in lectures. Offering students working knowledge of the industry can help them with assessments, giving them the extra support needed to pass the course.
Much like becoming an assessor, there are various qualifications you can receive in order to take on a learning support role, however, the majority of these can be undertaken while on the job itself. This can, in turn, lead to becoming a full-time teacher or lecturer in the FE sector, if you want to progress further.
Industry experts who are at the top of their field and looking for a new challenge can look to the FE sector to develop new skills while also staying within their chosen industry. With engineering and other STEM jobs, there is a need to reduce the skills gap. Adult education can help close this gap, however, relies on having the right support from trained teachers and technicians in order to get the best learning environment to motivate students.