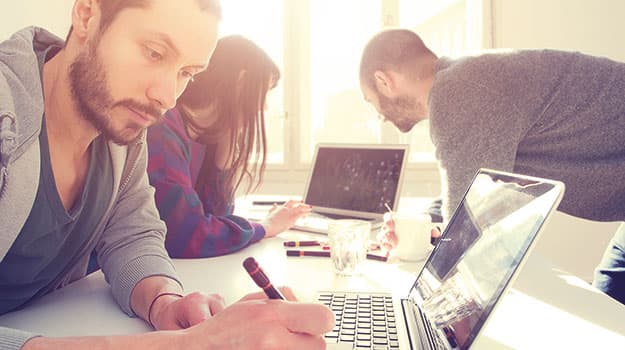 Go to university, get a degree and come out with a well-paid job waiting for you - this is often what many graduates believe the higher education system will ensure them. However, if you think by going to university will better your chances of getting that graduate job you've always dreamed of, you could be mistaken.
According to a report from the Higher Education Statistics Agency (HESA), almost 16,730 graduates were out of work six months after leaving university in 2015. However, those who did have jobs were not much better off as a third of working graduates took jobs as cleaners, office juniors and road sweepers after six months of searching since graduating rather than within their chosen field.
"Young people are simply not getting the opportunities they deserve," comments Trades Union Congress (TUC) General Secretary Frances O' Grady. "If we don't create better jobs for graduates we won't be able to build the higher-skilled workforce the UK desperately needs to boost productivity." However, the FE sector might be able to provide those jobs, be it in teaching, admin or specialism areas.
Why is the job market so competitive generally?
The job market is also becoming increasingly competitive, as research shows that there were 39 applicants per graduate job in 2014, with some industries receiving even more competition. Consumer goods companies had 186 applications per post, oil and energy companies had 96 and media companies, banks, retailers and manufacturers all received more than 50 applicants per place.
Although these statistics are based on research from 2014, the situation does not appear to be improving, as the country's top employers have already received 13% more graduate job applications so far this year, compared with the equivalent period in the 2014-2015 recruitment round.
Graduate into FE teaching
With the lack of graduate jobs available, it seems that more and more graduates are being encouraged to consider a career in teaching and the FE sector offers many that opportunity.
To support new graduates coming into the sector, depending on degree level and subject, trainee teachers could qualify for a bursary of between £4,000 and £30,000, with those that have a first-class degree in physics entitled to the upper limit. Graduates with a first-class degree in maths, chemistry, computing or languages are entitled to £25,000, and the amounts gradually decrease from there.
It is hoped that these bursaries will act as one of the many incentives for graduates to teach in further education, and with the current climate of the job market, this may well be the best option for graduates. Check out the AoC Jobs board range of positions and see how your degree could turn into a great career.