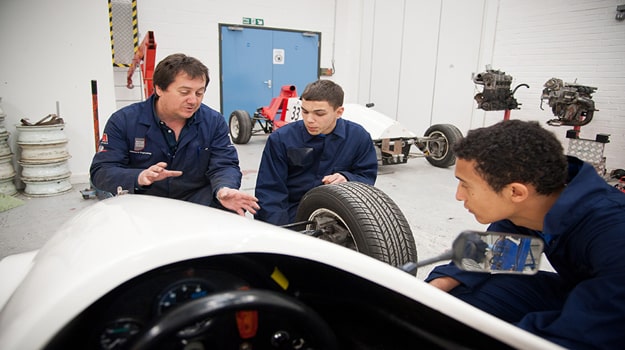 Variety, challenge and job satisfaction are just three of the reasons that attract - and then retain - so many lecturers and tutors in the further education (FE) sector. It could be the reward of helping a young person progress from uncertain school-leaver to a confident employee, or the challenge of a constantly fast-moving college/workplace environment, or someone else's appreciation of your own skill set and what you can offer them.
Maybe you are sick of 9-5 office, factory or professional practice hours, ungrateful clients, reluctant school learners who wished they were somewhere else, or you just yearn to pass on your hard-won skills to others who could really benefit from your input. Any college student is there to improve themselves; they are on a learning journey and thus fertile ground for your input.
Apply to FE and you'll be spoilt for choice
The FE sector covers learners aged 14 to 90. They could be young people who have not taken to a school environment and yet want to improve their basic literacy and numeracy skills before applying for an apprenticeship.
Or take their GCSEs and AS/A levels before applying for higher education courses including apprenticeship degrees (more than half of all FE students go on to higher education).
Or opt for vocational equivalents in BTEC and NVQ qualifications as a route into apprenticeships, the recently launched apprenticeship degrees starting this September, HNDs, or the workplace. But they could equally well be mature students wanting to retrain and increase their prospects at work by gaining new qualifications or retired people following a new interest.
Wide choice of teaching environments
Just as varied is the type of institution you can work for, either as a full- or part-timer. In England, there are at least 320 FE colleges, sixth-form colleges, tertiary and specialist colleges (focusing on areas such as agriculture or drama), along with universities, adult community education centres, prisons and young offenders' organisations, charities and a full range of workplace training environments. And you don't have to be tied to a classroom or lecture hall – meeting trainees and apprentices in the workplace can be a regular activity.
Colleges, for instance, include degree-level courses to fill skills gaps in their local and regional communities. In fact, the sector has been called FE's "secret garden" – a place full of potential that all main political parties are now vying to support. Apprenticeship degrees, launched this spring, are among the latest developments.
Get paid to teach - and then get qualified in-house
Many colleges see experienced industrial personnel as key recruits to support their expanding apprenticeship programmes. This means they are often prepared to let you teach without a teaching qualification and then train in-house while still being paid on the job. One initial option is to take a Level 3 Award in Education and Training, a short introductory, knowledge-based teaching qualification, part-time and lasting 10 weeks. You can take advanced qualifications once you have built up teaching experience. 
You may also be a graduate and qualified to teach a shortage subject. There is a huge demand for graduate maths FE teachers, with generous funding for in-service training of suitably experienced applicants and a "Golden Hello" payment to encourage recruits to train and then stay in the sector for at least two years. There are also smaller bursaries for graduates wanting to teach  English and special educational needs courses. 
FE has a crucial role to play in filling a growing industrial skills gap. A CBI survey last year found almost 38% of responding firms felt school leavers' basic numeracy skills were poor. And well over half the respondents feared not finding sufficient skilled staff.
Demand rockets for skilled workers
In fact, UK industry is crying out for skilled workers. Business secretary Vince Cable says the UK economy needs 830,000 new engineers over the next eight years just to replace workers reaching retirement age; the nuclear and software industries are also facing dire skills shortages.
Apprenticeships were given a funding boost by the last Labour government, a policy continued by the coalition government that, according to Cable, has supported some two million apprentices since 2010. The policy is likely to continue.
Demand for staff is undoubtedly growing. But what's it really like to teach in FE? Gordon Harrington spent 11 years as a lecturer in truck and bus engineering at the College of North West London. "The biggest buzz you get is when students come back and thank you for helping them succeed," he says.
"We had many underprivileged students and lots with English as a second language and we were trying to prepare them for work. We achieved that. After two or three years their English and skills improved and they went out into the workplace.
Thanks from your students goes a long way
 "One lad returned several years after leaving. He told us he was just finishing university and that it was thanks to the start he'd got from the college that made him decide to go to university. When you have successes like that, as a group of staff, it makes the job really worthwhile."
Another positive is seeing students succeed. "That's what teaching is all about. You get a lot of students who have not done particularly well at school. Some find it difficult to spell and add up. But colleges can offer them a mix of hands-on and classroom and that's very important in getting students back into learning. Once they realise they can learn and they mature a bit more after school, they can achieve a huge amount. Some of your worst first-year students can be some of your best third years."
A sense of humour works wonders in class
Above all, you need enthusiasm, a strong sense of humour, patience plus a sound knowledge of your subject, he says. "You need characters in the class and you have to be able to laugh with them – and make them laugh too – that's a motivation. You've got to have fun with them.
"It's about passing on your knowledge to young people so they can benefit from that knowledge. It's not just about nuts and bolts," says Gordon, "it's preparing them for the real world."
Register an account with AoC Jobs to get more information and apply for roles in FE colleges today.