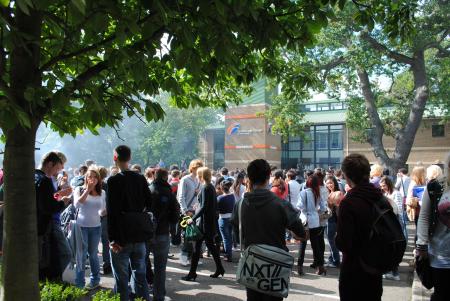 Farnborough College of Technology offers exceptional teaching and learning facilities, providing first class courses with a strong vocational orientation. With two modern style campuses, a warm and friendly atmosphere, and a wide variety of flexible courses for people of all ages, it is easy to understand why it has established such an excellent reputation.

In November 2011, the College was judged to be 'Outstanding' by Ofsted across all of its work:
• Effectiveness of provision -  Outstanding
• Capacity to improve - Outstanding
• Achievement and standards -  Outstanding
• Quality of provision - Outstanding
• Leadership and management - Outstanding
Accredited by the University of Surrey, the College offers a wide range of further and higher education programmes. Students can study full and part-time courses including A levels, awards, certificates, diplomas, apprenticeships, access to higher education diplomas, foundation degrees, honours degrees and some postgraduate options. Additionally the College offers a broad portfolio of professional and management courses.
The College has a dedicated Business Services Team who has worked with over 6,000 employers. The team successfully achieved the prestigious Training Excellence accreditation and can offer a variety of services to the business community. These range from free advice on how apprenticeships and NVQs can help to develop staff, facilitating the placement and monitoring of apprentices, to delivering short courses and highly specialised bespoke courses.
Students have access to a vast range of facilities to support them at all stages of their studies, including a state-of-the-art Learning Resource Centre, offering books, journals, audio-visual materials, and electronic information services. Study facilities include quiet research areas, Wi-Fi hotspots, audio visual area and open access computers. Media and Creative Arts students benefit from TV, radio, music, photography and dance studios and a 300 seat capacity theatre, whilst Sports and Exercise students have unlimited access to our state-of-the-art Beyond Fitness Gym.
Based within the town that is home to British aviation, it is hardly surprising that we boast an exceptional Aerospace and Aeronautical Academy. Combined with the opportunities for highly relevant work placements with our industry partners, students at the College are equipped with the skills and experience to compete for roles in specialised areas of industry.
Other specialist training facilities include the contemporary 'Hair and Beauty Academy' Salon, offering hair, beauty and holistic therapy treatments to fellow students and members of the public at highly discounted prices, the Gallery Restaurant with our very own trainee chefs preparing the finest food at competitive prices, and the Floristry Design Studio, from which we run our successful Floristry courses and where students can buy beautiful flower arrangements for all occasions.
The College, established in 1957, opened its second premises, Aldershot College in 2005, which is home to our popular construction craft courses. The courses are taught by expert practitioners within a modern campus, featuring a large workshop area and its own suite of computer facilities and other learning resources.
The College has built its reputation by carefully considering the needs of students and industry, and by energetically pursuing a policy of achievement. This is reflected in the superb quality of facilities and wide range of learning resources, which ensure that our students are able to study in professional, industry standard environments. Our continuing investment in our College is ultimately an investment into our students, who emerge from the College as confident and capable individuals, ready to move into employment or further education.