Apprenticeships
Apprenticeships are on offer from the College and a number of previous successful apprentices have gone on to forge successful careers here.
Success Story - Matthew Durn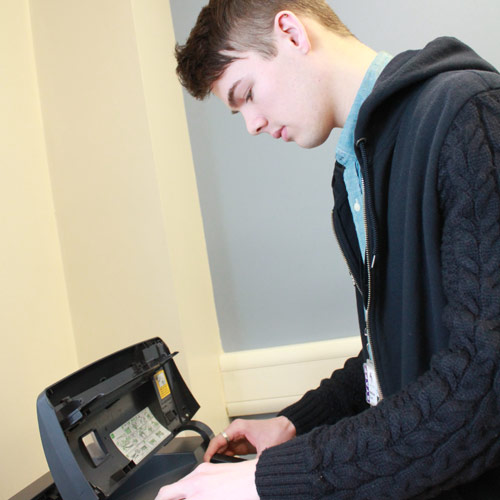 What led you to apply for an apprenticeship?
I knew that a lot of people were going and doing these apprenticeships, becoming very successful and getting goods jobs after completing their apprenticeship. I thought that this would be a great opportunity for me to gain a lot of hands on experience while learning at the same time. I liked the idea of that.
Which apprenticeship did you apply for?
Level 4 IT Apprenticeship.
What experiences and training did you gain during your apprenticeship at the College?
I gained a lot of experience and whilst training at the college I learnt a range of skills and attributes which has given me a real confidence boost. Not all were directly IT related skills, for example, customer service skills and health and safety were just a few of the things that were covered. I also picked up a lot of knowledge using the college system remote administration tools have taught me a lot about how many organisations managed the equipment.
Do you think you would be working at the same level as you are now if you hadn't been an apprentice?
I honestly believe that if I did not take this opportunity then I would not be working at the same level; without the experience I would definitely be in a different place. The apprenticeship has given me the vital hands-on knowledge and skills that are needed in all jobs today.
What is your current role at the College?
My current role is as a permanent member of the IT Client Services team. I ensure that everybody using the technical resources can do so without any issues. If issues occur then it's my duty to ensure that we the resolve issue that the customer is facing.
What are your aspirations for the future?
I would like to progress in what I am doing currently; this could just be gaining more experience which I am doing day-to-day in the job role in doing now. Further progression in the future is what I am aiming for.