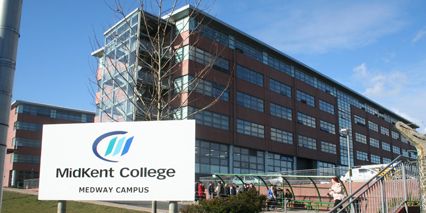 As one of the county's largest education and training providers, MidKent College offers a range of exciting career opportunities for all kinds of people. So whether you are a seasoned lecturer looking for a change or an experienced tradesperson hungry to pass on your skills, we could well have the vacancy for you.
Join our team and you will find yourself working alongside colleagues who place a total commitment to learning at the heart of all they do. If you share this value and thrive in an environment that values both teamwork and the contribution of the individual, we want to hear from you.
There are many benefits to working at MidKent College: first-rate access to professional development, the reassurance of a supportive working environment, and – perhaps most rewarding of all – the challenge and satisfaction of being involved in the work of a local organisation that really does change people's lives.

The College's Medway and Maidstone campuses are also both fantastic places to work, housing some of the best educational facilities in the country. Our £86 million Medway Campus in Gillingham opened in September 2009, while our Maidstone Campus on the Oakwood Park complex is currently undergoing a £23m redevelopment due for completion in December 2013.

Ofsted judged the College to be 'Good' with 'Outstanding' capacity to improve following our most recent inspection in 2009, and since then our student success rates have continued to improve. In fact, the most recently published success rates for 2011/12 were our best ever.