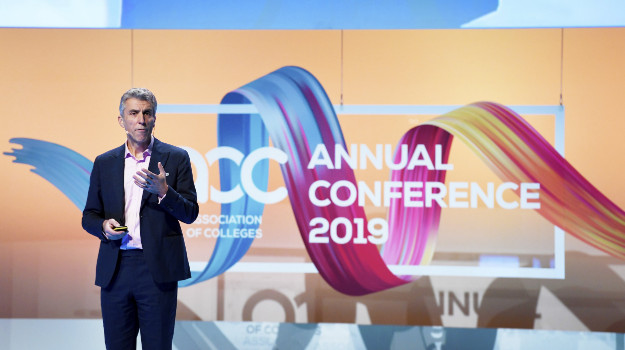 Two weeks ago I had the pleasure of attending day one of AoC's Annual Conference with my AoC Jobs team members Chris and Elena. The day started with an energetic and vibrant performance from performing arts students at Dudley college, which I think signified the exciting events to come on the day. Afterwards, an opening keynote session hosted by Anita Anand took place, containing insightful presentations from CEO of AoC David Hughes, Paul Johnson and Ayesha Hazarika. Ayesha's presentation, in particular, was excellent as she was a political advisor and is now a political journalist, so her knowledge of politics transpired through her speech and she related it to the sector which left me feeling well informed about the politics behind education.
With so much talk around the upcoming general election, this was a chance for me to sit back and listen to the expectations, predictions and opinions of the people working in the education sector alongside me. David's presentation really stood out to me as he was saying that although the political climate is pretty unstable right now, we must not lose the human touch behind colleges and we should sustain the connections we have to uplift our plight further. To me, it is very important that this message was conveyed as it is so easy to get caught up in politics and what each party are promising in their manifestos however the students and their best interests should still remain at the centre of the discussion.
The last decade in education has been full of budget cuts and under-resourced and under staffed colleges, so it was nice to see that change is on the horizon and we are now taking steps towards bettering the sector as a whole. One of the ways in which awareness around overlooked further education institutes was being raised is though the Love Our Colleges campaign involving over 80% of colleges in the UK. Everyone from students to staff to parents got involved and lifted each other's voices to be heard finally. It was also great to see them awarded yesterday for their efforts in the campaign.
Before I knew it, it was time to head off to our breakout sessions after a quick refreshment break. The one I attended was titled: Digital transformation - How colleges can meet the expectations of government and learners. I felt this topic linked well with my job role and interests and I was also curious to see which new ways colleges were thinking of incorporating digital into their institutions. The major take away for me was that we should constantly be learning from and working with our peers as it would be mutually beneficial. For instance, Wales has launched a strategy called Digital 2030, which outlines their plan of action for post 16 digital learning in the next ten years, practically eradicating the need to upskill. As someone who is pursuing a career in digital, it's good to hear that people are adapting to it and embracing it as it only leaves room for growth in the digital industry.
Following lunch, I went to my second breakout session of the day titled: Transition to T Level – What makes a student T Level ready? This talk focused on the new level 3 study program that leads on to higher study and skilled employment, as well as the new transition framework which prepares students for T levels. As I am currently doing a level 3 BTEC diploma, I was curious about this new alternative. What I gathered from the presentation was that it is aimed at young people who wouldn't be ready for further education at 16 when they have just left school and it gives them the opportunity to work towards achieving a T level by age 19. I think this is a really thoughtful and flexible approach to post 16 education as it puts the students in a position to decide when they feel is the right time to progress, this can be beneficial for both their mental and physical health.
Finally, to end the day a closing keynote session occurred, again hosted by Anita Anand. The speakers included Lindsay Herbert, author of Digital Transformation as well as Cindy Rampersaud, Nora Senior, Amanda Melton and AoC President Steve Frampton. Lindsay's speech was very thought-provoking as she was talking about problem-solving in the workplace and how digital is something that we ought to embrace. I really liked the analogy that she used about problem-solving, comparing it to elephants and black bears. The elephant in the room type of problem is something that could be fixed but whether it was, or wasn't, it wouldn't make an impact on you and you would still be able to get on with your job, however a black bear problem is one that would take a lot of convincing and restructuring within your organisation however the end result would be overall beneficial and game-changing. This a thought process that I think is essential to the culture of change and adaptation in the workplace.
In conclusion, the event was very enjoyable and informative and covered so many of the hot topics of discussion in the education sector right now. All the speakers delivered concise and informational presentations which allowed me to grasp their concepts easier and left me feeling more confident in my knowledge afterwards. The networking opportunities were also brilliant, and I got the chance to mingle and interact with so many different delegates from principals to student ambassadors to my colleagues at AoC. It is an event that I will be looking forward to again next year.