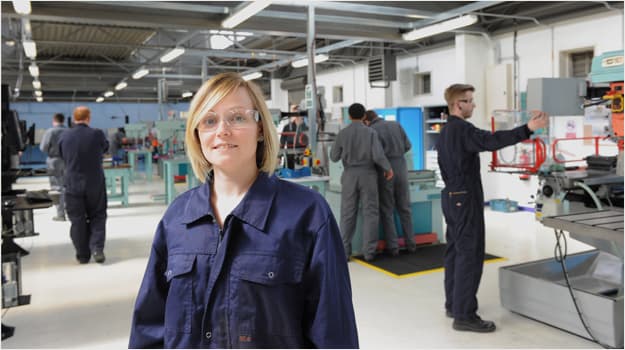 Last week I had the privilege of attending a graduation ceremony for apprentices. It's the first time I've attended a ceremony where I haven't been dressed up in a gown, hoping that the mortar board will stay on my head for the 15 seconds it would take to walk across the stage. Thankfully, the graduates at the Bedford College ceremony didn't have to worry about these pitfalls as the event was a much more relaxed atmosphere and was true celebration.
The whole event can be summed up in one word – pride. The pride of all of those receiving their certificates, their loved ones and the employers involved in the apprentices. 
What cannot be underestimated is the significance that apprentices of all levels and subjects contribute to society and our economy.  That's something that everyone at the ceremony last week was all too aware of.  The breadth of subjects the apprentices were involved in – from aeronautical engineering to accounting or horticulture to hospitality – highlights the real impact these graduates are having.
National Apprenticeship Week
With it being National Apprenticeship Week, it seems that politicians have been using the last few days as an opportunity to be pictured with an apprentice – as a colleague of mine suggested, it should be named 'hug an apprentice' week. While promotion of apprenticeships is always welcome as it highlights the alternative to academic studies, there seems to remain an underlying wariness for careers advisers in schools to promote them as a route into work.
That's why young people need to be provided with impartial guidance to set them on the right path for their future career. Former Young Apprentice winner Ashleigh Porter-Exley, who was the guest speaker at the Bedford ceremony, summed it up perfectly. She talked about how in Year 11 she sat down with her careers adviser, who also happened to be head of sixth form, and said she wanted to become an apprentice, rather than going to university. His reply was that it's the wrong path, with poor earning potential…last year, she proudly told the audience, she earned three times more than that careers adviser did. 
Her anecdote highlights some of the intrinsic problems faced by young people – a lack of understanding of what an apprenticeship is and what can be achieved by taking one.
As part of AoC's Careers Guidance: Guaranteed campaign, we are asking the next Government to bring in careers education into the curriculum, rather than just careers advice.  This should include an understanding of the different types of businesses, how stereotyping affects career decisions and looking methodically at the choices available.  By having this, young people will be properly supported to choose the most appropriate route for them to achieve success.
Ceremonies, such as the one in Bedford, provide the perfect opportunity to not only celebrate the achievements of the students, but also highlight the impact apprentices have.  Let's make them bigger and better.
Andrea Jones is the Senior Communications Manager at the Association of Colleges.