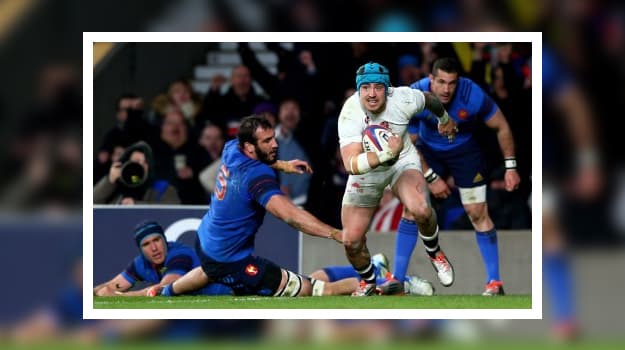 Elite sport in Further Education
Former FE sport student Jack Nowell (22), selected for England's final rugby union squad in this autumn's World Cup, is one of the latest stars to come through the elite rugby sports academy at Truro and Penwith College.
As an exciting new wingback, Jack broke into the senior England side during last year's RBS Six Nations tournament, when he scored a try on debut against Italy. He was back in action in 2015, crossing the line once against Scotland and then twice against France.
Jack learnt his rugby in Cornwall where he spent two years at Truro and Penwith College to complete a BTec level 3 course in sport and exercise science and sport performance and excellence. He represented England at under-18 and under-20 levels, including scoring on the winning side against Wales in the final of the 2013 IRB Junior World Cup. He made his Aviva Premiership debut for Exeter Chiefs in November 2012 and won that season's LV Breakthrough Player of the Year Award.
Winger Jack Nowell beats France's Yoann Maestri to score one of his two tries in England's win during the 2015 RBS Six Nations Tournament. Credit: RFU Collection
Q and A with an England rugby star
Jack talks about life as a student and how the college academy helped prepare him for a professional rugby career.
What sort of a role did Truro and Penwith College play in helping you get to where you are now?
I think it was massive. A large part of it was the rugby side. The biggest part was the education side, where the course I took gave me almost every angle on a professional sport – people's lives, what the refs get up to, the physio staff, the management. We had a block course about the referees, a block about the massage side of it, and then sport injuries, obviously the mental side of the game, and the coaching.
What are your lasting memories of college
I think it was the first time turning up there for pre-season rugby, where I didn't have a clue what was happening. I didn't know anybody so I was obviously a bit nervous of that. On the education side, it was probably just the library, to be honest. We used to live in the library to do our courses and things but we also had a lot of activities where we'd go out for the day. I wouldn't say it was my favourite place but that's where I spent most of the time!
My favourite rugby memory was going off to different places, playing different teams. Rugby sevens tournaments were good, though obviously, I don't get the chance to play sevens any more.
How much time did you spend on rugby training and playing compared with studying and leisure?
To be honest, the most important thing was education, though obviously, rugby was a big part for us. We'd train once a day for one or two hours and then have an hour in the gym with most of the rest of the day spent doing our work in the library. [Matches were every Wednesday]
Was it difficult to get a balance between training and work in terms of your time?
No, not at all. The good thing with the college and the course I did, and especially the teachers I had, was that it was all very relaxed and chilled out. Obviously the teachers knew the most important side of it was the education, so if we had our weights session first thing in the morning and didn't quite finish it and yet knew we had to be in a lecture at 9 o'clock, they'd say, right, off you go - you can always fill in on your lunch break or when you've finished. They'd all been through it before and knew what to expect of us.
Who was your main coach at college?
Steve Larkins was my tutor so I spent a lot of time with him; he was also my main coach and my head of rugby. There was also Marek Churcher and Tom Rawlings, who worked with the forwards. They were the main guys. Obviously, the Exeter [Chiefs] coaches had a big impact at the college as well, as Truro College comes under the Exeter Chiefs Academy. But it was not so much the first team coaches but more their academy coaches who told us if you're going to do your work, then you can play rugby!
How did Steve and your other coaches help you mature as a player?
Steve was the guy I would come and speak to off the pitch (Ian Davies and Marek took most of the training on the pitch). Steve was quite relaxed when I approached him and he'd help me with the mental side of it as well. Another person who looked after me was [Exeter Chiefs' head coach] Robin Cowling. He was the one I would go to quite a bit to really settle my future and I remember him saying to me: "If you work hard enough, there will be a contract [at Exeter Chiefs] waiting for you at the end of it" – so that was a big incentive to go out and get it!
FE colleges are not necessarily the first place you think of when it comes to breeding elite sportsmen and women, yet some have incredible facilities and great coaching. How did Truro match up with this?
It definitely matched up. I think for us Truro is a very local college and everybody knows everybody down there. The coaches had a great attitude towards everything – we'd watched them growing up when we were younger down at the college, so we knew exactly what kind of players they were. As for the facilities, Exeter Chiefs help a lot with Truro as it's one of the main academies down there. So yes, it's a big thing for everyone and if you want to carry on with rugby, that's the place to go. The coaches that put me forward for everything were pretty awesome for me.
What does the college need to do to successfully nurture elite sports people?
The big thing with Truro was the education side. They pushed that very hard for us. At the end of the day, they know that not everybody is going to make it professionally. Obviously, every kid has that dream but they know it's important for them to push on with their education. For every single rugby team - whether team 1 or team 4 – they gave them all same input and pushed them to their limits, but they did make sure we got our work done as well.
What would be your advice to any other would-be professional at an FE college?
Enjoy it! I enjoyed being down there with a good group of mates I'm still best friends with now. So I enjoyed the rugby side, maybe not all the work side and classes and things, but you've got to do it and push through that to enjoy the rugby.