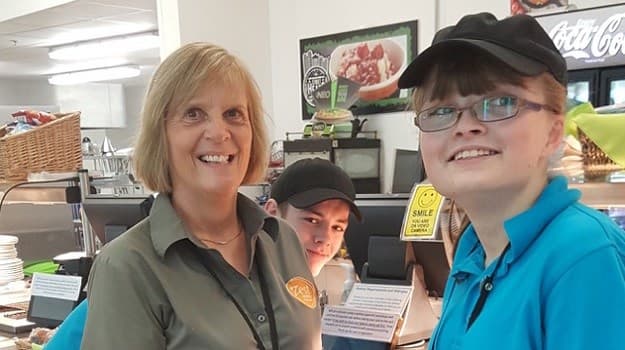 Lesley Wilson heads up catering services at Barnsley College, South Yorkshire, where she manages eight food outlets across seven campuses, serving thousands of students each day 
Why did you choose catering? 
I've always been interested in the leisure industry and took a hotel and catering management degree at Manchester Polytechnic (now Manchester Met university). At 18 I wanted a secure career and, given the uncertainty of a world rapidly changing with the growth of computers, I opted for a career based around the fact that people always stop to eat (!), though I was more interested in the management of eating experiences rather than the catering/cooking side.
How have you progressed in your catering career?
After my degree, I worked in contract catering services for five years as an area manager handling food services in places like factories, hospitals and office blocks. Then, family commitments meant I took up part-time teaching posts in hospitality and catering first at Macclesfield College (11 years) and then South Trafford (5 years), before filling head of hospitality department roles at Warrington, Kirklees and Salford colleges. When Salford restructured, I joined Barnsley as an interim (non-teaching) head of catering services for six weeks. I'd come full circle and was back into catering management. I'm still here three years later! 
What is your main role as head of catering?
Every department head is a budget manager and left to their own devices. I produce a business plan and each quarter I report to senior management on my performance. Apart from ensuring people get fed, my main tasks are to keep within a £700,000 budget and plan rigorously. We have to project income and associated expenditure for the year and agree on staffing levels. Then I create a surplus that goes into the college pot to pay towards 'estate' use. I work with the college HR, finance and marketing departments, ensuring all invoices are correct and contracted and that we meet our gross profit target every week. I monitor income against my budget – I have eight different outlets across seven campuses., including separate cafes for construction students, sports students and sixth formers. I also manage a Starbucks branded outlet. 
What are the latest offers on your menu?
We are proud of the Starbucks franchise we brought in last May. Our new lines include Mexican burritos, our own home-made pizza (from a kit we get from our supplier), and a healthy Slush (as opposed to Slush Puppies with all their E numbers) that is popular with students and can count as one of their five a day veggie/fruit portions.
What's a typical day in food service?

Starting at 7.30am I check on the previous day's sales – we constantly monitor costs to meet our sales targets. I ring around all outlets to ensure everyone is in and they have all they need. Most open for breakfast at 8.00 or 8.15am and everything has to be online for fast service units every week. Today I've been helping in one unit for two hours as they were busy. I have to monitor income, sales and costs and approve invoices. I am just starting a new round of college appraisals with all my staff. I attend many whole college manager meetings – I meet with all the other department heads, both academic and non -academic. All are seen as important as each other. 
What's the most challenging aspect of your management role?
I must ensure the right people fit into the right units at the right times and work well together. They are unsupervised and manage themselves; I go round daily to ensure they are on top of their game and serving lunches to their customers. I help out on busy days, spending time on the tills. I talk to customers, take the money, hear what they're saying and see what they're buying. 
I have two supervisors: one works in the biggest unit which takes around £2,000 a day from breakfasts and lunches; the other orders in all the food. 
Anything you are particularly proud during your management? 
In June our department won the annual college team of the year award. We have been making continual improvements to our services since I arrived, so my staff were delighted to be recognised and not just seen as bacon butty and sarnie makers
Also, I converted the department's operational deficit I inherited on arrival into a surplus within one year, through improved cost control, staff management, managing food portion sizes, and working with suppliers on new products, besides just being visible, working closely with staff and monitoring wastage. 
What sort of food service tasks did you do last week?
Settling in new students and understanding the new trends about what are our busiest days. I'm dependent on how heads of department timetable their lessons so now Tuesdays is really busy. I presented my department's outcomes in meeting 2016-17 financial and quality targets at a performance review, held first probationary reviews for two new apprentices, started a new cycle of staff appraisals, and met suppliers about new products. 
What qualities/skills do applicants need for a head of catering role?
You need to have good financial acumen, understand costs and income and be commercially-minded – it's not just giving a service on its own but offering what people really want to buy. It helps to have a catering background and be a good people manager – I have to ensure 28 staff are motivated and maintain service, presentation and personal hygiene standards.
And the best career route for aspiring caterers?
You can either enter the catering industry at an operator level and quickly process to team leader, supervisor, assistant manager or, with a degree and relevant work experience, start at assistant manager level. Many larger catering organisations/contract operators like Compass have management development programmes which could be ideal. A hospitality degree or HND, though not essential, is very important in understanding the higher levels of business management . . . many people are very good operational caterers and supervisors but find it hard to take that step up. A teaching background in hospitality, again not essential, helps you understand the students – your customers –  and how timetables work.
What's special about the job? 
I really enjoy working with the 16-18 age group – you have students straight from school, who are not very worldly wise and often quite immature, but in the 2-3 years they are at college you see them grow into adults – I love helping a schoolchild become someone ready for work. I like the term-times as well – knowing that every 6-7 weeks I will get a bit of a break, with downtime to catch up. You never get that in the commercial world – you're on a continual treadmill. I could never imagine going back into the industry.
Would you like to start or progress your career in hospitality? Is working in an FE college something that interests you? If so, look through our catering and hospitality openings and apply!