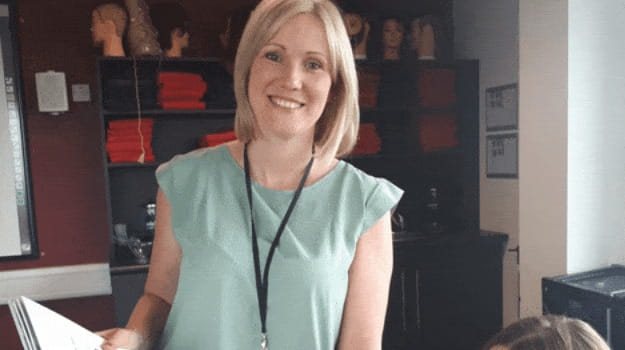 Sarah Seaman joined Barnsley College in 2009 as a hair and beauty (H&B) teacher after first training as a hairdresser, managing a salon, training apprentices and qualifying as a teacher. At college ,she managed H&B, catering and essential skills, then becoming a quality manager across the curriculum before taking on her current role
Why and how did you get your job?
My background is hairdressing. I loved working in the industry but became passionate about making it better. People kept telling me they were qualified but not quite salon-ready so I saw a gap that needed bridging. While doing GCSEs I proved myself in a Saturday job at a local hair salon which led into a three-year NVQ level 2 and 3 apprenticeship programme. I worked at two local salons, was asked to manage another and got into training apprentices. I then joined the private sector to teach and studied part-time for my Cert. Ed and assessor award. I started managing H&B, then the catering and essential skills departments, before doing three years as a quality manager (part-time). This involved a lot of checking, auditing and supportive extension work to help staff improve areas and implement new structures, policies and procedures. But a year ago I felt I wanted to get back to my roots as my children were older, and fortunately my current full-time post came up.
What's the link between H&B and catering?
Both deal a lot with customer service, employability skills and retail. You are training similar calibre students who are vocationally focused to be the best they can.
What's your main role?
I'm operational but also strategic. I oversee the department's day-to-day finances, maximise opportunities for improvement, focus on quality and ensure students get the very best college experience – I do a high level of monitoring teaching, learning and assessment, and seek out new ventures/ideas that may enhance their programme. We equip our students to be industry-ready. 
What's the FE element you like most about the job?
It's an exciting and challenging environment because you want to do your best for every student. This year we had a 99% pass rate – it's hard to beat that feeling that you have set these students up for life.
What's a typical day?
No two days are the same, given the diverse mix of levels and courses I manage across the department plus my overseeing of the on-site restaurant and salons that are operated by students and open to the public. In the morning I often have a couple of meetings plus 1:1s with staff and a full team meeting. I regularly walk around the department to find out what is happening, and get feedback from students. I monitor teaching quality in a purely supportive and approachable way and constantly work with new teachers coming in fresh from industry. I do developmental observation, asking what went well and what didn't, giving staff ideas and building confidence.
Two or three specific things you have done recently?
Last week we launched the UK's first Andrew Barton London Education (ABLE) programme at the college with the well-known celebrity hairdresser, Andrew Barton (who hairdresses royalty). It's a bespoke hairdressing scholarship programme encompassing wider hairdressing skills such as Christmas customer service, retailing and employability. Andrew now plans to launch the programme nationally. Earlier this month we held a training and development week during which I met my full department team to celebrate this last year's successes and present staff awards – lighthearted but serious too – for staff achievements, including fundraising. I also attended a whole college management team meeting to review the past academic year and consider plans for the next. 
What's the most challenging aspect of your role? 
Balancing the budget, ensuring finances are correct, which can be hard at times, although fortunately we have a finance department to support us. And always striving to ensure our students achieve the best they can.
Any achievements you are proud of?
Launching the special training programme with Andrew Barton, entering senior managers with no catering experience to work next to students in a college Masterchef competition, and pushing up our department's teaching standards to 'outstanding' via self-assessment.
Personal qualities and skills you need for the job?
Be passionate, student-focused, motivated, enthusiastic and supportive – it's the only way to get your team to work hard for you. You also have to b a team player.
Ditto background/training/qualifications?
You need a specialist subject qualification and have to have worked in industry, plus you need a teaching qualification (a Cert. Ed, if following a vocational route or a PGSE, if you are a graduate), wide teaching experience and running a budget. Management qualifications, while helpful, are generally not needed to gain a management post – often experience counts for more. I had no management pedigree when I started but have since gained a level 5 in management (equivalent to an HND or foundation degree) and am working towards a level 7 NVQ diploma in strategic management (equivalent to a Masters). I did my initial training as an apprentice, although a full-time programme may suit some people better.
What's a key interview question?
What are our department's key priorities and your best and worst qualities? (Turn the latter into positives!)
What spurs you on to work each day?
It's love of my job; there's no better feeling than seeing your students' results at the end of the academic year.
Does a head of department role sound like something that interests you? Or do you have an interest in hair and beauty or catering? If so, check out some of our hair and beauty vacancies; as well as roles in catering. Apply to kickstart your career today!